Posted on
Holton completes town hall reconstruction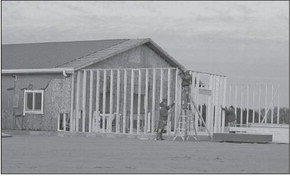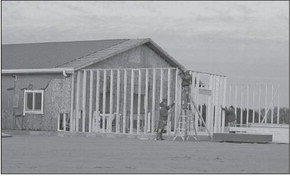 The town of Holton celebrated the completion of a major town hall reconstruction project last Sunday, inviting residents to tour the rebuilt facility before the town's annual meeting.
With just a few remaining pieces of work to be done, the newly expanded town hall on the corner of Rosedale Avenue and Fence Road (formerly Town Hall Road) was ready for display after about a year of construction.
The building was extended 20 feet to the south, new kitchen cabinetry was installed, and the bathrooms were remodeled to allow for wheelchair access. The siding was also replaced, and an in-floor heating system was installed under the newly poured concrete floor. In order for the work to be completed, the entire structure had to be lifted off the foundation and temporarily moved aside.
Work on the project was started last May after town officials decided they needed to address a pervasive mold and flooding problem.
"Water was coming up from the floors," said town treasurer Paula Ruesch.
Using emergency spending powers, the board approved a $200,000 loan from AbbyBank, with a 3.35 percent interest rate locked in for the 10-year payback period. No grants were needed, as the town was able to use some money it had on hand.
Since the board was not required to go through a traditional bidding process, town president Richard Gumz said they were able to support the local economy.
"We all used all local contractors," he said. "We wanted to do something to support the jobs in the area."
In honor of the township's farming community, Gumz also donated a pair of barn doors for one of the back rooms.
As of Sunday's meeting, the town had spent $217,469 on the project. A detailed list of contractors was provided to town residents, along with the amounts paid to each contractor.
Gumz said the town was able to save a lot of money by using the existing shell of the building and capitalizing on low interest rates. If they had waited to do the work, he said the price of materials would have continued to rise, making it more expensive in the future.
The Midnight Riders Snowmobile Club allowed the board to use its shelter for meetings while the construction was in progress.
Gumz said the town is still waiting for a few more items to be finished, such as the building's new water system. The lawn needs to be reseeded, and the outdoor flagpole is waiting to be reinstalled.
Still, anyone passing by the building should already notice the changes made to the township's main gathering place.
"We're as high as the road now. Before we were four feet down," Gumz said. "That's how much we gained."