Posted on
The instant impact playmaker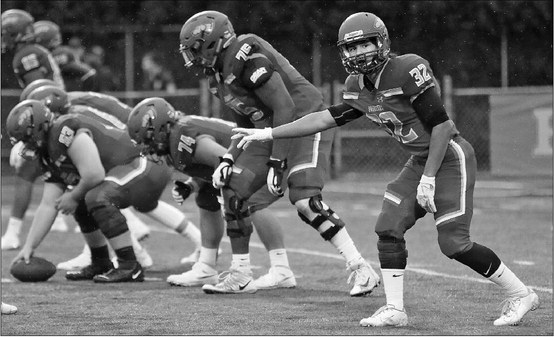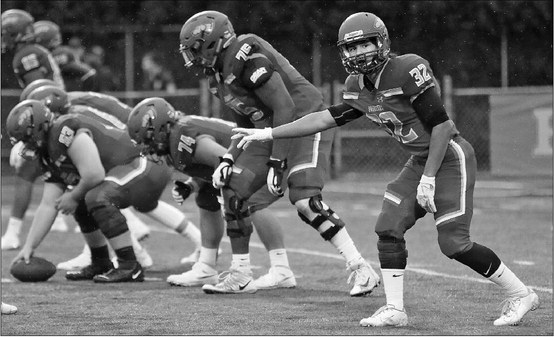 Aguilera makes the most of first year at Point
Joe Aguilera has always been patient, has always been willing to put the needs of the team above his own, personal goals. It's what made him such an excellent teammate during his four years in an Abbotsford Falcons' uniform.
When his time to shine finally came, Aguilera was more than ready to take the field, having earned the respect of his teammates and coaches alike.
"The coaches trusted me and saw what I could do in practice and in fall camp," Aguilera said. "They saw what I had in me. The athletes that were ahead of me were studs and I definitely understand why I had to sit back, but once my time came I showed what I was capable of."
Aguilera expected to sit again when he reported for fall camp at the University of Wisconsin - Stevens Point last fall. He knew he could make plays, but figured as a true freshman he would have to bide his time before he would see playing time.
Therefore it was a big surprise when he was asked to suit up and play for the Pointers in their first game of the season.
"I really wasn't expecting to do that. I came into fall camp just trying to learn the playbook and prove I belonged," Aguilera says about his first game. "My coaches loved what they saw, the things I was doing, the time I was putting in the weight room or watching film and how I was growing as a player."
For many in Abbotsford it's not surprising to see Aguilera make a fast transition from the WIAA to NCAA. What is surprising is the way he is doing it.
During all four years with the Falcons Aguilera was a running back, rushing for almost 4,000 yards in his career.
However, these days he's making a name for himself not as a runner but as a receiver, where his speed and toughness has led to many a sleepless night for opposing defensive coordinators.
To see Aguilera on the field is a thing of beauty, and he makes the spectacular seem routine. It's hard to believe that there was a time when injury nearly cost him everything. In some ways, Aguilera says, that injury was really a blessing in disguise.
"I think that definitely helped me because it proved to me that I can get through anything. Some people, if they have an injury, they wonder if they are ever going to come back, but I came back stronger than before."
Very early in Aguilera's playing career it was easy to see he was special.
A three sport athlete, Aguilera excelled in wrestling, track and football, rushing for over 350 yards and four touchdowns in limited touches as a freshman in 2015. That season also saw Abbotsford win its first conference title in nearly 60 years.
More personal accomplishments followed when Aguilera punched his first ticket to the WIAA state track and field meet in La Crosse in the 4x100-meter relay in the spring of 2016.
He was hoping for more success his sophomore season, but those aspirations took a nose dive when Aguilera tore ligaments in his ankle that required surgery and forced him to endure months of grueling rehab.
"That injury was devastating because it was the last game of my sophomore season, and I missed the entire track and wrestling seasons,"Aguilera explains.
The rehab was hard, but Aguilera says the hardest part wasn't the physical work but hearing people question his return, wondering if he would ever be the same.
"It was tough. People had doubts that I would ever be the same athlete that I was as a freshman. It was hard hearing that," Aguilera admits. "But I knew what I had to do, and I put the training in."
Better than before
Abby won the Cloverwood Conference for a second time in 2016, and were looking for a three peat in 2017, but were dealt a surprising loss by conference rivals Loyal late in the regular season.
The Falcons got their revenge in the post-season topping Loyal in the second round 17-0 thanks to 153 yards on the ground and a score from Aguilera. The Falcons nearly notched their first trip to the state title game, but fell short against eventual champs Bangor in the state semi-final. Aguilera had a huge hand in that season's success, rushing for 960 yards, almost averaging a first down each time he touched the ball.
He stayed busy during the winter with a solid wrestling season, and then shot into the 2018 track season like a rocket, winning the triple crown of sprinting by capturing the 100, 200 and 400-meter dash titles at the Marawood Conference Championships.
Aguilera made his triumphant return to the state track and field meet at the end of 2018, finding his way to the podium in the 400-meter dash by placing sixth. All of this gave Aguilera encouragement heading into his final year as a Falcon, where he knew he would be Abbotsford's bell-cow running back.
"Going into my senior year I knew that I was going to be shouldering a lot of responsibility on offense," Aguilera said during a FaceTime interview. "I wasn't nervous at all - I was really looking forward to it, and I worked harder than ever over that summer."
If his freshman year was the preview, his senior year in pads was the main event. Aguilera didn't just carry the ball, he obliterated defenses, tripping defenders with his ability to quickly change direction, or snapping off big plays by darting through holes provided by his big, burly offensive line.
When his senior campaign ended, the Falcons had regained the Cloverwood title and Aguilera rushed for 2,386 yards and 38 touchdowns - both school records.
Aguilera was awarded All-Conference, All-Region and All-State honors, leaving Abbotsford as one of the most decorated football players in school history.
The accolades and postseason honors were appreciated, but Aguilera places little stock in the awards, knowing that in college he would need to prove himself all over again.
"The awards are just titles. I guess you can say they were proof that I was doing something right, but they don't mean anything in the long run," Aguilera said.
PLAYMAKER "I know I still have to keep proving to myself and to my teammates that I am here for a reason."
Path to the big show
Aguilera's senior season did more than help guide Abbotsford to a conference title - it made him a known quantity. Almost overnight, he went from being just another tailback to suddenly becoming a hot commodity coveted by colleges across the Midwest.
"For recruiting I didn't really get any looks until after my senior season. Once that happened all the UW schools and then some D-II's started talking to me."
Aguilera appreciated the attention from out of state schools, but knew he was going to stay in Wisconsin, where friends and family would have a chance to watch him play for another four years.
At times the recruiting process was overwhelming, but it was also extremely gratifying for an athlete that wasn't sure he would make it to the next level after his season ending injury two years ago.
With so many schools in demand of his talents, Aguilera visited multiple campuses, which he says helped him narrow choices between UW - River Falls and UW - Stevens Point.
"I was really looking at River Falls, and I liked their facilities and training program, but it was far from home and my family. Point was really close and I knew guys there and knew I had somebody there that I could talk to if I needed anything. When I went on the visit everyone was so welcoming . . . it felt like home."
Aguiera went into his first year knowing he wouldn't be playing running back. At 5'8" and 185 pounds, and gifted with a 4.4 40-yard dash, Aguilera's coaches felt he would make be a perfect slot receiver, where his quickness would be an asset to the Pointers' passing game.
There was just one problem - Aguilera had never played as a receiver before.
Aguilera got a little taste of what that might look like during the WFCA All-Star football game. He lined up in the slot and ran routes for the first time against fellow incoming college athletes. His routes were far from perfect, but they were the metaphorical toe in the water.
"That all-star game they put me in at slot and that was definitely the first little taste," Aguilera said. "That definitely helped me because I kinda learned some stuff, but not at the level that I did at Stevens Point, but it definitely helped."
Of course, the things learned in a glorifi ed high school game are hardly the same things one learns at the collegiate level. By the first few weeks of fall camp, Aguilera's head was dizzy from the new playbook.
"I was learning all these new plays and all these new calls and all these new positions. Then on top of it all, as a wide receiver I have to read a defense and what coverage I'm in and then I have to adjust my routes based on that coverage."
Aguilera says his coaches knew he had been a running back for his whole life, and knew his routes were raw, but they loved what they saw in practice and the effort he was putting outside of practice.
Before the first snap, Aguilera spent hours studying film, looking for ways he could use his abilities to exploit holes in a team's defense. As if that wasn't hard enough, the athleticism was unlike anything he had ever seen in high school.
"At college everyone is going to be good and everyone is on a different level, from the athletes you go up against every day in practice, and then on game time at the D-III level. They are all incredible and just a different type than what you see at high school."
Even so, it didn't take long for Aguilera's coaches to see that he was more than capable of holding his own with the veterans on the team, and Aguilera found a big surprise awaiting him at the start of the 2019 season.
Aguilera travelled with the Pointers to University Heights in Ohio to take on 17th ranked John Carroll University. The Pointers would lose a hard-fought 21-7 contest, but Aguilera played in his first collegiate game, hauling in two receptions for 17-yards.
Along the way, he discovered that the athletes weren't just bigger and faster, they also hit harder. But eventually Aguilera felt the game begin to slow and he soon began to enjoy the experience.
"At first it's pretty overwhelming, and it's like 'Wow you're at another level right now.' Once you get your first game under your belt, your first play and your first snap, it all slows down and begins to come naturally. After awhile it's just football and you're playing a game you love."
Making an impact
Aguilera continued to develop his game, getting better and better with each practice. In all, he would go on to play five games, including recording his first college touchdown, a 64-yard reception that proved pivotal.
Facing a third and long situation, the Pointers dialed up a little razzle-dazzle on a play called 'Little Boy' - after the famous atom bomb. Aguilera certainly made quite the explosion as he got behind the secondary and found himself completely alone.
"It was a long pass and I was just thinking about catching the ball. Once I did, I just ran to the endzone. That first touchdown felt so good, and it was really fun and we ended up winning that game in a tight battle."
Aguilera's score set the tone for the game and the Pointers upset Wabash 31-28. In his in five games with Stevens Point, Aguilera finished with seven receptions for 124 yards and one score to go with two kick-off returns for another 28 yards. It's a humble start, but just like his freshman year with Abbotsford, he knows he's capabale of more.
Aguilera also realized he's not just an ambassador for Abbotsford, but also for those who are Hispanic.
"Coming from Hispanic heritage we have maybe two or three others on the team right now," Aguilera says. "Being at the college level and seeing that there isn't a lot of Hispanics playing football, it's pretty cool to represent that."
The Pointers finished 3-7, something Aguilera wants to improve upon in 2020. The coronavirus has thrown 2020 into question, but Aguilera is always ready.
"This season told me that I can do whatever I put my mind to. Mentally, I knew I was capable of college football. Now, I'm putting all my time towards getting faster and better. If you trust yourself and believe in yourself, it all comes together at the end of the day."