Posted on
Exchange student reflects on life in Abby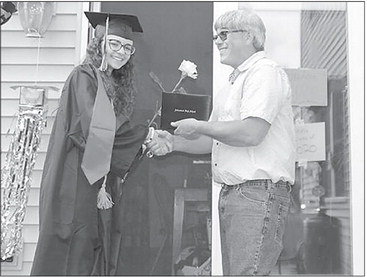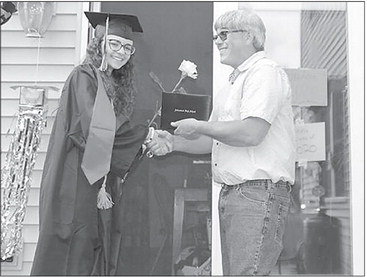 When Martina Cascio first learned she would be studying abroad in the United States, she was filled with excitement. As soon as she learned she would be studying in Abbotsford, Wisconsin, it was followed immediately by "Where is that?"
"I didn't know where I was going to end up because when I applied to go to the United States I didn't choose the state I wanted to go to," Cascio explains. "One day they told me the city and I said 'I have no idea where this is.'" There was some confusion at first when a quick Google search of Abbotsford brought up the one in British Columbia, Canada. Cascio quickly realized her error, and when she finally found the small city of Abbotsford she knew she was in for a culture shock.
Cascio is an exchange student from Catania, a city of just over 300,000 people that rests on the coast of Sicily, an island province that is part of Italy. Ever since August of 2019, Cascio has been living in Abbotsford, participating in what she calls the "American Experience."
Over the past eight months, Cascio became acquainted with life in small-town Wisconsin and its unique character and charms that cannot be found anywhere else in the world.
"I grew up in a big city, and noisy with a lot of people and traffic," Cascio said, describing her first impressions of Abbotsford. "I came here, and it was really quiet and not much people and not much traffic. I wasn't used to it, but now I like the quiet here, and even if it's a small town, everyone knows each other — I think that's really cool."
Abbotsford might have been quiet, but she soon learned her new home life would be busy. In Catania, Cascio grew up with just her older sister, Irene, along with her mother, Morena, a police officer, and her father, Fabrizio, a member of the Italian Air Force.
In Abbotsford, Cascio lives with Kevin Flink and Kris O'Leary and their five children and numerous pets.
"I didn't know anything about them so it was very hard to adjust at first, but then I got used to everything. Now we have fun and we do a lot of things together."
Perhaps the biggest shock for Cascio was Wisconsin winter. She had seen snow before, but not the way a Wisconsinite knows winter, snow and ice.
"It was really cold and it took me a long time to get used to it because where I live the weather is very warm and it doesn't get very cold. We hardly get 32 degrees so it took me a long time to get used to this weather and cold every single day."
Cascio also had to buy winter coats and gloves and hat, and when she went outside in December and January, she had to wear multiple layers just so she wouldn't freeze.
Despite the cold, Cascio admitted she liked the beauty of a snowfall, and enjoyed taking part in activities like snowball fights. Now, she says she might actually miss the cold.
"It's pretty and everything's white and you can have snowball fights, so it's kind of cool. I never have that in my hometown. I'm going to miss it, I think. It's going to be weird being in winter without snow outside."
Other surprises were soon to follow, such as Wisconsin and its history with all things related to cows, cheese, milk and dairy.
"I didn't know that Wisconsin was the number one state for cheese and milk but I eventually figured that out. All my friends at school think it's weird that I don't drink milk and I don't like it.
"Everyone drinks milk at every meal and it's something I found really weird and I would say things to my friends like 'You know, you can also drink other things too, like water.'" Cascio has adapted well to life in Abbotsford, making new friends and teaching them about life in Sicily, but she does grow homesick from time to time, especially for her native country's foods.
"In Italy we have a lot of stereotypes about America so I knew about fast foods and that it was a huge thing in America. I realize you guys eat a lot of frozen food.
"I miss the Italian cuisine and I miss my Italian pizza — it's a total different flavor and I miss the Italian pasta. Here I cooked some typical pasta and people were so surprised with all the ingredients I was using. I saw people eating pasta with only tomato sauce and butter and that was so disappointing."
While Wisconsin's views on milk and pasta might have disappointed her, Cas-
STUDENT cio said her opinion about life as an American teenager in high school has changed.
Cascio explained that in Italy they do not learn how to weld, do wood-working or small engine repair. Cascio also said students don't get to pick classes like she did at Abbotsford High. Instead, they choose a particular school that is highly specialized, such as on linguistics or science rather than the approach she saw here.
"I think the American school is teaching you stuff that you are actually going to need after you graduate," Cacsio said. "In Italy it's about memorizing stuff and just repeating it. Here you can choose the class you want to take based on your interests and possible future."
As a result, Cascio now has a better idea on what she wants to do after she finishes her schooling. After studying psychology at Abbotsford, she is thinking of pursuing that as a possible career path.
"My first semester of high school I took psychology class and I realized I'm interested in it . . . I think maybe in the future by working as a psychologist I can help people with their problems. I know it's not easy to do, and people struggle with situations, but I like helping people."
Cascio also mentioned the difference in sports between the United States and Italy. Cascio had played volleyball before she came to Abbotsford, and loves the sport, but she said the format is very different from what she saw in Sicily.
"In Italy we do not have sport teams at school, so if you want to be in a sport you do it outside of school. We don't have a sport team at school, it's more of a club that you do on your own time, and separate from school."
Cascio also took part in basketball, and for one week before COVID-19 came, she attended track practice. She enjoyed her experience of being on a team, even though she had never played basketball, and she made new friends thanks to sports, and that helped with adjusting to life in Abbotsford.
Cascio is hoping to maintain those friendships when she departs for Sicily at the end of this week. A two week quarantine follows, along with COVID-19 testing, but she is grateful she did not have to go through what her family back home went through.
She's also grateful for all her experiences, and even though she did not get to celebrate the traditional graduation and prom, her host family put one on for her anyway.
"I was just so happy about it and even if I didn't live the experience of prom at school, Kris planned a prom and we had a prom at home, so I still got to live this kind of American experience."
Cascio says her time in Abbotsford and Wisconsin truly opened her eyes and helped her see what life is really like for a teenager in United States. Despite not having a typical year due to COVID-19, she says she regrets nothing about her time in Abbotsford.
"I had a lot of expectations when I came here because of all these stereotypes that I had and I grew up having seen all these movies. I knew some stuff coming in, but actually living the American life is totally different.
" I am really happy that I got to come here and be eight months away in the other part of the world and come here and make good friends. I hope to still be in touch with them and I am really happy. I am not disappointed by anything. If I could, I would do this a thousand times."