Posted on
Highground's Honor Ride still on for May 25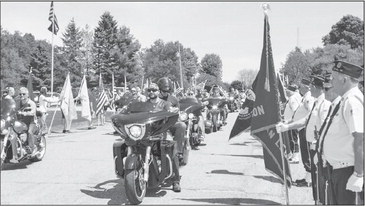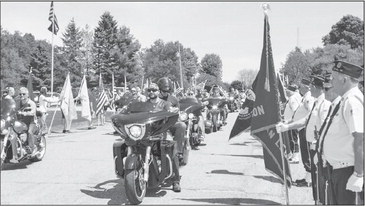 Plans are still underway for the 10th Annual Honor Ride Motorcycle Rally and Ceremony on Memorial Day, May 25, at The Highground Veterans Memorial Park near Neillsville.
"We continue to make plans amidst the COVID-19 virus and our hope is to honor those plans while respecting the need for safety of the people—our community, volunteers and supporters," said Highground executive director Chris Pettis. "If we need to adjust our plans, we will."
Part of that planning will include the placement of a new memorial at the park recognizing "The Lost 74." This memorial will pay tribute to the 74 sailors who died at sea on June 3, 1969, aboard the USS Frank Evans. It will focus specifi cally on the three Wisconsin sailors who perished—James R. Cmeyla, 24, of Luxemburg, Michael A. Orlikowski, 28, of Milwaukee, and Jon W. Thomas, 22, of Delavan.
The 74 perished when the USS Frank Evans split in half after colliding with the HMAS Melbourne, an Australian carrier, during a training exercise.
The Highground is honored to work with the Evans Association and to have USS Frank Evans survivor Terry Vjere at the Park for the stone placement.
The Highground will honor the fallen by reading the names of those who died in action as well as those missing in action. During the reading, The Highground's Liberty Bell will be rung in their honor as riders from across the state make their way to The Highground.
There will be no ceremony this year; however, the names of the fallen will be read over loudspeakers from 8 a.m. to 5 p.m. to honor their memory.
The Honor Ride is a key fundraiser as it allows The Highground to continue its mission to "Honor, Educate and Heal." The Highground continues to support and serve the veteran community with events, veterans weekend retreats, PTSD education, outreach and more.
This year's ride will have nine different starting points: Eau Claire, Neillsville, Medford, Appleton, King/Waupaca, Wisconsin Rapids, Reedsburg, Richland Center and Tomah.
Once you sign up, you can contact the regional coordinator, who can provide specific details about how their region will be approaching the ride while addressing concerns due to the coronavirus and implementing necessary safety procedures.
If you choose to ride, you will leave from home or your ride leader's designed loation, and ride to The Highground. Registration includes a Patch or Rocker for both you and your passenger (if you have one). These items will be available for you at the park at a designated table. Participants are asked to observe social distancing guidelines by staying six feet apart from others. Hand sanitizer will be available.
The park plaza and trails continue to be open for visitors. The gift shop and museum are currently closed due to the "Safer at Home" mandate.
For more information about the ride, visit thehighgroundhonorride.com, call Meranda at 715-743-4224, or send an email to [email protected]