Posted on
Fire destroys home in town of Holton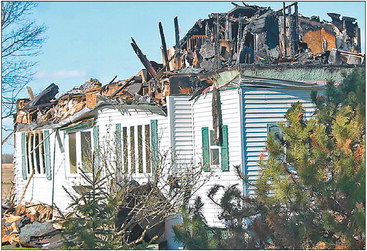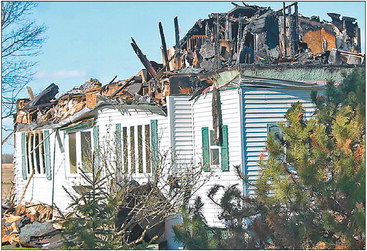 A fast-moving fire destroyed a home in the town of Holton on Saturday, according to Central Fire Chief Joe Mueller.
The fire, which occurred at the corner of Fence Road and Bruckerville Avenue, was first reported at 11:30 a.m. By the time firefighters arrived, Mueller said a garage and an old barn were already down and the house was fully engulfed.
Everyone in the house got out right away, and no injuries were reported.
The fire started in a shed on the property and then spread to an old barn before eventually making it to the house.
The fire spread to the house by way of a deck on the side of the home, Mueller said. Flames went up the eaves of the house and into the attic, spreading across the entire length of the house, he said.
Strong northwest winds fanned the flames, causing the fire to spread rapidly across the property, he noted.
"We were able to save some of his personal items, but not a lot," he said.
The residence was home to a couple with three kids.
Muellersaidthehomeownerwasworking in the shed when his father stopped by. They were walking outside for only about 15 minutes when the garage door started rattling, he said.
When the homeowner checked inside the shed, the shop was already in flames.
Mueller said they have been unable to pinpoint the exact cause of the fire at this point. Besides a few electrical outlets, there was nothing flammable in the corner of the shop where the fire started, he said.
A total of 25 firefighters and one EMT from Central Fire and EMS responded to the fire, along with 15 trucks from the district.
The Athens Fire Department provided 15 firefighters and five trucks, and Stetsonville also sent two truck and three firefighters as mutual aid.
Firefighters were on scene for about five and a half hours, Mueller said. During that time, 30 gallons of foam and 100,000 gallons of water were used to fight the fire. Of that total, 55,000 gallons came from Dorchester and the rest was pumped out of a dry hydrant at Shortner Park north of Abbotsford.
The buildings on the property were assessed at $92,800, and the value of the contents was estimated at $30,000.