Posted on
Draper silences the doubters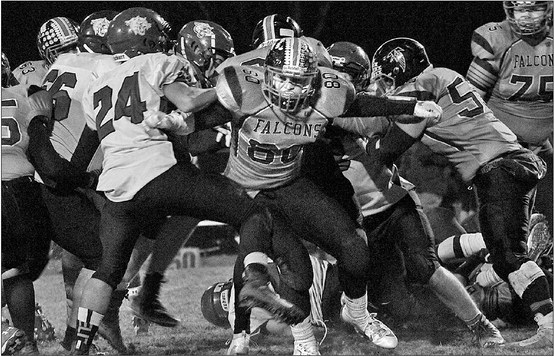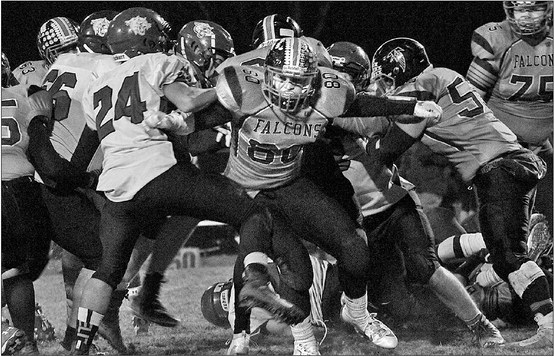 Abby grad takes game to next level
Blake Draper has lived with a never ending litany of reasons why he can't do one thing or another. He's lived with a constant stream of naysayers telling him he's not fast enough, not tall enough or not strong enough to play football or make a big play when it counts.
Draper has used every one of those "You can't" moments as motivation over the years, and these days there's nothing that makes him happier than proving people wrong. He's made silencing his doubters his new favorite past-time.
"It's really awesome when someone says you can't do something and you can stick your finger in their face and say I did it." Draper says this with a smile, but there's a glint in his eyes when he says it, and it lets you know that this is personal for him.
"Nothing makes me work harder than when someone tells me I can't do something," Draper says. "You tell me I can't do this or do that, and I don't care what it takes, I'm going to find some way to prove you wrong."
A major transformation
If there's been one defining feature in Draper's four years with the Abbotsford Falcons football program, it's that he's never been afraid of the moment. Game after game, Draper has gone toe to toe with taller, bigger and faster players, often times coming out on top.
"You look at the defensive side of the ball, and we always had really good running backs every year coming up against me," Draper says during a recent Face-Time interview.
"You'd hear about how well somebody can run the ball, and obviously they were fast and athletic, and there was pressure there, but it did ultimately make me work harder and push myself to be the kind of player who can step up in the big moments."
Draper took inspiration from all the great linebackers that came before him, learning from the example that they had set. He also knew coming into high school that he was not going to intimidate anyone. As a freshman he was, by his own admission, short and pudgy. To look at Draper then, you'd never know the potential that was lurking inside, just waiting to be tapped.
Of course, for that to happen, it would require a major physical transformation on Draper's part. He saw what the class above him was doing in the weight room, and he knew if he wanted the same level of success as other players, he would need to devote himself to hours of training.
He spent those long hours in the gym, strengthening his body, adjusting to the strain of the game, and increasing his knowledge of nutrition.
It was those moments that laid the groundwork for his stellar prep career, and by his sophomore season, he had shed pounds as he worked to get leaner and faster. His junior year he implemented the second stage of his plan adding strength and muscle to handle the physical rigors of the game.
"I have had multiple players say I can't play linebacker because I was too slow, and that was something that I worked on during my sophomore year," Draper said. "I lost 25 pounds of fat, and heading into my junior and senior year I hit the gym harder than ever and I transformed myself into a better player."
These days Draper is almost unrecognizable from his early days in a Falcons' uniform. At 6'1" and 220 pounds, Draper is no longer the one fearing contact - he's the one delivering the boom.
The Falcons have enjoyed recent levels of success on the gridiron that have not been seen in Abbotsford since the 1950's. After a title drought for almost 60 years, the Falcons, under the watchful eye of head coach Jake Knapmiller, quickly became one of the most respected programs in Wisconsin, winning multiple Cloverwood Conference titles and making deep runs in the post-season year after year.
The Falcons have quickly gone from a laughing stock and disrespected to one of the best teams in the state among all small schools. Draper and his class were a big part of that sustained success over these past four years.
Those undefeated regular seasons, conference titles and Level Four playoff games were the result of Draper and his teammates maximizing their talents thanks to grueling workouts. That work paid off with the Class of 2020 notching over 40 victories during their time in Falcon red and black.
"It's something that we were doing, but didn't know that we were doing at the time. We were just sick of being talked about as the underdogs before every game we played," Draper said.
As the wins piled up for Abbotsford, so too did Draper's individual numbers, soaring from 16 tackles during his sophomore season to 75 tackles and seven sacks during his junior campaign.
By the end of his junior year, Draper had earned First Team All-Cloverwood honors at linebacker, and was considered one of the best defenders in the entire state. All of that success set the stage for a monster senior season.
The Falcons ended their 2018 season losing to eventual state champion Iola-Scandinavia. They nearly pulled off the upset, but injuries had taken a heavy toll, and the Falcons could only watch as the Thunderbirds steam-rolled their opponents in the state championship game.
In the weeks and months leading up to the 2019 regular season, Draper continued to hear people talking about the Falcons, and how 2019 would be a down year.
For those outside the program, they
DRAPER can almost be forgiven. Abbotsford had lost their prolific running back Joe Aguilera, had lost seniors on both sides of the ball, and there were question marks at multiple positions.
But Draper and his fellow Falcons were unfazed. They heard the chatter and chose to ignore it. They knew that the cupboard was far from bare.
"We were told every year we were going to be worse and this team wasn't going to be a winner," Draper says with an eye-roll and a brief laugh. "Every year we rose to the occasion. People are finally starting to see that it's not just the seniors and the players - it's the culture."
The Falcons ran roughshod over the Cloverwood in 2019, trouncing their opponents to the tune of a 9-0 record. They made it all the way to the state semifinal game before falling to the Regis Ramblers, but they had once again silenced their doubters and critics.
It was due in large part because of Draper and his history setting season. Knowing that he was going to be the leader on defense, Draper set the tone early in the year, racking up 23 tackles in a September game against Grantsburg.
Week after week, he broke past offensive linemen for tackles for loss or held running backs to short gains. He made touchdown saving tackles and forced turnovers with key stops on fourth down.
As the 2019 season progressed Draper's number of tackles continued to skyrocket. By the end of his senior season campaign, Draper stood first among the entire state, leading all divisions with 172 combined tackles.
Draper's numbers did not go unnoticed, and by the summer of 2019 he was receiving attention from nearly every NCAA D-III school in Wisconsin, as well as several NCAA D-II schools in Minnesota. As his tackles piled up during his senior season so did the offers.
"It was really fun to explore, and I thought it was really cool of schools to offer me to come and visit them," Draper said, breaking down his recruitment. "Of course, I didn't know if I was going there at the time, but I knew I needed to go out there and check all of them out. It was just an awesome experience."
In some ways it was overwhelming, but for the most part, for the short kid who was told he would never play, the offers and attention was the validation he had been seeking his entire prep career.
"It felt really good. I came off that offseason hoping that I would get some offers from a D-III team or some D-IIs," Draper said. "When I got them it felt great. It meant I was being recognized for the work I put in."
As his final season progresed, Draper knew that despite the offers of scholarships at schools in Minnesota, he wanted to stay close to home. It just so happened there was university calling his name less than an hour from Abbotsford.
After discussing the issue with his family and coaches, and already having former teammates on the team, Draper has chosen to take his prodigious talents to the Pointers, an NCAA D-III team that plays in the WIAC, a conference that has seen its share of national champs in recent years.
"All the WIAC schools sent me something, told me I should go there, but Stevens Point, it's so close to home. In my opinion, that made the most sense to me, rather than going to a program that I don't know as much and playing with people that I don't know."
For a boy who was told he wouldn't make an impact at varsity, much less play NCAA football, this most recent achievement is the ultimate source of validation.
"It was always something, especially when I was younger, that I was really passionate about," Draper said during his FaceTime interview. "I always wanted to do it, but I didn't know if I could."
"My freshman and sophomore year I didn't know if I was capable of being that athlete that could go up to that next level and play," Draper explains.
"I'm more than excited for it. If you're gonna play D-III, WIAC is where it is at. It pushes you and you need to be your best self to contribute to the team. You need to push yourself ten times harder to get your shot and play that competition."
A journey four years in the making is now over, but new challenges are propelling Draper forward. He's silenced his critics once, and when he talks about college, that glint returns to his eyes again.
"In a way I'm glad people underestimated me. It gave me a chip on my shoulder because I wanted to prove to people the kind of player and person that I am. I can't wait to do it again in college."