Posted on
Rezoning battle rescheduled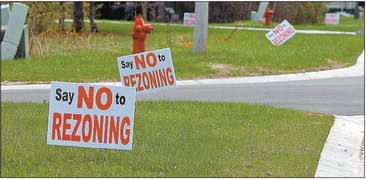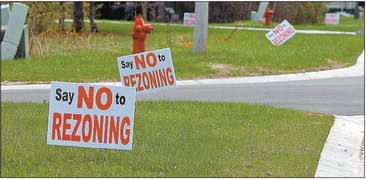 Public hearing set for May 14 in Abbotsford
A new public hearing has been scheduled for May 14 in Abbotsford so the planning commission can consider a controversial rezoning proposal that would allow for two more apartment buildings on the city's northwest corner.
The public hearing was previously scheduled for March 30, but due to concerns about overcrowding during the COVID-19 outbreak, the original date was cancelled.
The public hearing is now scheduled for Thursday, May 14, at 5 p.m., followed by a full city council meeting the same night at 7 p.m. If approved by the council, the five lots north of the Northside Apartments would be rezoned to allow for two more apartment buildings.
Ald. Mason Rachu, who replaced Ald. Roger Weideman as chairman of the planning commission after the council's reorganizational meeting on April 21, said he wants a chance for commissioners to hear the proposal.
"I feel it is important for any person or business that wants to build in Abbotsford be allowed to go through the proper process," he wrote in an email. "Just because some people might disagree with a certain issue doesn't mean we can disregard it all together."
Rachu said he realizes the proposed rezoning has become a hot-button issue, but he has received calls from people on both sides of the issue.
"I can tell you that I will reserve my judgement until after the public hearing and discussion with the rest of the planning commission," he said.
City administrator Dan Grady said he believes the city's GoToMeeting program should be sufficient to accommodate all those who want to comment and listen in on the hearing, as it allows up to 150 people to call in at once.
When asked why the city council meet- ing was scheduled for the same night as the public hearing, he said, "the city feels that the issue is important enough that it's in everybody's best interest for the city council to resolve the issue one way or the other sooner rather than later."
Grady pointed out that Abbotsford has an ongoing housing shortage, and Abbyland Foods is not the only company adding employees. He said at least 100 new employees have been hired by other local companies in recent years.
"The city's growing, which is great. Jobs are being created, that's great," he said. "Everybody loves that, but where are these people going to live?"
When the Northside Apartments were first proposed in 2018, one of the city's biggest selling points was the infusion of revenue into a TIF district that was created to support residential development.
The construction of the first two apartments later that year added $4.8 million in property value to the tax roll, generating $115,200 per year in revenue for the TIF district. A third building in 2019 added another $52,800 in TIF taxes.
This revenue stream, along with TIF money coming from Abbyland's sausage plant on the east side of the city, financed $1.2 million worth of road and utility extensions in the Schilling subdivision.
Over $300,000 of that money was also used to install curb and gutter and pave the streets in the adjacent Sportsmens Estates, whose residents had been waiting for fully developed roads for 20 years.
At the meeting in 2018 when the city council approved the developer's agreement with Abbyland Foods owner Harland Schraufnagel, DPW Craig Stuttgen explained how much longer it would take for the Sportsmens improvements to be done if it weren't for TIF revenue.
"You'd replace it twice before you pay for it once," he told the Sportsmens residents in attendance. "Through no fault of your own, this is a terrible plan."
Under normal circumstances, without a TIF in place, Stuttgen said only a small percentage of each property owner's taxes goes into the city's street fund. With TIF rules in place, 100 percent of the taxes on any new development stay within the city for infrastructure projects and other incentives for developers.
With a total of five apartment buildings being constructed by the end of 2019, the city is now looking at taking in $275,000 per year in TIF revenue once all of the buildings are on the tax roll.
If the apartments had been built outside of a TIF district, 32 percent of that money, about $88,000, would go to the Abbotsford School District every year, and another $88,000 would go to the city's general fund. (That's based on the current breakdown of local property taxes, which changes from year to year).
The construction of two apartment buildings would add another $4.4 million to the TIF district, generating an estimated $110,000 per year in revenue.
Ever since the Northside Apartments were first proposed in April of 2018, residents in the neighboring Sportsmens Estates have expressed concerns about having multi-family housing units in their part of the city.
The city tried to smooth over their opposition by using some of the revenue from the TIF district to pave their streets and install curb and gutter in their subdivision last year. Still, several Sportsmens residents have put their homes up for sale due to their concerns about the impacts of the new apartment complex.
"Within one block, there are four of us that are selling," said resident Darla Viegut. "I know there are two others that'll probably be going up in not too long."
It hasn't helped that two high-profile violent crimes have occurred at the apartments since they first opened in 2019.
First was a double stabbing in the early morning hours of April 28 last year, following a late-night party at one of the apartments. The suspect happened to be arrested on two unrelated warrants later that morning, but no one at the apartment complex called police while the attacks were happening in the parking lot.
Then, on Feb. 16 of this year, two men walked into one of the apartments and fired guns at a male victim who was later driven to the emergency room in Medford with non-life-threatening injuries.
However, according to information provided by the Colby-Abbotsford Police Department, those two incidents are not the norm at the Northside Apartments.
Over the past year, local police have filed a total of 24 incident reports based on calls to the apartments, which are located at the corner of North Fourth Avenue and Swamp Buck Drive. Three of these were related to the stabbing incident on April 28 of last year.
Complaints about "loud and unnecessary noise" were filed three times, all this year, and a couple of thefts were reported during the summer of 2019. A pair of traffic accidents have been reported, and two people were arrested on outstanding warrants.
Each of the other incident types listed by the department have only been reported once in the past year. Those range from operating while intoxicated and possession of drug paraphernalia to a junk vehicle report and a trespassing complaint.
Still, several of the Sportsmens residents who spoke to the Tribune-Phonograph about putting their homes up for sale say they are not comfortable living near the apartments.
Mark and Darla Viegut, who have lived at their house on Swampbuck Drive for nearly 15 years, decided just last week to put it up for sale so they can move to Colby.
Darla Viegut said their decision to relocate was not specifically about the apartments themselves, but "about the way it's being handled by the city."
She said there seems to be a "constant push to get it through without hearing input from people who have made this their home for years."
"It's all about bringing new people in without looking at what it's doing to our existing residents," she said.
When asked what she would like to see the city do to address their concerns, Darla said officials need to make sure the local police force has enough resources to handle the influx of new residents.
"There are constantly squads up there, I mean constantly," she said. "How can that be effective for Colby or surrounding areas when they're always up here?"
Even though the Vieguts are planning on moving out of the city, Darla said they still plan on participating in the May 14 hearing so that city officials can hear their concerns.
"They all want to go for development and they all want to make a big name for themselves, but they're not realizing that they're losing some of the core people of Abbotsford over the past how many months," she said. "I think it's going to continue."
Codee and John Peterson are selling their house on Porcupine Lane. Codee said she and her husband moved into the Sportsmens Estates five years ago, mostly because Abbotsford was centrally located between her job in Medford and his in Marshfield.
Like many other Sporstmens residents, Johnson said they like their larger lot in the somewhat secluded area of the city.
"It didn't even feel like we were in the city, which was really attractive to us," she said.
When the first set of apartments were proposed in 2018, Johnson said she and her husband tried to take a "positive approach" and trust that the city was making the right decisions.
However, over the last couple of years, she said there have been issues with increased traffic, noise and police activity in their part of Abbotsford.
Now that two new apartment buildings are being proposed, Johnson said she and her husband don't feel like the city is listening to residents who are concerned about these issues.
"To us, it just seems like the city isn't being transparent," he said.
Johnson said she was not happy when she found that the city wanted to have a public hearing on the issue amid the social distancing restrictions put in place due to the COVID-19 outbreak.
Because she works in the health care field, Johnson said she cannot expose herself to situations where a lot of people might show up to the same room, like the May 14 hearing. However, she and her husband still want to participate if the technology allows it.
"I will certainly be calling in," she said.