Posted on
Holtz blazing his own trail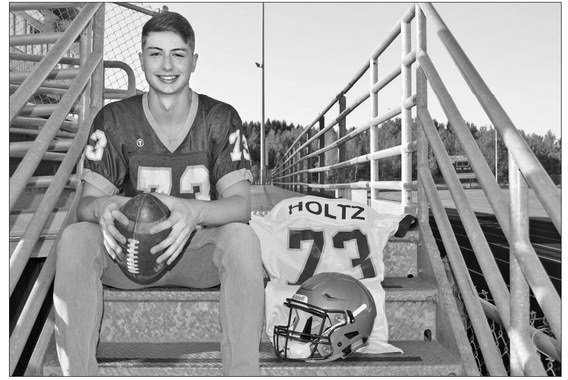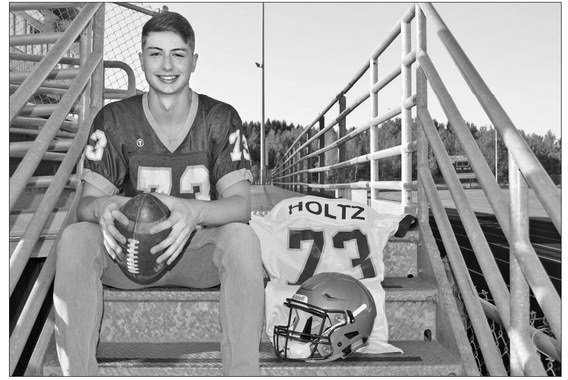 Colby grad will play for UW-Oshkosh
Alex Holtz didn't stuff the stat sheet during his four years in a Colby Hornet's uniform. He didn't score any touchdowns, and it was only in his senior year that he tallied more than 20 tackles in a season. But as Holtz himself will tell you, you don't need to put up big numbers to have a big impact on the field.
"There's always a way where you can impact a play," says Holtz. "I know I didn't have a lot of stats on offense, but I know I helped make the team better."
At 6'4" and 205 pounds, Holtz was the perfect size for a high school blocking tight end. He was right at home opening up holes for Colby's run-heavy offense, and it's there where his contributions can truly be seen.
"I feel like coming at the offense line at high school, I feel like that really set up my spot as a block first TE," Holzt says about his role with the Hornets. "The way that the scheme was set up, with a lot of run offense, I always have that mentality where I am willing to give that hit, and getting strength from the contact."
During the three years that Holtz was a varsity tight end for Colby, he could often be seen racing downfield, throwing a block that sprang tailbacks Tyler Klement, Reece Kellnhofer or Gavino Lopez free. Klement, Kellnhofer and Lopez each rushed for hundreds of yards as the Hornets amassed over 7,000 yards of total offense between 2018 and 2019.
A consummate teammate, Holtz was always willing to do whatever his coaches asked of him to help Colby win a game. He made a name for himself on the line, where he was more than happy to make a lead block to spring a tailback free, or hold back a linebacker and buy his quarterback time to step up and throw.
It's in those plays where Holtz shined, and even a cursory glance at the film shows that Holtz was never afraid to mix it up with a blitzing defender, or get involved on a hit. Holtz's stat sheet might be modest, but his plays were not.
"I feel like I was really a player who was not afraid to take a hit or two or give a hit. I always told myself you just gotta keep trucking - you're always going to have to be ready for the big hits."
In his final year with the Hornets, Holtz finally picked up postseason accolades, being named Second Team All-Conference as a defensive lineman. His style of play and size also drew the attention of college recruiters.
"I started getting messages and texts from schools in the WIAC, like Oshkosh and Stevens Point," Holtz said. "They wanted me to come down and look at the school and facilities and check the programs out." Holtz made the trips, and while playing for the Pointers did cross his mind, attending a game and seeing the Titans playing style appealed to a physical and hard-hitting player like Holtz.
"I went to watch one of their football games and afterwards they had me come to another visit to set up schooling. I just really loved the campus and the atmosphere and coaching staff."
The Titans have enjoyed a tremendous amount of recent success on the gridiron, winning a pair of WIAC championships in 2012 and 2015.
The Titans' program took an even bigger step in 2016, with Oshkosh battling all the way to the Amos Alonzo Stagg Bowl on Friday Dec. 16, playing in the NCAA D-III championship game.
It was a close contest, but the Titans dropped a heart breaking 10-7 loss to number one ranked University of Mary Hardin-Baylor in Salem, Virginia, holding the Crusaders' high flying offense to their lowest offensive output since 2010.
In the following three seasons since that loss, the Titans have maintained their high productivity, winning another WIAC title outright in 2017, and ending 2019 as co-champs. All that success made a huge impression on Holtz.
"When I was at the first football visit they were showing stats of the whole conference, and it was them and Whitewater at the top, while Stevens Point was 2-7. Seeing that definitely made the decision to play for the Titans a little easier."
Prepping for the big time
Holtz concedes that there will be an adjustment period as he transitions to the college ranks. But playing for a smaller school like Colby, and in the Cloverbelt conference, was a serious plus.
"We played a lot of tough teams when I was at Colby, teams that made it to state, teams that have had guys go to D-I, D-II
PHOTO COURTESY OF ALEX HOLTZ
and D-III colleges."
"When you have talent at the smaller level, it doesn't get recognized as much. I think that plays a factor in anyone when I went [to Oshkosh] I saw kids from Wausau, Milwaukee, Green Bay, bigger schools like that. I feel like me being there, I just need to push a bit harder to keep up with the best ones."
Playing for a smaller school also puts a massive chip on Holtz's shoulder, and he's ready to prove, just as he did with the Hornets, that he can kame plays in multiple ways.
"It's all about the attitude," Holtz says. "Coming from a smaller school and getting a chance to play at the next level just makes you want to push a little harder."
"I want to be the biggest impact player on a team, whether that's a reception or blocking, giving my QB time to pass the ball or RB time to run the ball."
That's what makes the jump to the Titans, who are on their way to becoming a NCAA D-III powerhouse, all the sweeter. He didn't put up massive numbers, but Holtz got the attention and is now intent on living out his dreams.
"Even when I started in CUDA as a young kid, it's always been a dream to pursue football at the next level. I never thought it would ever come true though, until it did."
Now the kid that never knew if he could play college ball is ready to show people what he can do at the next level.
TRAILBLAZER A different path
Holtz will have to wait before he can wear the black and gold of a Titan. Just as with Colby, his body needs to adapt to the strain of the game.
Holtz has accepted an offer to greyshirt at Oshkosh, meaning he won't take part in official team practices or games until spring and the 2021 season.
"They grey-shirt most freshman coming in," Holtz explains. "During grey shirt, it's workout with the team and other incoming freshman five times a week. After the three month season, you're offi cially a member of the team."
Holtz will most likely continue to play as a tight end, where his blocking skills will come in handy, but he also hopes to showcase more of his pass-catching potential.
"I knew right away I wouldn't be an offensive lineman. I told them TE was what I was looking at just because of my height and weight already. I do feel like I can catch passes. I feel like I could work to be a real good TE at D-III."
Holtz hopes to do even more than just play in games, he wants to experience all the different aspects of being a college athlete, from the travel to making new friends and getting a college education.
"I'm really looking forward to getting that freshman experience and meeting the new freshman that are there. It's going to be the same as high school where you are bonding with the group."
Holtz has put the hard work in and earned his shot, but he also gave credit to his coaches. He says they gave him the push that got him to the NCAA.
"I want to thank the coaches for pushing me to do my best. When you are sweating your butt off in a helmet, the coaches can help you keep going."
The most gratifying thing for Holtz and his journey continues to be the way he did it, without big numbers. He did it with grit, hard work and determination.
Holtz now gets to play the sport he loves another four years, and could perhaps walk away as a national champion.
"I feel like when I was playing I never thought that I would have the opportunity to do this," Holtz admits. "Now that I have the opportunity to play in college, it feels like I'm finally showing people what I can do and what can be done.
"You can come from a small school and play college ball, it just takes determination and the desire to grind and keep pushing and get the best out of yourself."