Posted on
Colby grad stays on track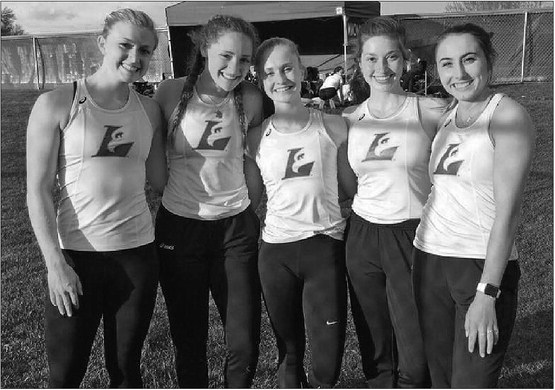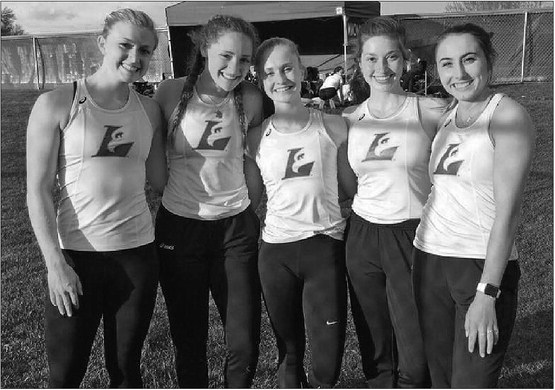 Elmhorst chases college sports dream
It's early April and a cold wind blows across the athletic complex that sits adjacent to the Colby school district. The parking lot is almost bereft of traffic, with one lone car sitting near the track.
The owner of said car is bundled up and going through plyometric drills on the track, bounding and hopping from side to side on the rubberized surface, warming up her muscles as she prepares to begin a brutal sprint session.
She'd rather be doing this sort of thing with her teammates, where she competes for the University of Wisconsin - La Crosse Eagles in Division III of the NCAA. But these days, any form of outdoor exercise is a blessing as COVID-19 continues its silent and invisible march through Wisconsin.
The light of day begins to fade, but Carley Elmhorst remains outside, sweating, pushing and prodding herself to get faster and stronger as she trains for a season that will not happen.
For Elmhorst that knowledge is doubly disappointing. She enjoyed a solid freshman campaign, highlighted by a victory in the 4x200-meter relay at the Warhawk Invite at UW-Whitewater during the indoor season. She was hoping to build on that momentum for the outdoor season, but a hamstring injury ate into her outdoor campaign in 2019. Despite a shortened debut, Elmhorst had nothing but good things to say about being an Eagle.
"My first year, it was awesome and I feel like I learned a ton because it was so different from high school," Elmhorst says after her workout. "I'm just sad I won't get to show all the improvements I've made this year."
Elmhorst has always been athletic, has always represented herself well in sporting events, but most of her results stemmed from her natural athleticism.
Competing for a small school in central Wisconsin meant she did not have access to an elite sprint coach, or an established and scientific approach to training.
Not that this ever stopped her from producing fantastic results. A talented three sport athlete, Elmhorst led the Colby Hornets to back to back runner-up finishes in Eastern Cloverbelt volleyball action. A Class of 2018 grad, Elmhorst led the Hornets to a first ever Eastern Cloverbelt title in basketball her senior year and a second ever regional title.
She loved the team element in each sport, but if ever there was a sport where Elmhorst truly shined, it was track and field. As a freshman and sophomore she placed second at conference in the 100-meter dash. Her junior year she broke out, and won the Cloverbelt crown in the 100-meter dash in 13.5 seconds.
Elmhorst was hoping for more her senior year, including a trip to the WIAA state meet, also in La Crosse, but a quadriceps injury halted her ambitions.
After graduating from Colby, Elmhorst wasn't sure if she wanted to compete in college athletics. Her sprint times earned interest from NCAA D-III programs, but she wasn't sure if she she still had the competive fire burning in her.
"I wasn't sure I wanted to keep doing sports," Elmhorst says. "I was going to be on my own for the first time, and it obviously was an adjustment going from living in Colby to living in La Crosse."
A conversation with her parents convinced her that maybe the life of a college athlete wasn't such a bad thing.
It shouldn't come as a surprise to anyone that Elmhorst is athletic. A look at her parents tells you everything you need to know about where Carley gets her athletic talent.
Her father, Eric, was a four year letterwinner at UW-River Falls as a linebacker. He is still tied for first for most fumbles recovered in a single season, and he once led the team in sacks in 1990, with 10.
Carley's mother, Jena, was on the tennis team for UW - River Falls, and both encouraged Elmhorst to give college sports a try.
"I talked to my dad a lot about it, and he said the worse thing that could happen is you don't make the team, and you're in the best shape of your life. Then he said the best that could happen is you make the team and make friends that will last a lifetime, get to see the country and get better at a sport that you love."
More left in the tank
When Elmhorst arrived on UW - La Crosse's campus for orientation she filled out the proper forms to try out for the team. Her times her junior year are what stood out to coaches, but she knew a spot on the team wasn't guaranteed.
The Eagles are one of the most wellknown NCAA D-III track and field programs in the country, whose women's track and field team has won four outdoor national titles, one indoor title and 24 indoor and 31 outdoor Wisconsin Intercollegiate Athletic Conference (WIAC) crowns.
Elmhorst is humble when it comes to speaking about being a college athlete. She doesn't crave the limelight, though she has clear and definite goals.
"I feel like being on a relay team at the conference meet would be awesome because it's very competitive to get on a relay team. But just competing at a high level at conference would be some reachable goals. After that, we'll see."
Elmhorst is often asked why she chose track over volleyball or basketball, where she was a First Team selection in both sports. When she speaks the answer is slow and deliberate, as if she has never really thought about it before.
"I loved them all, and I didn't know which one I wanted to do," she begins. "I think I felt like I had fulfilled a lot of the things I wanted to with basketball - winning conference, winning regionals."
"My senior year I felt like I was getting faster in track, then I ended up pulling my quad, and I just felt like I had more left to give," Elmhorst says. "I felt like I could still accomplish more. So, I approached it with a 'Hey, what the heck, let's give it a try.'"
Life as a college athlete
With her mind made up, Elmhorst dove head first into track and field. She quickly discovered that training and practices were only half the battle.
"The competition is insane," says Elmhorst. "At first I was intimidated because I was from a very small school, and then all of a sudden I'm traveling to different campuses and different states."
Elmhorst is also constantly balancing out her course work with her training, with some days better than others. Once she settled into a routine though, she says being an athlete has kept her grounded and distraction free.
"Sometimes I feel like it can get overwhelming when you have track practice and three exams and then meets, where you'll travelling all over the place, but if I didn't have practice and needing to
UNFINISHED lift and all the meetings that go with it, I feel like I would have too much time. I've grown to really appreciate the structure being on a college team gives me."
Stronger, faster, better
Elmhorst has made peace with the knowledge that she will not be competing in a race any time soon, but she knows she has two more years of competition awaiting her. That's what drives her to her old high school track on a windy night in early spring in Colby.
"I know it's going to be a long time before I run again," Elmhorst says, "but that's no excuse to not train and not get better, especially if I want to reach my goals."
Underneath her sunny smile and upbeat personality is a fierce competitor. It's what drove Elmhorst her four years at Colby High. It's what secured her a spot on one of the most prestigious track and field programs in the country.
"I feel like I always thought that doing athletics in college would be cool," Elmhorst said. "I thought let's give this a try, and see if this works out. It worked out pretty good because I'm still there."
The coronavirus might have taken her sophomore season, but it hasn't diminished Elmhorst's fire. When she does return to competition, she vows to be faster, stronger, and most of all, better.