Posted on
Looking back with no regrets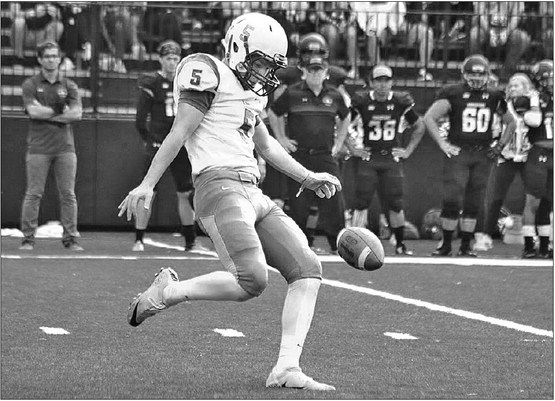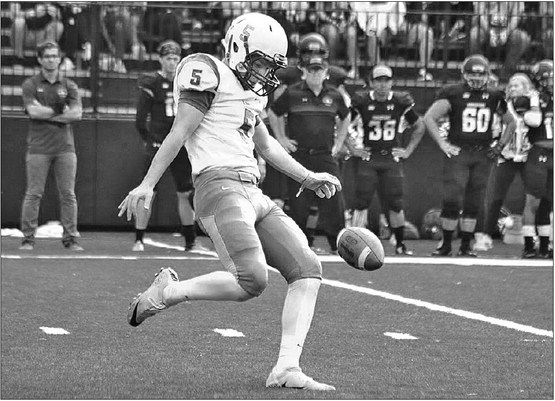 Rau reflects on years with Prairie Fire
Garrett Rau isn't certain just where his football career at Knox College ranks among the all-time greats. When it comes to comparing his career with all those that have worn a Prairie Fire uniform before him, he shies away from the topic.
He prefers to leave his legacy to the historians and the number crunchers. But if numbers are any indication, when one looks at Rau's four years with the Prairie Fire, he clearly was one of the best.
"I was never trying to be in the spotlight. It was just being able to make an impact," Rau says. "It was about taking the opportunity to play the sport that you love competitively for four more years . . . the countless memories you make . . . you can't put a price tag on that."
Punters are people too
Even just a cursory glance at the record books sees Rau's name pop up nearly two dozen times. But it's not in yards run, touchdowns scored or passes completed.
Rau made his biggest impact on special teams, where he revolutionized what it meant to be a punter. It's a different legacy than the one he envisioned for himself when he first came to the small NCAA D-III school in Galesburg, Ill. four years ago, but one that speaks to his humble and hard-working character.
In high school, Rau was the starting quarterback for the Abbotsford Falcons, and during his senior year in 2015, he led the Falcons to their first conference title in nearly 60 years.
He had hopes that he could continue to develop as a passer when he got to Knox College, but discovered that for a scrawny freshman, seeing the field at all was going to be an uphill battle.
"It took a lot of time to adjust to that and it was tough," Rau admitted during a FaceTime interview. "You go from being a high school all-star to being lucky if you're in five, ten snaps a game as a freshman in college."
He also grappled with the change in speed and size that he saw everyday after spending his high school days playing in a smaller division. In some ways, it was intimidating to see the talent on the field.
"We had a guy on our team that's a wide receiver. He runs a 10.2 100-meter dash on the track team - you don't see that in Division 7, 6 or 5 football in Wisconsin. The speed and the size difference was huge."
Nevertheless, Rau was determined to find a way to see the field. He drew on his time with Abbotsford, where he had picked up first team All-Cloverwood honors as a punter in addition to his duties as a quarterback and defensive back.
"The story about how I got into punting is actually kind of funny," Rau begins. "They didn't have a punter my freshman year and it was roughly halfway through the season. I went into coach Tomeo's offi ce to ask to punt. He says 'OK, can you kick?' I kicked it once at practice, and he goes 'Alright, the job is yours.'" In just a handful of games Rau finished with 777 yards on a meager 23 punts. He downed one punt inside the 20, with a season long of 51-yards. He also recorded his first interception and 17 tackles.
The rest, as they say, is history.
Perfecting the position
Rau knew he had the ability to do even more as a punter and athlete the following year. He set to work with a will, adding muscle to his tall, athletic frame, and he honed his kicking technique.
He worked harder than he ever had before, with a goal to start on defense and special teams. That meant night and morning lifting sessions, speed training and giving up nights out with friends.
"I knew that if I wanted to take that next step it was going to be those day to day things, those long nights when nobody is looking. That was going to lead to those bright glory moments."
By the time he came into his sophomore season he had added 20 pounds of muscle, and had grown an inch. At 6'2" and 195 pounds, he was no longer the skinny frosh fighting for playing time.
The hard work soon translated to the football field, where Rau was named starting defensive back on top of his punting duties. He doubled his tackles, notching 38, and had two interceptions.
And his punting game took off.
In his first full season as Prairie Fire punter Rau booted one of the longest punts in school history, a 71-yard rocket that pinned his opponents deep inside their own territory.
That same game he set a school record for highest punting average in a game, at 47.5 yards per punt.
"The day after the game, in our team meeting coach Tomeo brought it up, and said it was pretty cool. That's when I realized I was pretty good at it and started to take punting seriously and put the work in to break records and win awards."
When the 2017 season was over Rau finished with 2,100 yards on 55 punts. He kicked 50-yards or better eight times, and pinned opponents inside their own 20yard line 13 times.
He also picked up First Team Midwest Conference honors as a punter. More recognition would follow in the coming years - as would his reputation as a potent weapon for the Prairie Fire.
Flipping the script
Rau soon began to realize that his punting abilities were special, and made him a valuable asset to the team. What was once just a way to see the field had suddenly become a source of pride.
"I grew so much in those first two years," Rau says. "I went from being just happy to help out wherever I could and get playing time, and then suddenly I was able to help out in a bunch of different ways."
Rau's production on the field contin-
NO REGRETS ued to grow. He added more punting records in 2018, including the most yards ever punted in a single season, and second most punts inside the 20-yard line.
His role in the secondary expanded as well, and Rau recorded a career high 55 tackles and two more interceptions.
"It felt good to be able to make so many contributions in so many different ways," Rau said. "I think I kinda flipped the script a bit, in terms of changing people's perceptions about what a punter can do on the field."
Rau earned another First Team All-Midwest conference nod as a punter, and was a Team selection as a defensive back. He continued to add to his records his senior season, punting for 1,953 yards on 50 attempts. He dropped 11 punts inside the 20 and recorded 33 tackles and three interceptions along with two Pick-Sixes. Another first team nod at punter followed, his third straight.
In every statistical category for a punter you will find Rau's name. It's a legacy he's grateful for, but never expected.
"One of my seniors that I graduated with said the next time I'll probably see you is when you make the Hall of Fame. I laughed about it, but it's crazy to think it could happen. My name is in the book 20 times, and all the things I've accomplished are beyond anything I ever imagined I would do."
Cherished memories
Rau reflected on his most memorable moments, and he says it's hard to pick them all out.
Certainly there was being named captain, something he describes as "a great honor" since it's voted on by teammates. There's also the two seasons he played with his younger brother Ean, who is making his own legacy as a linebacker.
"It was really cool to play with Ean for another two years," Rau said about the experience. "We've been playing football together since we were little kids in the backyard, so to be able to do that at such a high level was really special."
When it comes to a game he remembers, Rau busts out a big grin, selecting a victory over Eureka College back in 2017.
Knox College won the coveted Lincoln Trophy, an annual award for the winner of the two teams. It was a victory made even more special as Rau played spoiler to what was Eureka College's first game in their new stadium, on a day where the mayor of Eureka called it National College Football Day.
"It was an incredible atmosphere to be around and be a part of. We scored the go ahead touchdown with about 20 seconds left - I was the one who broke up their Hail Mary pass."
There's also his victory over Beloit, on his Senior Night, with his friends and family in attendance. "We came away with a win, and just being able to celebrate with all my fellow seniors and coaches on the team, and a lot of my family was there, it was the cherry on the top of the whole four year experience."
Even after thinking about all he's done, Rau doesn't know what his legacy will be. All he ever wanted was to play four more years of football. When asked if he has any regrets, Rau's eyes light up. His answer is as quick as it is honest.
"I always tell people that coming here was the hardest best decision I have ever made. The people I've been with here, and that I have played with and that have coached me, it really is another family.
"To be a part of this team has been just incredible. If I had to go back and do it all over again, I would pick Knox 100 percent of the time. I have absolutely no regrets choosing to spend those four years with the Prairie Fire."