Posted on
Keeping the kids fed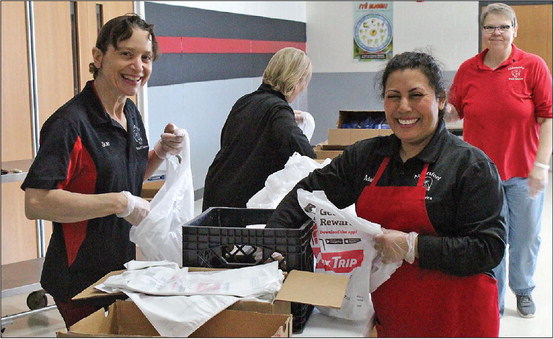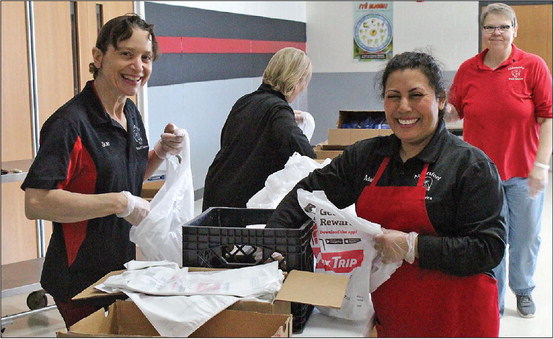 As the coronavirus pandemic continues its silent march through Wisconsin, everyday citizens have stood up and done what they can to help others during this uncertain time.
There are those on the front lines of the pandemic, the doctors and nurses and scientists who are working to save lives and develop cures. But there are others whose work is quietly heroic and vital to a community's well-being.
The cafeteria staff at both Abbotsford and Colby school districts are essential workers, but for them, providing food goes far beyond a job. To them, feeding students who have seen their worlds flipped upside down is an act of love.
"I just love the kids and we all just love the kids here," says Frankie Soto, food service supervisor in Abbotsford. "I'll do anything for them. I'll bend over backwards for them. I will make sure they (meals) will go out to the house and make sure that every students' nutritional needs are met if that's what it takes." Since Gov. Tony Evers closed schools on March 18, Soto and his staff of eight have been working to create pre-packaged meals that meet all USDA nutritional guidelines. They spend hours filling hundreds of bags with fruit, vegetables, dairy and grains so that students and families stay strong and healthy.
"It's a whole new dynamic on how we do things," cafeteria worker Chris Rau said about working during COVID-19. "A lot of brainstorming happened in the beginning to figure out which way was the best way. We still continue to change things, tweak things to make things better as we go along."
Soto has kept a careful eye on the number of meals prepared, and he has seen the numbers jump from what he saw in March, when Abbotsford was preparing a combined 570 lunches and breakfasts.
As COVID-19 forced more businesses to shutter temporarily, Soto found the demand for nutritious meals sky-rocket. By April 6, the number of meals that he and his staff made jumped to roughly 800.
"The ladies here are bagging 400 breakfasts, which is quite a bit, and then you turn around and start bagging up for 400 more lunches," Soto said. "They are doing an excellent job, and making sure our kids are getting well-balanced and nutritious meals."
Soto and his staff are doing more than just the 11 a.m. to 1 p.m. curb-side pick-up at the school district campus. He and his crew are now going to Milan and Curtiss, along with local apartment buildings, mobile home parks and wherever else children are in need.
When it comes to these trips, Soto and his staff are taking every available precaution. The school district has purchased masks and gloves for them to wear during their mobile deliveries.
When a vehicle returns to the school, they're given a thorough and deep cleaning with bleach. Any food prep items are also carefully cleaned with bleach, and every surface is disinfected.
The cafeteria staff will spend up to three hours delivering meals during curb-side pick-ups, and Soto is continually amazed by the lengths his staff will go to help students.
"I just can't say enough about the ladies here. They have taken it and run with it," he said. "I don't think they realize, or sometimes the people don't realize, what kind of heroes we have in our staff."
The cafeteria staff does their job in isolation, and don't always see the full scope of their efforts. But Soto says he receives e-mails thanking him and his staff for everything that they are doing.
"Our parents have been wonderful in coming to get the meals," he said. "Your federal dollars are working in your district. Our taxpayers money is coming back to our district."
There's been more than just federal dollars at work. Local businesses and private individuals have stepped up and offered what they can to help to provide food — especially from the struggling dairy industry.
The Abbotsford FFA Alumni had to cancel its annual dairy breakfast this year due to COVID concerns, so instead, the group is donating cheese curds for the lunch program. Each of the nearly 400 lunches are receiving a snack-sized baggie of curds once a week for the last three weeks of April, said Becky Ruesch.
"This program will continue until the end of the school year as long as school lunches are being packed," Ruesch wrote in an email. "Cheese is a healthy snack – low in carbs and high in protein. It takes about 10 pounds of milk to produce one pound of curds. We're just doing our part to help the dairy farmers avoid dumping milk in the state."
Donations have come several area businesses to make this possible. Anyone interested in donating to the Curds for Kids program can contact John Slipek (715-223-2386 ext 4114) or Becky Ruesch (715-613-3003).
In the Colby School District, Teri Raatz said money raised from local businesses has been used to purchase 920 pounds of cheese from Nasonville Dairy, which equates to 9,200 pounds of fluid milk off the market. This will result in each family getting a pound of cheese per week.
"Each week will be a different cheese, rotating between cheddar, Colby, co-jack, and Monterey Jack," Raatz said. "We have enough money to go 150 pounds per week for six weeks."
Rau said they've also been able to purchase 560 pounds of butter, enough for each family to get one pound of butter per week. It takes 21.2 pounds of milk to make a pound of butter, so that's 11,872 pounds of milk off the market, Raatz noted.
"Our total then is 21,072 pounds of milk used for products given to local families," she said. "With the average Wisconsin cow giving 65 pounds per day, that equates to using the milk from 324 cows."
Soto said each and every donation fills he and his staff with profound gratitude.
"I can't express how much their work has been appreciated here and how much they've done for us," he said. "The response from the community and local businesses has been just wonderful. Those places and companies have been wonderful for helping us with the situation we are in."
It's been more than just food that Soto has received, with a local gas station supplying plastic bags to place meals in. The pandemic has forced Soto to get creative at times, but nothing stops him from doing his job to a high standard.
"I will not cut corners on food. I didn't when school was on, and I won't now," he says. "I will make sure everything is there that the kids need. If I have to drive out and deliver it myself to provide nutrition for our kids, I am willing to do that."
To that end, Soto wants students and families to know that if they need food, or are not receiving food, to let him and the school district know.
"If you're not getting a meal and need those meals, contact us soon as you can so we can distribute out," he said. "I'll do anything I can for them."
It's a strange and scary time, but the staff remains undeterred in doing what they can to help. When asked if she ever considered staying home, Rau said the thought never crossed her or her coworkers' minds. "It's definitely vital to the kids," Rau says about her work. "The nutrition part of it is absolutely important because some kids don't get certain foods like the fruits and veggies at home. It's definitely an important thing and it truly makes you feel like you're doing something worthwhile."
Soto refuses to let COVID-19 sway him from having an impact on the lives of the students he loves and cares for.
"I take pride in working here, and love what I am doing, and that makes it easier to ensure the kids are getting fed and not going to bed hungry," he said. "That's what I'm here for, and that's what everyone in this kitchen and the staff is committed to doing. We're here for the kids and our being here shows we are here for them."