Posted on
Abby moves graduation to July 25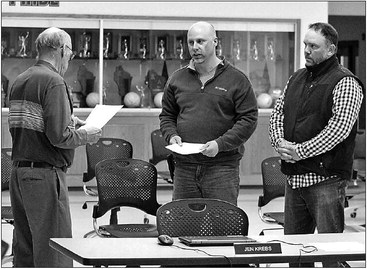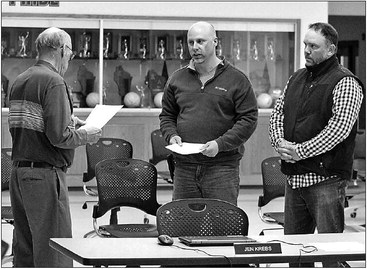 By Ross Pattermann
In an effort to give the Class of 2020 a proper send-off, the Abbotsford Board of Education approved a plan Monday for seniors to have their graduation ceremony take place on Saturday, July 25.
With Gov. Tony Evers extending the "Safer at Home" order until late May, the joy of graduation for this year's seniors will have to wait until the summer, Abbotsford High principal Ryan Bargender said during the board's monthly Monday meeting.
"Obviously we won't be able to have our normal graduation date," he said. "This is a hot topic among principals on a weekly basis. I sent an e-mail to our seniors looking for input and for ideas. I talked to their class president and she acted as their voice and she said that they would like an actual ceremony."
Bargenderexplainedthatotherschools in the area are working on setting dates for a potential graduation ceremony around the same time, with weekends in July being targeted.
Just what that ceremony might look like, or where it will even be held, is still up in the air after Gov. Evers extended the "Safer at Home" order which prohibits public events of any kind on school grounds.
"I thought if we pushed it back to the end of July that would at least give us some time," Bargender said. "If it doesn't work at that point, that we can't have it in the gym, we'll be looking at options such as spacing out on the football field and doing something in the stadium."
At present, Bargender said the school's ability to hold a public ceremony for graduation depends on how quickly the state of Wisconsin begins to see a decrease in new cases of COVID-19.
In the event that cases continue to increase, Bargender said the school has explored other options such as a ridethrough/ parade ceremony, or even an online version of graduation.
Bargender told the board that he spoke with Jostens, a company that provides graduation-related products, about the possibility of a virtual graduation, but he isn't sure what that would look like.
"We're trying to think outside the box and find some way to have graduation," he said. "I'm hoping that we can stick to that day (July 25), and hopefully the best case scenario is it's in the gym because the area is so big. We just want to find some way to give the seniors a proper send-off."
Grading is now pass/fail
Bargender informed the board that due to issues surrounding COVID-19, the district would switching from letter grades to a simple pass/fail grade for high school and middle school students.
In his report to the board, Bargender noted that the switch from face-to-face learning to remote learning brought up the inequities in each student's work environments, with some households more equipped to help their children with lessons and course work than others.
"Obviously, remote learning isn't for everyone," Bargender said on Monday. "Some of the kids don't have control over their situations. Sometimes there is no parent at home, it's an older sibling with three or four younger siblings."
"Depending on their situations, some have connection problems with a lack of access to reliable Internet, or there's only one computer at home and they might have to share," he added.
Bargender said administrators took all these issues into consideration, and at the end of the third quarter, with just a week and a half left in that quarter, they chose to have the letter grades stand as reported at the end of terms for middle and high school students.
Starting with the fourth quarter, Bargender said grades this would be moved to a pass/fail. For second semester grades, the third quarter will account for 75 percent of that passing grade and the fourth quarter will account for 25 percent of the final grade.
Students will receive full credit for those courses so long as they earned at least 60 percent of the grade. A "pass" grade will see a student earn full credit for that class, while a "fail" grade will see no credits earned, though neither outcome will affect a student's GPA.
Bargender also said that students with an F would have the opportunity to withdraw from the class without penalty, and they would not have an F on their transcripts. Grades from the second semester will have no effect on a student's class rank.
Colleges are getting on board with the pass/fail grading as well, he said. Bargender told the board that colleges and universities will accept pass/fail grades for this semester on transcripts and college applications, with Bargender explaining that colleges are "more concerned with credit and GPA rather than a letter grade."
The board did receive some good news from superintendent Sherry Baker, who said that the district is closing the gap in providing tools for online education, with the district spending $100,000 on new Google Chromebooks, which will be reimbursed by a COVID-19 grant.
"We did purchase enough Chromebooks for our district to be one-to-one," Baker said. "They're supposed to be sent the first of May, and we're going to work hard to get them in the hands of our students. It's a little late in the game for this year, but the long-term benefits are starting next year, we're going to be oneto- one."
The district has also released a map on its Facebook page detailing all the various Wi-Fi locations in the area, and the board was told that the district has been working with CESA-10 to create 35 hotspots with free, unlimited data that students can use to gain access to online instructional materials, and for virtual learning and coursework.
Bargender said the school is committed to learning and instruction, and teachers have been exemplary in their efforts to educate their students, but with so many issues to account for, a normal grading scale simply wasn't for all the middle and high school students in the Abbotsford School District.
"There's too many variables in there to say you get an A, B, C," Bargender said. "We're getting everything done, it's just going to look different from what we're used to."
Other business
_ The board approved a motion granting spring coaching staff 33 percent of their normal salaries, with the remaining budgeted amounts to be placed into their athletic accounts for purchasing equipment.
_ The board approved the purchase of the Skyward True Time program, at a cost of $1,200, which will be used to replace employee time cards beginning in the 2020-21 academic calendar.
_ The board accepted the resignations of Matt Cihlar as a physical education teacher, middle school football coach and assistant track coach, and fifth grade teacher Nicole Swenson, effective following the 2019-20 school year.
_ The board approved the hiring of Alex Larson as a 4K-12 physical education teacher for the 2020-21 school year.
_ The board approved 1.81 percent payment increase for Burnett Transit for 2020-2021.
_ James Hirsch and Eric Brodhagen were sworn in as elected members of the Abbosford Board of Education for the 2020-21 calendar. Hirsch is a newcomer to the board, and Brodhagen is entering his second term.
_ The board awarded outgoing board president Don Medenwaldt with a plaque for his 18 years of service. Monday's meeting represented Medenwaldt's final monthly meeting as the school board president.