Posted on
One last game for the Hornet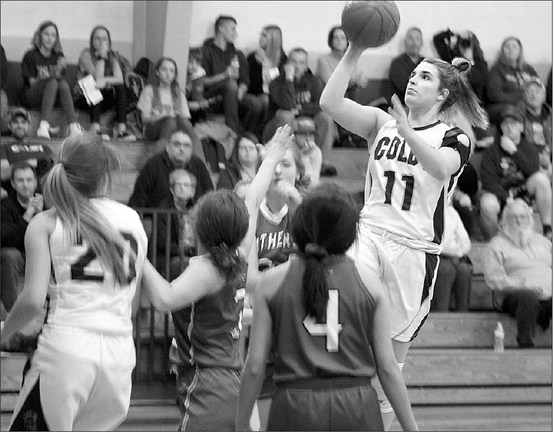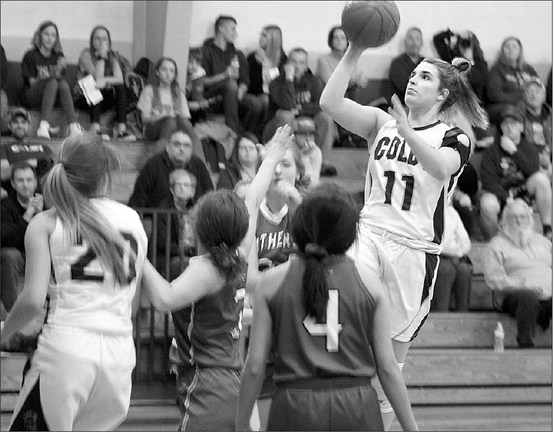 Hailey Voelker doesn't know the next time she'll actually be on a basketball court, let alone playing in a game. The idea of practices and games is a question mark for her, thanks to COVID-19.
"I'm trying not to think about [the coronavirus] too much," Voelker says. "But yeah, this quarantine is affecting everyone so you almost always think about it at least once a day."
Despite all the uncertainty that the coronavirus has brought to the world, there is still hope. For Voelker her hope is that basketball will be here sooner rather than later.
Voelker, a senior at Colby High, was nominated and honored to be chosen to represent the WIAA D-4 North team this summer at the Wisconsin Basketball Coaches Association (WBCA) All-Star game at the Justagame Fieldhouse in Wisconsin Dells on June 19.
A two-time all-state recipient, her selection for the all-star game did not come as a surprise to many, but for Voelker she's still in awe of the honor.
"It's really cool to get one more chance to play one more game, especially in this game," Voelker says excitedly. "I am going to college in Michigan, so it's my last time to play in Wisconsin, and it's my last chance to play for Colby. It's really a great honor."
Voelker is hoping that by the time that game rolls around, some two and a half months from now, COVID-19 won't be much of a factor. It's already stolen much of Voelker's last semester at Colby, and potentially her track and field season.
Nonetheless, she keeps in shape in the hope that in a few months she'll be wearing Colby green and gold for at least one more time, for one final game.
"Right now I'm going out and running and keeping my endurance up," Voelker says. "I'm eating right and I have a basketball hoop outside and I've been going out there and working on my shots."
She's doing what she can to prepare herself for the hustle and grind of college athletics later this year, where Voelker will be the newest member of the Lake Superior State Lakers, an NCAA D-II school in Sault St. Marie, located in Michigan's Upper Peninsula.
It's for that reason that Voelker is looking forward to the WBCA All-Star game so much. With multiple players on both teams committing to play at the next level, she's treating the game as a springboard for her college athletic career.
"It will be really nice to see because a lot of girls are really good here and college is going to be a great change for me and this will be a great eye-opener for me, I think," Voelker said, discussing the game. "It's a chance to get some excellent experience against good players and kinda get me ready for the college game."
She's the third Colby Hornet in two years to be given this honor, along with Ashley Streveler and Vanessa Lopez last year. To get an understanding about what to look for during the game, and the week-long build to it, Voelker contacted Lopez, who told her how to handle the game and the nerves.
"I reached out to Vanessa and asked her how it worked and she explained that I will be there for the whole week, and she said it was a great experience," Voelker said. "I also had some other friends that played last year and everyone said very positive things about it."
Top notch competition
It helps that Voelker has been in big games before, playing for conference, regional and sectional titles. She'll be drawing upon those experiences to help her handle her nerves and the speed and size of the players in the All-Star game.
The biggest challenge will no doubt be Lexi Donarski, this year's Wisconsin Miss Basketball, and a full ride commit to D-I Iowa State. Donarski isn't the only one to worry about, with several talented players on the D-4 South roster heading to various levels of competition in the NCAA later this fall.
It's there where Voelker says her years and background with AAU summer league basketball will come in handy.
"Playing AAU definitely helped," she says. "I played against some of the best players in the state during AAU, some of the big names out there like Donarski. I feel like doing that, going up against those kinds of players, got some of those jitters out."
The competition is only one hurdle to overcome, with the greatest challenge coming to grips with a new team and learning to find chemistry with one another in just one short week.
"I feel like it will be hard trying to figure out everyone's style of play because it's a bunch of players coming together," Voelker. "Obviously getting to know each other will be the hardest part, but after the first few days we should be OK."
Some of these teammates will be familiar. A few of them, until just recently, were rivals, like Tabitha Renkas of Crandon, who Voelker knocked out of the playoffs last season en route to Colby's state tournament run.
Voelker will also be playing with Sarah Mueller of Pacelli, whose Cardinals ended Voelker's senior season, and with it, her prep career. But there's no animosity for Voelker - she's just excited to be in this game.
"I think it will be fun. Obviously a lot of respect for them going that far. She's going onto the next level to play. It will be fun - we just have to put aside differences and get a long and play one more basketball game," says Voelker.
"I feel like it will just be a good game to highlight all the great players in Wisconsin. I think at the end of the day it's a great honor to be able to say I played as an all-star on the Division Four basketball team."
A dream fulfilled
The all-star game is more than just an honor for Voelker, it's the fulfillment of a dream, something that she's wanted to be a part of ever since her career with Colby first began.
"It's a great way to top off my high school year," Voelker said. "It's definitely something I've been looking for since my freshman year, so it's a big deal for me and I am very happy and honored that I was chosen to play in the game."
The uncertainty is still there with regards to the game and COVID-19, but Voelker still wants to play it, even if it means playing in an empty stadium.
She's put in a tremendous amount of hard work over the years, fought through so many doubts and come out stronger
LAST GAME on the other side. This game is much a reward for that work and belief in herself as it is an honor.
"You have to trust in yourself and get over the little bumps and realize it's not that big of a deal," Voelker said about her growth as a player.
"You have to make the right choices and ultimately it helps to have great people in your life pushing and helping you get better every single day."
Giving back with basketball
There's another component to this game that also attracted Voelker to it. While the game represents one last time for her to represent Colby and to test her skills against the best in D-4, it also raises money for charity.
In order to play in the game each player must raise a specific amount of money for the Midwest Athletes Against Childhood Cancer (MACC) fund, where a minimum of $500 is asked of each player.
"It's a great feeling being able to play the sport I love while also helping kids that really need it. All the money goes to the MACC fund and it's just awesome knowing that I get to help out with that."
Above all, Voelker says she wouldn't be here without the support of Colby and the fans and parents and coaches, and hopes to make them proud as she represents the Hornets one last time.
"I wouldn't be there without all the support everyone has given me," she says. "It feels great to represent little Colby one more time.
"Playing for Colby was an absolute blessing and it was such a wonderful experience to have all the great coaches and teammates in my four years at Colby."