Posted on
Friends of the CCL review 2019, plan for 2020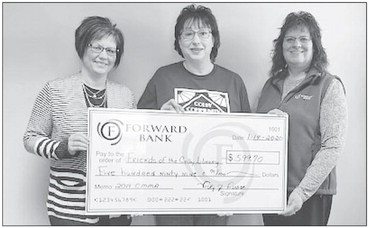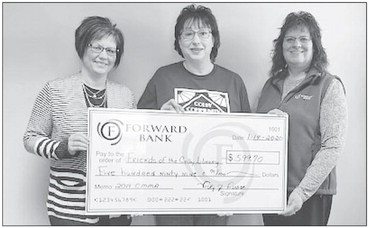 The Friends of the Colby Community Library met March 9 for their annual meeting. President Vicky Fischer thanked the members for their dedication and commitment to the Friends of the CCL.
Old business discussed: In 2019, the Lions Smelt Feed brought in $600. The Cheese Days Movie/Book Sale earned $2,170 for the Friends. The bake-off/ bake sale profit was $250. The Holiday Shoppe earnings were $853. Forward Bank CMMA has been very beneficial to the organization with a $599 payment received in January 2020. Calmes reported on the Maddie Thums Memorial Sew-a-thon and Make-a-Difference Day 2020 held on March 6. Fortynine people attended the event and over 300 items were completed for Marshfield Medical Center and Sleep in Heavenly Peace.
Purchases in 2019 with Friends' funds were Book Pages, raffle license renewal, concrete medallion work in the library's gazebo, concrete sealing, the annual meeting speaker, and stained glass panels for computer carrels.
New business discussed: The CCL merchandise sale for shirts and canvas bags will be ongoing. The WeatherShield LITE grant application will be written again.
Fundraising ideas for 2020 are serving the VFW Fish Fry and Lion's Smelt Fry. Two brat fry sales at Smith Brothers and the Cheese Days Book/Movie Sale are planned for the summer.
Calmes also noted that Friends assistance will be needed at some librarysponsored events in 2020, which include the amphitheater concert on Aug. 22, a co-op speaker with the Rural Arts Museum on Sept. 16, Foodsgiving delivery in November, New Year's event on Dec. 31, and Maddie/MADD Day 2021.
Brittani Mertens spoke about the new AmazonSmile account the library has. Anyone shopping through the Amazon-Smile website can designate the Friends of the CCL as their charitable organization, and the Friends will receive .05 percent of their purchase amount.
A fundraising committee was formed. Members will be Debbie Kassie, Bonnie Hoernke, Judy Koffarnus, Ruth Blume, and the officers. Calmes will arrange dates and times.
Calmes suggested these expenditures for the year: Bookpages, annual raffle license renewal, additional signage, Foodsgiving display, a cast cornerstone plaque, and replacement of the library copier. These were approved.
The officers for 2020 will remain the same by unanimous ballot: Vicky Fischer (president), Becky Schmelzer (vicepresident), Traci Geiger (treasurer), and Brittani Mertens (secretary).
Fischer drew names from those who signed up to work Friends fundraisers for door prizes. Winners were: Jim Rau, Sandy Larson, Bonnie Hoernke, Ardith Fischer, Terra Newman and Jodie Teeter. Instead of a speaker this year, an Irishthemed meal was provided by Forward Bank prior to the meeting New members are always welcome. Contact the library at 715-223-2000 for more details.