Posted on
Ballots rejected due to no postmark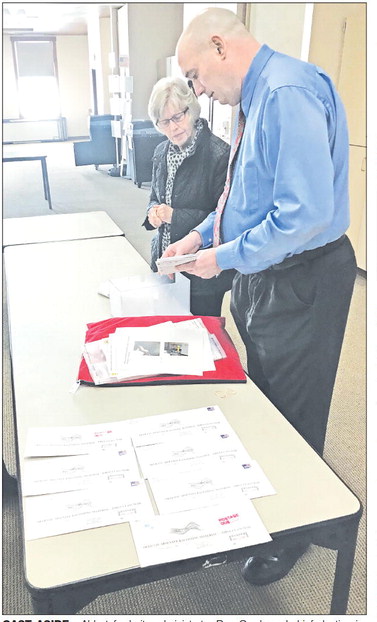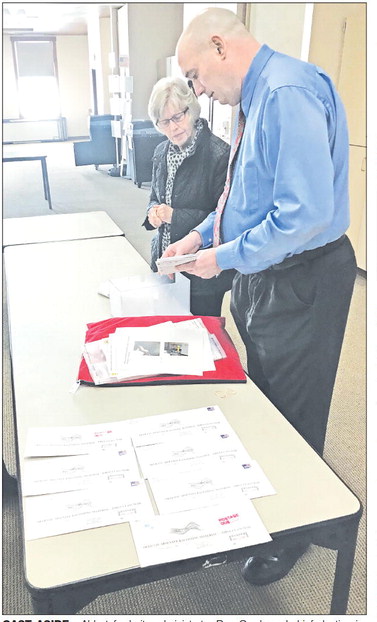 By Kevin O'Brien
Seven absentee ballots in the city of Abbotsford, five of which came from one nursing home, had to be rejected this week because they were not postmarked, as required by the U.S. Supreme Court.
Another four ballots in the town of Holton had to be set aside for the same reason, and so did one in the town of Mayville, meaning that at least 12 area voters were essentially disenfranchised due to a post office problem that was also reported in other parts of Wisconsin.
The last-minute decision made by the nation's highest court on the eve of last week's election meant that all absentee ballots had to be postmarked by April 7 in order to be counted.
For reasons that are not entirely clear at this point, absentee ballots across the state arrived at clerk's offices by Monday's deadline, but without postmarks verifying when they were mailed out.
Several of the ballots received in Abbotsford had voters' signatures that were dated April 7, but they still had to be discounted because of the exact language of the court ruling.
City administrator Dan Grady noted that all of five of the rejected ballots on the Marathon County side of the city came from the Abbotsford Healthcare Center, formerly Dycora.
Grady said the city was able to count a vast majority of its absentee ballots, about 100, because they were postmarked April 7 or earlier. Absentee ballots represented about 30 percent of the city's overall vote total of 331 for the election.
In the 2019 spring election, 23 Abbotsford residents voted absentee, he said, about a quarter of this year's number.
The seven rejected ballots were sent to the county clerks on Tuesday, Grady said.
"If they have to re-canvass, it'll be up to the county clerks to decide what to do with them," he said. A combination of COVID-19 concerns and court rulings created a variety of different results in local cities, towns and villages.
The city of Colby saw its number of voters increase by 115, or 42 percent, over last year's spring election. A total of 391 city residents cast votes, including 227 who submitted absentee ballots and 164 who voted in-person on April 7.
Last year, 254 city residents voted on election day, and 22 cast absentee ballots.
Of the absentee ballots cast this year, 70 of them were done so in-person. One mailed-in ballot had to be rejected because it was missing a signature.
City clerk Connie Gurtner told the city council at a meeting last week that she thinks the increased media attention leading up to this year's election actually drew more people to the polls, despite worries about the coronavirus.
In the village of Curtiss, very little changed for this year's spring election. Village clerk Megan Zoellick said 24 residents cast ballots in person on April 7, which is a normal turnout.
Just two village residents voted with absentee ballots in Curtiss.
"This is up from zero last year," Zoellick said. "However, one person said they just did not have time to come to the polls and did not indicate that it was a COVID- 19 related reason."
Dorchester, on the other hand, saw a big jump in absentee ballots, from eight last year to 67 this year. In-person voting on election dropped from 94 to 77.
All together, the village saw the number of votes increase by 42 over the 2019 spring election, from 102 to 144.
The area's rural townships also saw varied responses to last week's chaotic election.
Town of Colby clerk Theo Ludwig said she sent out 32 absentee ballots, and all but one of them were returned by Monday's deadline. In a normal year, she usually has four or five absentee voters.
Ludwig said 135 town residents voted in-person on election day, which was down from the 200 or so who normally show up for spring elections. She attributes the lower turnout to fears of contracting COVID-19. "I think that deterred a lot of people from coming," she said.
Because of so many people not wanting to come to the polls this year, Ludwig said she had to explain the absentee application process to a lot of voters who had never done it before.
"People don't realize you can't just call and ask for a ballot," she said. "You have to request one in writing."
Ludwig said she ended up having 20 town residents voting at her home this year just to avoid mistakes.
"All of us clerks were going crazy trying to figure out what to do," she said.
Town of Holton clerk Jennifer Schreiber said the township saw more voters for last week's election than it did for the February election. A total of 179 voters cast ballots, she said.
"We had quite a bit more in person voting," she said. "I think it was a reason for people to get out of the house from their quarantine."
Schreiber said she sent out over 90 absentee ballots, and just under 70 came back by the deadline. Absentee ballot requests are usually "in the single digits," she said.
Four of the absentee ballots had to be rejected because they had no postmark on them, she said.
Voter participation also increased in the town of Mayville, where clerk Yolanda Schrock said a total of 184 residents voted this year compared to 113 in 2019.
In-person voting on election day was down slightly, from 112 to 106, while absentee ballots skyrocketed, from just one in 2019 to 78 this year. One of the absentee ballots was discounted due to a postmark issue, and three didn't show up on time.
In the town of Hull, clerk Tiffany Bruesewitz said a total of 147 people voted in last week's election, compared to 116 in 2019 — an increase of 36.
Absentee ballots shot up from just three last year to 57 this year, but five of them had to be rejected because they were missing the required witness signatures, she said. In-person voting on election day dropped from 113 down to 95.