Posted on
Sperl pursues gridiron glory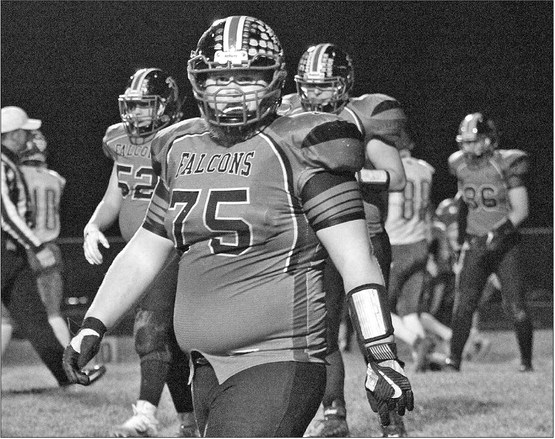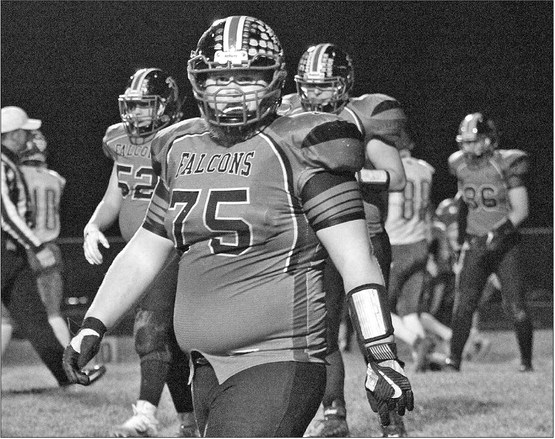 Abby grad to play football for Pointers
Every fall over a million high school student-athletes put on shoulder pads, a helmet and a uniform. They'll do battle under the neon glow of Friday night lights, in stadiums big and small, some with skyscrapers looming in the background, others a humble corn silo.
No matter what state they're from, or what division they play in, the goal is the same - gridiron glory. For those lucky few blessed with talent, there's more than just a title on the line, there's a chance to play the sport they love at the next level.
The odds are against them. Only seven percent of all football players have that unique combination of size, speed and athleticism that translates to college ball.
Chase Sperl of Abbotsford can now add his name to the list of football players who have successfully made the leap from high school to college after recently committing to play for the NCAA D-III UW - Stevens Point Pointers this fall.
For Sperl, getting to play at the next level is an accomplishment years in the making, and something he wasn't quite certain would happen when he first put on a Falcons' uniform.
"It's always been a big dream of mine, but I guess I never knew I really could do it until everything started clicking around my sophomore year," Sperl said. "That's where I kinda got the idea and started getting into the recruiting process. It's worked out pretty well for me. I got to where I wanted to be."
The choice to be a Pointer was hardly an easy one, nor was it Sperl's only option. During his time with the Falcons, Sperl was a three time all-conference selection in the Cloverwood Conference, including back to back first team honors on the offensive and defensive lines.
As a result of these accolades, Sperl's talents were in high demand, and he had numerous college coaches across multiple divisions asking to see him.
In order to get a better idea of what he was looking for in a program, Sperl took multiple trips to college campuses last summer. He spoke with several NCAA D-II schools, including Minnesota - Moorehead, Mankato State and Southwest Minnesota State University.
Sperl took his recruitment a step further when he visited several Division I schools, speaking with coaches from the University of North Dakota and South Dakota Sate University.
"It was a weird process," Sperl said as he described his recruitment experience. "I didn't really know what I wanted to do, and I wasn't sure where I wanted to end up. I figured I might as well take every trip you could possibly go to, get there, see it and learn from it."
The trips made their impression on Sperl, who, despite offers of athletic scholarships, felt compelled to remain in Wisconsin.
"I realized I wanted to stay home, stay close to friends and family," Sperl said. "The big thing for me is being able to see all my family up in the stands, seeing them cheer for me. Going seven hours away, I knew that wasn't something I could get."
Having made up his mind to stay instate, Sperl's next step was to choose which school to attend. He was in touch with UW-Oshkosh, UW-Eau Claire and others, but he felt an instant connection with Stevens Point.
"I visited Point three times and I loved it," Sperl said. "The coaching staff really made me feel at home. They sat down and talked with me man to man; they didn't talk to me like I was a child. I was able to sit down with head coach [Greg Breitbach] and talk about scheme and it all made sense to me."
Sperl's decision to attend Stevens Point will also reunite him with former Abbotsford teammates Joe Aguilera and Caden Decker. That will make the transition from high school to college easier, Sperl says.
"I like those guys, I stay in contact with those guys," Sperl said. "It one hundred percent made my decision a lot more comforting and easy."
An equally talented player on both sides of the ball, Sperl led an offensive line that saw multiple running backs reach over 1,000 yards during his four years as a Falcon, including back to back 2,000 yard rushers in Aguilera in 2018 and Dalton Feddick in 2019. Sperl also helped lead a defensive line that held opponents to under 20 points a game.
Sperl isn't sure what position he'll play at Point, but he prefers the offensive line, and hopes to play center or guard.
"They told me to pick one, so I picked O-line. I know I'm not going to move to quarterback sadly," Sperl said.
Not that this was particularly surprising to Sperl, considering he's a mountain of a man, standing 6'2" and weighing over 270 pounds. But natural athletic ability and size alone didn't get Sperl to where he is now.
It took years of hard work and preparation that saw him transform himself into a college prospect. Sperl's work ethic is such that his max squat and deadlift are both 500 pounds, a staggering amount for a teenager.
Sperl credits Abbotsford head coach Jake Knapmiller with a great deal of his development - both on and off the field.
"The strength program that coach Knapmiller put together at Abby is crazy. It is absolutely bonkers if you commit to it. If you put your heart and soul into it, you will make leaps and bounds.
"If you want to be a good football player, it will happen if you commit. In the beginning I wasn't, and then I saw older guys putting in the work, and I knew I had to get on that. I knew that would lead to success."
The success certainly came for Sperl as he and his senior class tallied over 40 wins during their prep careers - an impressive feat considering all that any team is guaranteed is nine games a year. With Sperl anchoring both lines, the Falcons won three Cloverwood titles, and have played in three Level Four playoff games, just one game shy of a state title game appearance.
"Playing for Abbotsford, being a Falcon, has been unbelievable," Sperl says. "We just have a great community around us. I wouldn't want to be anywhere else, or play football for any other team. Being a part of this tight community has prepared me well and helped do all the little things right.
"In this small town everyone knows your first name and your last name. The biggest thing I've probably learned is
SPERL the importance of doing the right thing when everyone is watching and when no one is watching."
Sperl is also eager to show schools what they missed out on. He knows that if he had been just a few inches taller, he likely would have fielded full ride offers from D-I universities, and that knowledge gives him an extra chip on the shoulder.
"One hundred percent," Sperl says, acknowledging howhisheightplayedapart in his recruitment. "Short's a strange term to use when you're 6'2", so that's very weird to be thought of as short. But we're going to prove them wrong - I always say it's heart over height."
But Sperl has no regrets choosing a DIII school over D-II, or walking on with a D-I. For him, the talent is deep at the D-III level, and he reminds people that every player on a D-III squad was one of the best athletes to ever come out of their respective schools. "It's a weird stigma," Sperl says when talking about the outside view of D-III versus D-I. "College athletics is college athletics. Division III in Wisconsin is no joke. The WIAC is probably the best D-III conference in the entire country."
Those aren't just boastful words from a Wisconsin kid either. The WIAC has produced multiple All-Americans and national champions, with UW - Whitewater winning the NCAA D-III title a total of six times since 2007.
The Pointers aren't quite at that level yet, but under the direction of coach Breitbach, the Pointers are making noise around the country. In his first two years at the helm, Breitbach and the Pointers have notched back to back seasons with wins over ranked opponents.
Changing the culture of a program is something Sperl knows all about, having helped the Falcons go from underdogs to champions, with Abby winning multiple Cloverwood crowns in the last several seasons.
Sperl is keeping his goals at UW-SP reasonable for the time being, but the hope for titles and a berth in the postseason is there, simmering on the mental back burner. For now, Sperl simply wants to prove himself to his new coaches and teammates that he belongs and that he can hold his own and contribute.
Sperl has put himself in an excellent position to achieve more than a spot on the roster, after piling up victories and personal accolades as a Falcon but he's quick to say he didn't achieve it on his own. His coaches at Abbotsford gave him the perfect launching pad for not just football, but also for the game of life.
"It was like a second set of parents, and that might sound weird, but the things that they taught me, it was next to that. Football is a team sport, and you're with a group of guys for a long time, so it always builds that family atmosphere. The coaches here taught us work ethic on the field, in the weight room and in the classroom.
"They always preached doing the little things that build to the great things and I think that's how Abbotsford became a great football team over the last four years," Sperl said. "Their preparation for game days and for life, I feel, was absolutely next to none."
Sperl cherishes the time he spent with Abbotsford. He knows that if it hadn't been for his time as a Falcon, he might never be in the position he is now.
"My time at Abbotsford has been like a fairy-tale. It's a great story and was an excellent experience, being part of this great program."
The success was fun, says Sperl, but his time as a Falcon has only served to increase Sperl's appetite for even bigger things.
With his decision firmly made, Sperl is ready to get back to a football field where he has set his eyes on bigger prizes.
"My time at Abby just made me hungry for more. When you win, but then lose so close to a state championship, you get even hungrier. So that's what's in me - that's what I want. I want to win at the next level because I feel I didn't win enough in high school. I want more."