Posted on
A Nice Family Christmas opens Thursday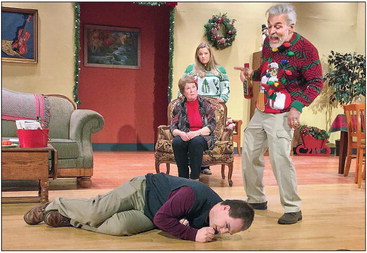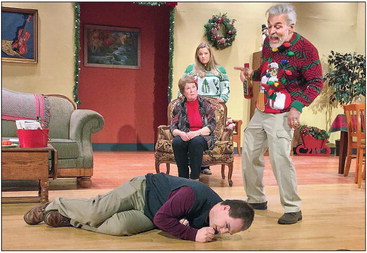 The ShowCase Players' latest production — the hilarious comedy A Nice Family Christmas by Phil Olson, and produced by special arrangement with Samuel French, Inc — has a rare Thursday night opening. Due to some bawdy humor, parental discretion is advised.
The play will be performed at the Colby High School Theatre, March 12, 13, 14, and 15. Thursday thru Saturday shows begin at 7:30 p.m. The Sunday matinee begins at 2 p.m.
Tickets are available for purchase at the door and at the Coffee Coop in Colby. When you purchase your ticket at the door, $1 will be discounted from the price of admission with your donation of a non-perishable food item for the food pantry.
Jeffer Scheuer from Owen directs, and Paula Williams from Greenwood is the stage manager in this insane comedy.
Jordan Aschenbrenner of Rib Mountain plays Carl, the middle son, and a writer at the bottom of the sibling food chain. Carl is joined by Kevin Wyeth of rural Curtiss, who plays Michael, the older brother, doctor, and seemingly favorite son. Ariel Oehmichen from Colby rounds out the three siblings as Stacy, the youngest child. Despite no one noticing her, Stacy has a successful career that no one understands, and aspires to rise to the top of the sibling food chain.
Grandma, played by Roxie Wetterau from Spencer, is sure to notice Stacy and the rest of her grandkids by the end of the night (if she can survive all the twerking). Elaine Haas of rural Colby, who plays Mom, struggles to keep the sibling rivalry in check, and control Grandma's insanity.
In an effort to have a nice family Christmas, Mom institutes a contest. Crazy Uncle Bob, played by Greg Jackan from Marshfield, threatens to derail Mom's little contest with a confession that throws the family for a loop. Further threatening Mom's contest is Michael's emotional wife, Jill, played by McKenna Duesterbeck from Withee.
Will Jill's little secret upend the evening, or will Mom's own secret ruin a nice family Christmas?
On Saturday, March 14, Empty Bowls will be serving soup and much more, in the Colby High School cafeteria from 4 to 7 p.m. For an at-will donation, you get to sample soups from local churches and vote for your favorite. You can also choose a bowl made by local art students.
The team that makes the winning soup gets bragging rights and a traveling trophy. Proceeds benefit the food pantry in Colby.
Once you've eaten, join the ShowCase Players for their Saturday performance of A Nice Family Christmas at 7:30 in the high school theatre a few feet away.