Posted on
Voelker makes history, joins elite company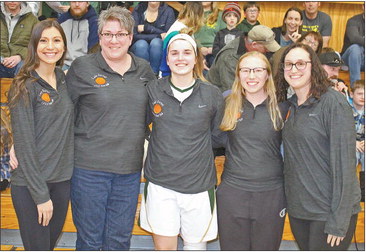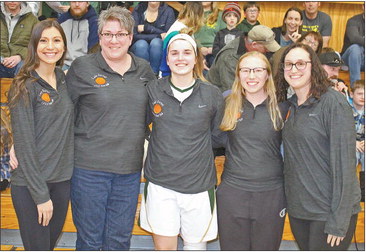 "Ten more let's go! Eight more let's go!"
With each basket the crowd's chants grow louder. Two more shots fall and the countdown continues again.
"Six more let's go! Four more let's go!"
Hailey Voelker is dimly aware of the noise behind her, only half paying attention to the cheers that are for her.
Right now she's got a job to do, and that involves beating the team in front of her. But underneath her jersey, her heart is beating faster as she closes in on a milestone she's been chasing since she first donned a Hornet's uniform years ago.
Voelker takes a pass, fights her way through a thicket of Spencer defenders and goes up for two. The ball dances on the rim and then falls in.
The crowd, already cheering with manic energy, explodes and showers Voelker with praise. The game is far from over, but for Voelker, she's achieved something only four other Colby girls basketball players have done - she's scored 1,000 points in her career.
"The girls that are in it probably worked harder than me to get it, and it's just a great feeling knowing that I'm with such an amazing group," Voelker says, trying to describe what it means to make history. "It's five of us now, and it's very special to me and I feel it very deep in the heart."
It's only fitting that Voelker achieved her heart's desire on Valentine's Day. That she did it the year after friend and teammate Ashley Streveler accomplished the same feat speaks to Voelker's work ethic, but the strength of the Hornets' program and all the ladies Voelker has played alongside.
"Ashley was a very good role model for me . . . She was a very good leader and seeing her succeed and her score 1,000 points pushed me a little harder and made me want that a little bit more."
A talented multi-sport athlete, Voelker made it to state in track and field. But she readily admits that basketball is her favorite sport, and almost from the moment she stepped onto the court as a freshman, Colby Hornets head coach Randy Rau could see Voelker's potential.
"I think at a young age you could see she was physically gifted," Rau said. "She came in, she didn't try to push too much in the younger years and she always played well as a team. She's had to play with a lot of talented players and she's adapted well through the years. This year was her year where she had to be a little bit more the leader versus just one of the teammates."
Even with her innate talent, Voelker had to work more as a role player in her early years - but Voelker's physical gifts are matched only by her work ethic and humble demeanor.
"There's no selfishness involved with her. She's never worried about having to score all the points," says Rau. "She's a great teammate and has great sportsmanship. She wants to win as much as anyone, but she wants to do it the right way, and she always has."
As a freshman Voelker averaged under 10 points a game, but now a senior year, shes averaging nearly 20. It's a transformation that took years to achieve, but she's quick to deflect praise.
"I had so many people who helped me get here, from Ashley's dad, to my AAU coach Kris Becker to offseason training. I had so many people who helped me along the way - my teammates, coach Rau, my parents, brother. All the help and support over the years was just so amazing."
With the milestone over and done with, and the season now over, Voelker's work on the court continues.
In a few short months, she'll be a freshman all over again, and on a new team. She'll be trading green and gold for new colors. Her time as a Hornet is done, but Voelker has one last lesson to impart.
"Work your hardest, take everything in and if someone is willing to help, take the help. Play every game like it's your last and cherish every moment on the court."