Posted on
Hornets' season ends in Stevens Point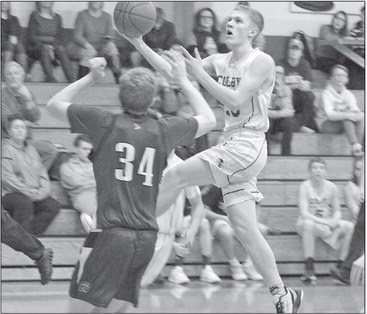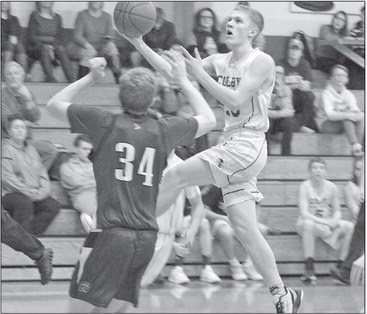 The Colby Hornets closed the book on their 2019-20 season with a pair of losses, first to Fall Creek last week Thursday, and then in the first round of regional playoff action to the Pacelli Cardinals in Stevens Point on Tuesday.
The Hornets gave the Fall Creek Crickets a fierce test when they hosted the fifth place match in the Cloverbelt Crossover Challenge on Thursday, Feb. 27.
The Crickets' size allowed them to control the glass and earn multiple offensive opportunities, but Colby showed grit and determination as they nearly erased a 17 point deficit in the second half.
With three players 6'4" or taller, the Crickets established a high-low game that allowed them to score inside - and on those moments when Colby collapsed on Fall Creek in the paint, the Crickets kicked it out for open looks from three.
Fall Creek splashed five triples in the first frame, and saw Teigen Ploeckleman score 19 of his 28 points in the first half.
Colby had just one three pointer in the first half, and relied on Brent Jeske and Harley Schmelzer, who played bigboy basketball, muscling underneath for shots down low. Colby got Fall Creek into foul trouble, and shot 11 free throws to none in the first frame. However, Colby found itself down 45-30 by the time the first half was over.
Fall Creek extended their lead to 17 early in the second period, but Colby's hustle - and deft shooting from three helped the Hornets close the gap.
Colby forced turnovers and Jeske and Richard Streveler broke free for several lay-ups, and soon the Hornets made it 63-56 game with 9:26 to play.
Noah Robida was feeling it in the second half, and after being held scoreless through the first frame, found his touch, burying a corner three to pull Colby to within four at 65-61 that sent Colby fans into a cheering frenzy.
Colby kept it close, and were down 72-65 with five minutes to play, but Jayden Fitch put Fall Creek on his back as the 6'5" wing scored 25 of his game high 33 points in the last stanza.
Colby's elation proved short lived as the Crickets began to drain the clock forcing Colby to foul. Fall Creek sunk free throws, and with the clock their enemy, Colby was forced to fire off quick shots. The Crickets rebounded these, and either scored from the floor or from the charity stripe.
Luke Olson and Ploeckleman continued to hit threes, and the Hornets could not keep pace, and fell 89-73.
Schmezler lead Colby with 17 points. Schmitt had 15 points and Robida tallied 14. Lopez and B. Jeske each scored seven points, Streveler recorded six, C. Jeske had five and Isaac Karl added two.
71-52
The Colby Hornets have enjoyed an improved season this year, and have been led by a deep senior class that guided the Hornets to an 8-8 record in the Eastern Cloverbelt.
By dint of their efforts, the Hornets earned a ninth seed in the playoffs. That lower seeding forced Colby to travel to Stevens Point on Tuesday to take on the Pacelli Cardinals, who came in with an eight seed and an 11-11 overall record.
Pacelli had finished fourth in the Central Wisconsin - South Conference, but on Tuesday they played like conference champions, burying any hopes of a Hornets' upset in the first frame.
Colby had done its homework, and knew who the Cardinals' leading scorers were. The Hornets shut down Mason Schlagenhaft, Pacelli's second leading scorer, holding him to two points, of fhis season average of 14.
What they couldn't account for was
COLBY BB Nick Hartman. Hartman came into the postseason averaging under eight points a game, but he torched Colby to the tune of a 19 points, including four of seven three point attempts. Hartman had plenty of help as well, with Weston Peplinski and Elliot Parks each pumping in 17 points.
The Cardinals would go on to drop a total of seven triples on Colby and shot 40 percent from the floor, converting 25 of 64 field goal attempts.
Pacelli also finished at the charity stripe, converting 14 of 19 free throw attempts.
By the end of the first half, Colby was down 41-26, and with Pacelli boasting five players 6'2" or taller, finding points inside proved difficult.
The Cardinals worked the glass, cleaning the boards for 51 rebounds, including 16 rebounds from Parks, and held the Hornets to numerous single possessions.
Colby responded with better poise on defense in the second half as they held Pacelli to just 30 points in the final frame. Colby could not make a dent in the Cardinals' lead, and put up an identical number of points in the second half as the first half, finishing with 26.
Stats for Colby were unavailable upon publication.
With the loss, the Hornets season record dips to 9-13, but just as last year, the Hornets continue to steadily improve, and that record is better than last year's mark of 8-16.
Colby bids goodbye to their seniors, but returns Richard Streveler and Brent Jeske, along with new faces hungry to make their mark on the court.