Posted on
Falcon boys fall to Spencer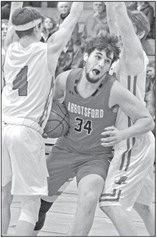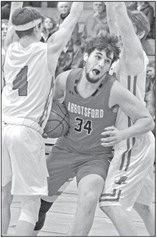 When it comes to the postseason records almost don't matter. That's not to say it doesn't hurt to come into a game with a full head of steam and riding a winning streak.
The Abbotsford Falcon hadn't played a game since Friday, Feb. 21, and while there was a bit of rust on their game, Abby wasted no time in pushing the Spencer Rockets to the brink on Tuesday.
Abby had played the Rockets close in their first meeting, a 61-52 loss in early December, but both teams have raised their game to another level, with the Rockets finishing the regular season as co-champs of the Eastern Cloverbelt.
Abby meanwhile was riding a three game winning streak and playing its best basketball of the season, and the stage was set for an epic back and forth that was decided by just one point.
Abby's Blake Draper set the tone early in the first half, canning four triples as the Falcons took an early lead, but could not hold it.
Spencer responded with threes from Brett Kasch and points from Austin Bacon, who led the Rockets with 17 and 14 points for the night.
The game was as close as could be after one half, with Abby down just 25-22 at the break.
The game continued to be a roller coaster ride into the second half as both teams traded shots. Cade Faber, quiet through the first half, notched three baskets and pulled down a team high 13 rebounds, and Abby sent a clear message that it was not going away.
Hunter Soyk and Mason Carpenter picked up the slack in the second half, scoring multiple baskets and drawing contact for free throws.
But it was there that the game would be decided. Neither team shot very well from the charity stripe, with Spencer finishing just 10 of 24 for free throws.
However, on a night when points were at a premium, the Falcons could not seem to buy a free throw as they finished just 3 of 12 on their free throws, and with the game decided by one point, every missed opportunity felt like another nail hammered into a coffin. The Falcons continued to go toe to toe with the Rockets, and outpaced them in the second half, 26-24, but those missed free throws, and a rough night from the floor - Abby finished just five of 18 from three and 20 for 47 overall - those missed free throws came back to haunt Abby as the Falcons season ended on the back of a 49-48 loss.
Draper led Abby with 14 points, Carpenter had 13 and Faber finished with 10. Soyk added five, Reiley Schreiber scored four and Dalton Feddick rounded things out with two points.
The Falcons finished the year 6-17, and will lose Blake Draper, Dalton Feddick and Reiley Schreiber, but will return Faber, Carpenter and Soyk. All three will look to build on their late season momentum from this year.
With a program on the rise, the Falcons are ready to make even bigger strides next season.