Posted on
Grewe headed to state tourney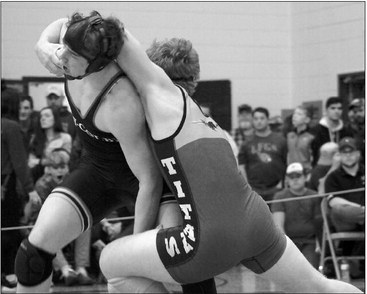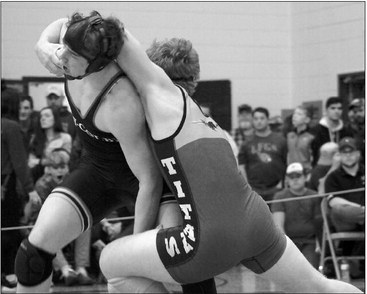 It took Carter Grewe five matches to determine his fate, but when it was all done and dusted the powerfully built and strong sophomore found himself on the podium at the WIAA D-2 sectional meet in Osceola on Saturday.
Grew finished third at the individual sectional meet, and that placement ensures him a spot in the individual state tournament this Thursday at the Kohl Center in Madison.
With Grewe representing the co-op this year, Abby/Colby has now sent wrestlers to the individual state tournament in back to back seasons for the first time since Jamey Simmons qualified in the 160 weight class in 2011 and Chris Ladwig in the heavyweight division in 2012.
"It feels great to be able to represent Abby/Colby at state this year," Grewe said after sectionals. "I knew that the sectional tournament was going to be tough, especially since there were five ranked wrestlers there who were all wanting a spot at the state tournament."
Grewe got off to a fast start on Saturday, opening his campaign for the state tournament by pinning Shane Schiff of Northwestern in just 63 seconds in his quarterfinal match.
Things got much more difficult for Greww in the semifinal match, where he drew senior Bryce Burns of Gale-Ettrick-Trempealeau.
Burns came into the match boasting a 44-3 record, and is considered a heavy favorite to capture the 195 title, and is currently ranked second in state. But Grewe, who is ranked fifth in the state, gave Burns a stern test.
The two wrestlers went back and forth for three periods, but it was Burns who gutted out a 5-3 decision that forced Grewe to win his next two matches. In spite of the loss, Grewe said his match with Burns was good for his state title hopes.
"Since only the top three wrestlers from each bracket earn a trip to state, I had to beat two of them in order to get there," Grewe said. "Wrestling Burns, the number two ranked wrestler at 195, helped because it reinforced my belief that I can go toe-to-toe with anyone in state. It was a close match that I lost by two points, which is easily just one move."
Grewe went against Nick Carlson of Osceola in the consolation semifinal. Carlson might have had the local support, but Grewe was the more talented wrestler, stopping Carlson with a 5-2 decision that sent Grewe into the third place match.
WRESTLERS Grewe took on Luck Fischer, and barely broke a sweat, pinning his opponent in 44 seconds to move into the second place match. There Grewe clashed with Kale Hopke, the fourth ranked wrestler in the state. Once again, it was a tight contest, with Grewe falling in a 3-2 decision.
He will now enter Madison with a 25-6 record, and will open up the state tournament with a Thursday night match with Drew Reis of Beloit Turner.
A potential victory over Reis would pit Grewe against Quincey Klister, the state's third ranked wrestler. For now, Grewe isn't looking too far ahead - his eyes are locked on the next opponent across the mat from him.
"Records do not matter at this point, good wrestling does."
Halopka, Jeske ousted
Grewe was not alone in his quest for state. He was joined by teammates River Halopka and Andrew Jeske in Osceola.
Halopka, a junior who had taken first place in the 126 weight class at regionals in Regis the week before, knew what to expect.
The fast and lithe wrestler had been here before, and finished fourth in the 106 weight class at state last year.
Unfortunately for River, there would be no return to the Kohl Center as his comeback bid was stopped short with back to back losses.
As is so often the case in premier tournaments, a favorable draw can go a long way in determining an athlete's outcome. On Saturday, Halopka's draw did him no favors, with River forced to open his day against Tyler Hantsbarger of Somerset.
Hantsbarger had qualified for the state tournament the year before in the 126 weight class. Now a senior, Hantsbarger brought a sterling 30+ match wins to the mat, and a ranking of third in the state.
Halopka battled bravely, but dropped a 7-2 decision to his older competitor. From there, Halopka took on Jackson McCormick of Black River Falls, and was defeated in a 7-5 sudden victory.
Halopka will have another shot to make it back to the Kohl Center next year. He ends 2019-20 with a superb record of 28-7, with tournament titles in Black River Falls and Auburndale joining his runner-up result in the Cloverbelt Championships earlier this month.
Andrew Jeske is another Abby/Colby grappler with a bright future. Jeske, only a sophomore, made his maiden voyage to a sectional meet.
Jeske drew Jacob Summers of G-E-T in the quarterfinals of the 182 weight class. Summers, ranked five in that weight class, defeated Jeske via pinfall in the second period.
In his next match, a consolation semi, Jeske fell to twelfth ranked Carter Melton from the Spooner/Webster co-op, suffering a pinfall late in the second period. Jeske finishes his season with a record of 18-13.
The season ends for two more wrestlers, and while Grewe is glad to be in state, he knows the true test lies ahead.
Records, rankings and seedings no longer matter when it comes to the state tournament - it all comes down to who wants it more, and how much someone is willing to go through.
When the state tournament is finally over, Grewe is more than ready to be the last man standing.