Posted on
Colby topped by Macks in Crossover Challenge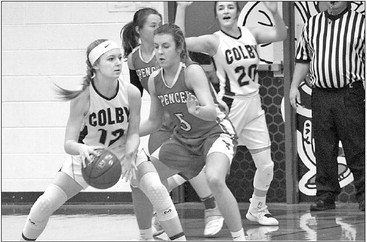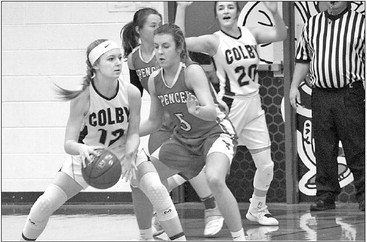 The Colby Hornets let a first half lead slip away, and will now enter their WIAA D-4 regional semi-final with the Pacelli Cardinals on Friday on a two game losing streak after falling 65-51 to McDonell Central on Thursday, Feb. 20.
Colby shared an 11-5 record with the Gilman Pirates in the Eastern Cloverbelt Conference this year, and with McDonell Central holding a 10-4 record in the Western Cloverbelt, Colby had to travel to Chippewa Falls to take on the Macks to determine the overall third place finisher in the Cloverbelt Crossover.
Not only did the Macks enjoy home court advantage, they also enjoyed the services of Maggie Craker, this year's Western Cloverbelt Player of the Year.
Craker came into the meeting averaging 16.6 points a game, but she was matched by Colby's Hailey Voelker, who is averaging 17 points a game. Voelker was joined by Emma Peavey in double digits, who came into the contest averaging 14 points a game.
Craker and Voelker, and each finished with an identical game high 26 points, but the true story of the game was the Macks' ability to connect from Down Town, and McDonell Central enjoyed a 10 to five advantage over Colby from three.
Craker was on fire from deep, burying six triples during the crossover challenge - three in each half.
The Macks struggled to contain Voelker all night long, but did their best to hold the rest of Colby in check. McDonnell Central limited Peavey to just six points on two of 13 field goal attempts.
In the first frame, that wasn't such a big deal, with Voelker going off for a pair of triples and baskets underneath as she led all players with 18 first half points.
The Hornets saw Olivia Vollrath knock down a pair shots, and then Peavey and Lexi Krebsbach connected on triples as Colby took a 29-27 lead into the break as no other Mack outside of Craker scored more than six points in the first period.
That changed dramatically in the second half as the Macks surged ahead of the Hornets on the back of a balanced offensive attack that saw five different players from McDonell Central score.
Cracker and her teammate, Ann Geissler, each buried three triples in the second half for 11 points apiece, and while Colby saw six Hornets score, only Voelker added more than five points.
The Macks out-scored Colby 38-22 in the final frame, dropping the Hornets' season record to 13-9, and handing Colby back to back losses for the third time this season.
Krebsbach finished with nine points and Vollrath added four points. Brett Schmitt, Trista Meyer and Lexi Underwood all scored two points apiece.
The Hornets will hope to learn from their loss to Macks, and quickly put it behind them, as they prepare to make another deep run in the post-season.
The Hornets earned a fourth seed this year, and will enjoy a first round bye before hosting the Pacelli Cardinals out of Stevens Point for the second consecutive year, this time in the semis rather than last year's regional championship.
Pacelli boasts its own talented players, with Sarah Mueller, a 6'0" wing/center who has committed to play at UW-Platteville next year, leading the way with 21.6 points a game. Pacelli's Emma Van Order, is fourth in the Central - Wisconsin South conference, averaging just shy of 13 points a game.
A win against Pacelli earns Colby a date with the number one seed in their bracket, the Auburndale Apaches on Saturday. A victory there would give the Hornets third straight regional title.
The Apaches have their share of star power, but the Hornets have faced tough teams all season long, and Colby has proven that when it brings its A-game, it can best anyone.
Colby won't to look too far ahead - for now, it's one step at a time and one game at a time. If the Hornets can take care of business, a second trip to Green Bay could lie in their future.