Posted on
Matmen advance to sectionals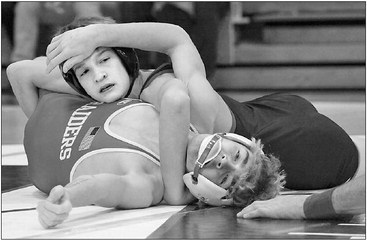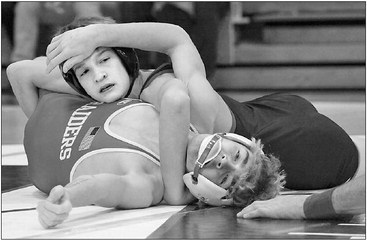 Andrew Jeske, Carter Grewe and River Halopka will see their wrestling seasons continue for at least one more week, after punching tickets to the WIAA D-2 sectional meet in Osceola this Saturday.
11 wrestlers made the trip to Regis High in Eau Claire on Saturday, Feb. 15, competing against familiar teams from across central Wisconsin.
Senior Xavier Digman and junior Joe Hawthorne were unable to compete, recovering from illness and injury.
Medford won the WIAA D-2 regional with a final score of 246 points. Stanley-Boyd/Owen-Withee was second with 181.5, Neillsville/Greenwood/Loyal was third with 181, and Abby/Colby was tied with Regis/Altoona for fourth with 131.
Only the top two wrestlers from each weight class advanced to sectionals, and with their seasons on the line, tensions ran high for all in attendance.
After grueling matches, 14 wrestlers stood at the highest peak on the podium, with Halopka and Grewe among them.
Halopka, a state qualifier last year in the 106 weight class, made quick work of his competition, earning a pin in the semis in 2:24, and then won a 10-2 major decision in the final of the 126 weight class to improve his record to 28-5.
A year ago Carter Grewe was a freshman, and was competing in a stacked 220 weight class. This year, he found himself wrestling in the 195 pound division.
Grewe won his first victory in just 64 seconds, and then pinned his opponent in 3:01 in the championship bout.
Despite achieving his second straight trip to sectionals, Grewe said he takes nothing for granted, after being forced to miss a huge chunk of the season from an injury sustained during football.
"It feels great to have a second shot at qualifying for the state tournament," Grewe said. "It has always been my goal to win the state tournament since I was a little kid. From the first day of practice when I stepped out onto the mat I wanted to be on that podium."
That goal seemingly took a bit of a hit after he was upset by Gavin Tegels in the Cloverbelt Championsips a week before, but Grewe's belief in himself never wavered, and now he enters Osceola with a 22-4 record - and a second crack at the state tournament.
Andrew Jeske was fifth in the 182 class last year, and was just 9-11 in 2018-19. One year later, and with strong offseason under his belt, the ruggedly strong and athletic sophomore took a big step in his athletic goals. It helps he had a teammate like Grewe to push him.
"I owe a big thank you to Carter Grewe for all of the countless hours and hard practices [that made] me a better wrestler," Jeske said. "I gotta give thanks to every single past and present coach that has helped me."
That extra time spent in the gym and on the mats paid off, with Jeske earning his first appearance at the WIAA D-2 sectionals after taking second in the 182 weight class.
Jeske won his first match in 42 seconds, and while he lost the final of the 182 weight class, he advances due to a no contest, and enters Osceola with an impressive 18-11 record.
Hunter Mess (138) and Talon Severson (145) placed third on Saturday - one place shy of sectionals.
Mess won his first match, pinning Carson Kilty of Spencer/Columbus in 42 seconds, but lost his semifinal. Mess regrouped in the third place match, winning an 8-4 decision.
Severson dropped his first match of the day via technical fall in the semifi nals. He squared off once more with N/G/L's Tucker Bethea. Much like their matches in Feb. 8's conference meet, Severson won by decision, 10-7.
Mess finishes 7-6, and Severson ends 2019-20 with a 17-10 mark.
Jose Rodriguez (132), David Vicente (152) and Brandon Vicente (171) each finished fourth for Abby/Colby.
Rodriguez won his quarterfinal match in 52 seconds, lost a 6-1 decision in the semis, and was pinned in his third place match to finish at 16-14.
David Vicente lost in the semis to
WRESTLERS Payton Kostka of Regis/Altoona, a top ranked wrestler in D-2. Despite a strong effort, David was pinned in the second period. David was pinned again in the final match of his career, as he graduates in the spring.
Brandon Vicente was one of several breakout wrestlers for Abby/Colby, with his season highlighted by titles in the 170 weight class in tournaments at Auburndale and Black River Falls.
Brandon dropped his semifinal match via a 7-0 decision, and lost his third place match on a 13-5 major decision. Vicente finishes with a 25-9 record, and will be one to watch next year, with the junior enjoying at least one more year of competition.
Devin Thums competed in the 220 weight class. Thums was pinned in the quarterfinals, but was gifted with back to back byes to place fifth. He ends his season with an 11-17 record.
Grady Steinman (106) and Lucas Baumann (113) lost both of their respective matches via pinfall, but placed sixth at the meet.
"Watching the team transform from what level we were all [began] to what we ended at was astounding," Digman said. "The team put in a lot of hard work but it wasn't just on the mat, off the mat . . we all became a family. Hopefully that continues after I'm gone.
"For the wrestlers representing us this weekend they are going to do great win or lose. They've put in their time and earned the position they are in."