Posted on
Colby FFA officers make cookies for local farmers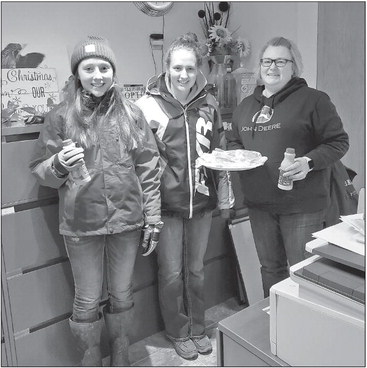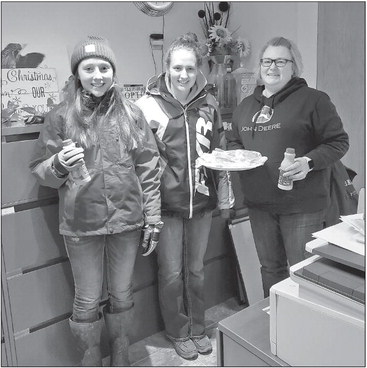 Farmer Appreciation has become a tradition for the Colby FFA officer team. This event recognizes and thanks local farmers and serves as an opportunity to promote and educate the public about the agricultural industry.
Each year the officers have gotten milk, both white and chocolate, along with Glazer donuts from the local Kwik Trip, and then delivered them to local farms. Although this is a tradition for the officer team, this year the chapter switched it up a little to get more people involved.
On Sunday, Dec. 8, the Colby FFA officer team got together at a fellow officer's house to bake sugar cookies for the upcoming event. "We laid out and rolled the dough, then used a variety of farm animals and Christmas cutouts to make the shape of the sugar cookies," said Rilynn Lieders, Colby FFA officer. "After they were baked, we let them cool and packaged them up to later decorate."
Lieders said baking the cookies was not only for the Farmer Appreciation, but was also a great opportunity for the officers to bond and learn more about one another.
On Wednesday, Dec. 11, the officers and a couple other FFA members went to Saint Mary's Catholic School to decorate the sugar cookies with the pre-K and kindergarten classes. While the officers prepared all the supplies for the activity, Colby FFA Alumni member Cindi Freidhof read the children a few books about giving and being kind. Once the stations were set up, the children went back to their desks and started decorating cookies.
Each child got to decorate multiple cookies, each of a different shape. They chose which color or colors they wanted and if they wanted sprinkles or not. Once all the cookies were decorated, they were divided into different plates and then the students were able to decorate a cookie for themselves.
"I have never seen such a sparkly mess in my life," Lieders said.
After the decorating was completed, the officers split into two different groups to deliver the cookies to local farmers. Each group had a list of farms to go to who have helped or supported the Colby FFA chapter.
"We went to the farms during chore time and went to the milk house to deliver the milk and cookies," Lieders said. "I can not believe how many smiles this simple act puts on peoples' faces."