Posted on
Wrestlers fourth at Cloverbelt Championships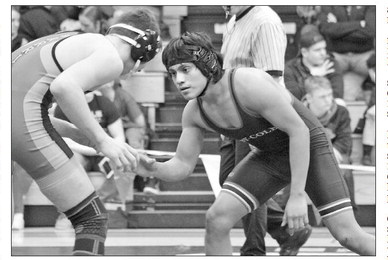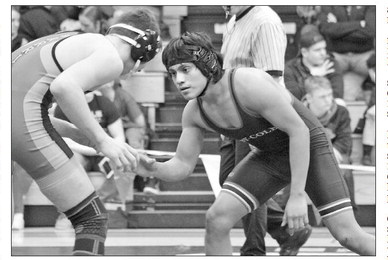 The wrestling postseason kicked off with a bang on Saturday - along with some loud grunts, big thuds and huge upsets.
The Abbotsford/Colby wrestling co-op found itself at Stanley-Boyd High this weekend for the Cloverbelt Conference Championships. Nine battled for a place on the podium, with two - River Halopka and Carter Grewe - finding themselves in championship matches.
Cadott won the meet with a team score of 264. In second was Stanley-Boyd/ Owen-Withee with 186 points, followed by Neillsville/Greenwood/Loyal in third with 183.5, and then Abby/Colby in fourth with 134.5 points.
Grewe squared off against Gavin Tegels in the 195 pound division for first. Tegels had won their last match on Jan. 28 with a 4-3 decision, and Grewe was eager for the rematch - and some revenge.
Tegels took a 3-5 lead, but Grewe went up 6-5. Grewe, who won the 220 pound division last year, appeared poised for victory, but Tegels had other plans, and with just seconds remaining, hooked Grewe, and pinned him, forcing the burly sophomore to settle for second.
Halopka earned a bye in the quarterfinals, and then picked up a technical fall in the semis, earning a crack at Blaine Brenner of S-B/O-W.
Halopka gave the 106 defending D-2 state champion, and Minnesota Gophers commit, everything he could handle, but it was Brenner who secured a 6-1 decision over Halopka.
Talon Severson defeated Tucker Bethea of N/G/L twice on Saturday to take third in the 145 weight class. Severson stopped Bethea with a 7-6 decision in the quarterfinals, dropped a major decision in the semis, and then picked up his 17th victory of the season when he pinned Bethea in the third period.
Brandon Vicente breezed through his quarterfinal match in the 170 pound division in 39 seconds, but lost in the semis. He rebounded in the consolation semis, winning via pinfall in 1:34. From there, he faced off with Dan Polzin of N/G/L with third place on the line.
WRESTLE Brandon made quick work of Polzin, as he contorted and twisted his body to evade capture, and then pinned Polzin in 53 seconds for All-Conference honors.
Jose Rodriguez competed in the third place match at 132 on Saturday after winning his quarterfinal and consolation semifinal via pinfall. Rodriguez would be pinned with just nine seconds to go in the match, and took fourth.
David Vicente began his day in the 152 weight class with a 3-0 decision, but lost his next match via pin. David recovered in the consolation semi with a pin in 1:52.
David faced Carter Schoengarth of N/G/L/, and was fourth as Schoengarth eluded David for a 3-1 decision.
Junior Joe Hawthorne delivered the goods in the 160 weight class in his first varsity tourney of the year, pinning Matt Mauer of Regis/Altoona in 5:25.
Hawthorne lost his semifinal match via pinfall, but received a bye into the third place match. From there Hawthorne grappled with Michael Pecha of Cadott. Pecha quickly gained the upper hand and pinned Hawthorne. Hawthorne's fourth place gave the co-op another 11 points.
Andrew Jeske was another wrestler battling for third. Jeske started the day by pinning his opponent in under 90 seconds in his 182 pound quarterfinal.
Jeske was pinned in his semifinal, but received a bye into the third place match. His opponent was Steven Pfeiffer of Cadott, a tough wrestler who has made multiple trips to the state tournament.
Jeske put up a good fight, but was pinned in first period, and was forced to take fourth.
Devin Thums moved down from heavyweight to take part in the 220 weight class. He lost in the quarterfinals, but earned a bye and then pinned Sawyer Kilty in the consolation semi in under a minute.
With that victory, Thums advanced to the third place match, but lost via technical fall.
Lucas Baumann was the only other wrestler to place for the co-op, taking sixth in the 113 weight class. Baumann went 1-3 in his matches, with his lone win coming by pin. Grady Steinman wrestled in the 106 weight class, but dropped both of his matches.
The co-op will now turn its gaze to the rest of the postseason, with the WIAA D-2 regionals in Eau Claire Regis this Saturday. A top three placement there ensures a place in sectionals.
Victory at sectionals means one thing a trip to state, and a chance to be crowned champion.