Posted on
Colby splits pair of Cloverbelt contests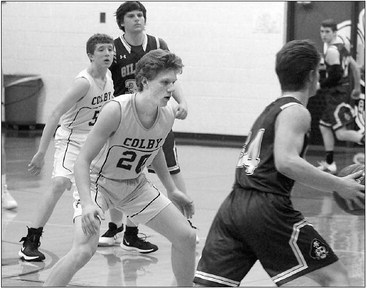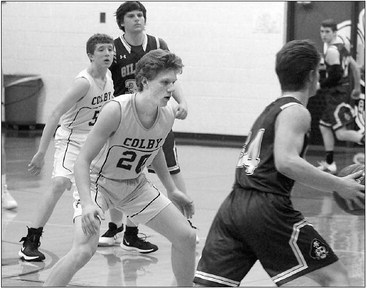 The Colby Hornets boys basketball team lost to Greenwood last week, but won the season series with the Loyal Greyhounds on Tuesday, moving their conference record to 7-6, and their overall record to 8-8.
67-61
For one half of basketball, the Colby Hornets were the better team - it's a shame then that basketball is a two half game.
Colby battled the Greenwood Indians (10-6; 8-3 ECC) in an Eastern Cloverbelt road clash on Thursday, Feb. 7, and defense dominated the first half. Both teams struggled to crack 20 points, but the Hornets held an advantage in the paint in the first half, and went into the break up 26-19.
It didn't stay that way. Greenwood caught fire in the second half, and went on a blistering shooting streak, that saw three Indians finish in double digits.
Cooper Bredlau scored a team high 17. Treyton Thomas and Weston Schmitz scored 16 apiece, with almost all of that offense coming in the second half.
The Hornets also had three players score at least 10 points, but it was shot selection more than anything that caused issues. Colby typically averages less than 12 three point attempts a game, but they uncharacteristically settled for threes.
Unfortunately Colby made just four of 19 three point attempts, and Greenwood was able to clean the glass and create more opportunities for themselves.
Just like their first meeting, a 58-55 loss on Dec. 17, Colby kept the game within single digits, but history repeated itself in February, as the Indians once again took a single digit victory as they outpaced Colby 48-35 in the final half.
Colby was led by Harley Schmelzer, who scored a team high 17 points on a very efficient seven of 11 field goal attempts. Schmelzer also nabbed a team high seven rebounds.
Brent Jeske added 14 points, shooting nearly 50 percent from the floor. Roman Schmitt scored 10 points, and had a team high four steals.
Sophomore guard Richard Streveler tallied seven points and handed out a team high four assists. Gavino Lopez had four points, Connor Jeske was held to three points. Mason Schmutzler rounded things out with two points.
Loyal, 56-46
The Colby Hornets got their season back on track with a victory over the Loyal Greyhounds on Tuesday night.
With Colby celebrating Senior Night, the Hornets dominated the first half, holding Loyal to under 20 points in the first half.
Colby's offense was humming in the first half as seven players scored at least one basket. It was Brent Jeske who provided the early spark. The athletic sophomore scored often and early in the first period, racking up double digits.
Buckets from Noah Robida, Roman Schmitt and Gavino Lopez gave Colby a 32-19 edge at the break.
It was more of the same in the second half as Colby saw eight players score. The Hornet's defense faltered a bit as nine different Greyhounds put points on the scoreboard, and Loyal out-scored Colby 27-24 in the final frame.
However, no Greyhound scored more than two field goals, and the Hornets did not allow a single member of Loyal's team to finish in double digits.
With Colby's balanced offense striking from the three point line, the paint and at the charity stripe, the Hornets earned their seventh conference victory of the year, and swept the home and away games against the Greyhounds.
Brent Jeske scored a game high 12 points and Lopez was in double digits with 10. Robida had nine, Roman Schmitt added six and Connor Jeske recorded five points.
Isaac Karl had four, Richard Streveler and Mason Schmutzler each recorded three points and Harley Schmelzer finished with two points.
The victory keeps Colby at the top of the Eastern Cloverbelt, but the Hornets will have a more difficult task awaiting them in their next game, when they take on league leading Neillsville on the road this Thursday. Tip-off is at 7:15 p.m.