Posted on
Sharing the gift of sight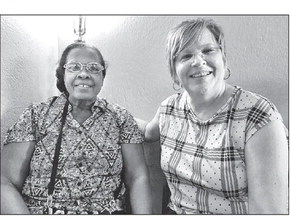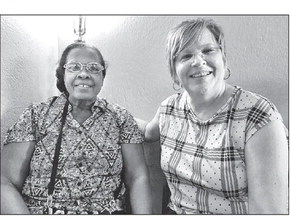 HealthView Eye Care brings donated eyeglasses to Dominican
More than 1,000 people received the gift of sight thanks in part to the help of an area woman.
Betty Herrell of HealthView Eye Care Center in Medford and Colby took part in a mission trip with Volunteer Optometric Services to Humanity (VOSH) to the Dominican Republic. She returned from her journey on Jan. 18 flying into Minneapolis.
"It was 82 degrees when we left the Dominican Republic and 9 degrees when I got off the plane in Minneapolis," she said.
While on the trip, Herrell helped serve 1,300 patients and dispensed 1,000 pairs of glasses. "We dispensed a lot of sunglasses," she said, noting there was a great need for eye protection from the sun in the sundrenched Caribbean nation.
Local residents from throughout the region they visited lined up early in the morning to see eye doctors and receive a prescription. It was Herrell's job to try to match the prescription to what they had available from the donated glasses they had brought with them.
The glasses were donated by the Wisconsin Lions through their eyeglass collection program. She said in many cases it was a challenge to try to get something close to what the prescription was in something people would be able to wear.
She noted the youngest patient they saw was three-yearsold and the oldest was 104.
One patient, a one-year-old, had already had cataract surgery for a congenital condition. Unlike in the United States where a contact lens is surgically placed to replace the cataracts, in underdeveloped areas, when the cataract is removed they are left without any real close-up vision.
Herrell said as a result the child was extremely farsighted and that while they didn't have anything to the extreme strength needed, they were able to find a pair of glasses that were about half the strength needed which gave the child much more vision than previous. She noted that they brought the prescription back to the U.S. and will be having a pair made to the full prescription in order to be sent back to the child.
Herrell said the trip made her appreciate what they have in the United States compared to other countries.
"You are just 'wow' what we have here in the United States is so amazing versus what they have in that community," she said.
Herrell said that all those receiving the glasses were very appreciative of them oftentimes being afraid to wear them all the time for fear of breaking them. She said there were people who had gone their entire life with not being able to see to being able to finally see.
Herrell said she plans on going on the trip again in the future and helping people receive the gift of sight. She encourages everyone to donate their old glasses to the Lions. There are collection spots at the Healthview locations in Medford and Colby.
She said there is a major need for sunglasses as well as bifocals.
"I gave out over 300 pairs of bifocals," she said, noting that in some cases they had to give people reader glasses because they did not have the bifocals they needed.
According to Herrell, they were hosted by an area politician who provided them with food each day. "He sees the value in what we bring," she said, praising his hospitality.
While the cost of the mission is totally out of pocket for the team, Herrell received contributions for her travels from HealthView Eye Care Center, Medford Lions Club, Dorchester Lions Club, Wisconsin Paraoptometric Association and friends and family. She was appreciative to those who helped make the trip happen.
Herrell is looking forward to taking part in future mission trips.