Posted on
Colby wins back-to-back games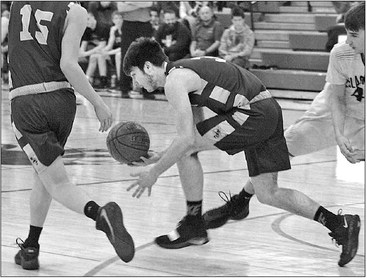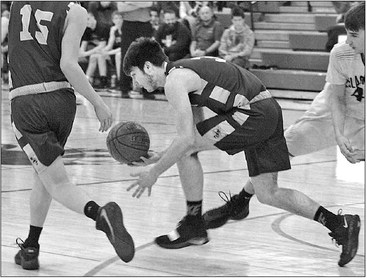 After falling to 5-7 on the year, and 4-5 in the Eastern Cloverbelt, Colby is now poised to finish in the top half of the conference after taking out Owen-Withee on the road Thursday, and then defending their home court with a victory over Gilman on Tuesday.
70-51
The Colby Hornets defeated the Owen-Withee Blackhawks for the second time this year, making it back to back sweeps for Colby, extending the Hornets' win streak over O-W to four.
In their first meeting with the Blackhawks, the Hornets had to out-last a late Blackhawks run for a 57-49 victory.
Their second meeting was a far cry from that first game back on Dec. 6, as Colby used a powerful and efficient inside game to lead by as much as 20 points late in the second half.
The Hornets saw four different players finish in double digits, and had different players score as they knocked out the Blackhawks for a decisive 70-51 conference victory.
It was a close affair through the first ten minutes as Colby clung to a 13-11 lead with 12:10 to play in the first half, but with Harley Schmelzer and Brent Jeske eager to drive and score in the paint, the Hornets went on a 12-5 tear to take a 25-17 lead with just under five to play.
That lead went to double digits before a Owen-Withee free throw made it a nine point game, but it was Colby sauntering into the locker room with a 31-19 advantage at halftime.
That lead was quickly under attack in the opening minutes of the second half. Aaron Ovyn, who scored a game high 19 points, along with 6'3" freshman Caleb Geldernick, hit from inside and out, giving O-W an 8-2 run that made it a 33-28 ball game with 15:22 to play.
Even as the home crowd willed their Blackhawks to victory, the Hornets had other plans, and quickly got the game back on track as Connor Jeske, quiet through the first half, began to establish his presence inside.
Colby's big man scored time and again in the post, and with Brent Jeske, Noah Robida, Schmelzer and Gavino Lopez all filling up the nets, the Hornets lead swelled to 65-45 with just under three minutes remaining.
Colby took the air out of the ball, scoring just twice more, to defeat the Blackhawks and improve to .500 in conference play.
The Hornets were led by Schmelzer's 18 points, followed by Brent and Connor Jeske with 13 and 11. Robida added 10 and Lopez finished with six points.
Richard Streveler added five, Isaac Karl scored four and Roman Schmitt chipped in with three points.
67-48
The Colby Hornets achieved three things on Tuesday with their win over the Gilman Pirates - they swept the season series, got back to .500 on the year and are now sitting alone at third in the Eastern Cloverbelt.
It was a tight contest between the Hornets and Pirates (3-13; 2-9 ECC) through the first half as both teams traded early buckets.
Yet it was Colby who had the steadier hand as Richard Streveler, Roman Schmitt and Gavino Lopez led the Hornets to 32-28 at halftime.
Colby raced out to a seven point lead in the early goings of the second half, only to see Gilman close the gap, making it a 36-32 game with 12 minutes to play.
But from there it was all Colby as Brent Jeske struck gold from deep, canning three triples. Baskets inside from Noah Robida and Harley Schmelzer extended
COLBY BB Colby's lead to double digits, and from there, the rout was on.
The Hornets would go on to out-score the Pirates 35-20, earning the Hornets back to back wins for the second time this season as they improve to 7-7 on the year and 6-5 in Cloverbelt play.
Nine different players recorded points against the Pirates, with Streveler leading the way with 12 points, followed by Brent Jeske with 11 and Schmitt with 10.
Lopez and Robida each added eight points, Schmelzer scored six, Isaac Karl had five, Connor Jeske tallied four and Mason Schmutzler collected three points.
The Hornets are now in a tie way tie with Columbus Catholic for fourth in the conference. Colby will have a chance for a seventh conference win - and potential shot at third place - with their next game.
Colby will take on the Greenwood Indians on the road this Friday. Tip-off is scheduled for 7:15 p.m.