Posted on
A mother's story on the truth of trafficking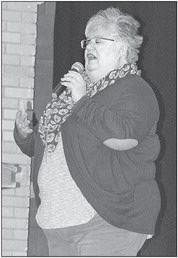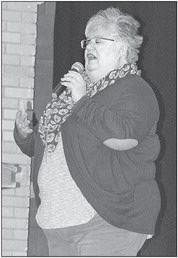 When the topic of slavery comes up, we often think of it as a terrible crime and injustice, but something that was abolished long ago and has no bearing on people today.
That could not be further from the truth, says Lisa McCormick, a parent activist based in Tomah who works with organizations like Fierce Freedom to expose the blight of modern-day slavery.
At a special assembly held at Colby High School on Jan. 28, McCormick talked to students about human trafficking, explaining what to look for and how to guard against it.
McCormick explained that human trafficking most often comes in the form of labor or sex trafficing, and occurs not just in cities, but in suburban and rural areas, and in every county in Wisconsin.
"This does not happen in Wisconsin, right? But what we are finding is that our rural communities are actually the most at risk," McCormick said.
McCormick said that traffickers target those from smaller and rural communities because they are more exposed and naive when it comes to crime and life in a city.
"We are finding out from those coming out of this life that they (traffickers) love rural children because when you leave Colby and go off to college or move away for jobs, you're not ready for that world," she said.
She warned against the dangers of social media and online gaming, and to be careful who you share personal details with, and who you are speaking to.
"Be smart about (social media) — know who you are friending," McCormick cautioned. "You make sure you know who they are, and what's going on with them before you actually accept that friend request."
McCormick said popular online games like Fortnite have chat rooms where adults pose as 11-year-old boys and girls and pretend to be friends with young players.
"Never, ever meet up alone," she said.
McCormick said there are virtually no age limits when it comes to trafficking, with the youngest reported case in the state coming at six months old, and the oldest at 64 years.
Trafficking can take place anywhere and any time, with weekends the most common, and even within schools.
"People who traffic prey on those who are vulnerable, and hungry for emotional support," McCormick said.
She also told the heart-breaking tale of her own son, Jeffrey, who was traffi cked at a young age, and who tragically took his own life weeks shy of his 18th birthday.
"Three years ago, my son Jeffrey died of an overdose and was sex trafficked for a total amount of about four months," McCormick said.
McCormick ran down the hierarchy of human trafficking, discovering that her son was being beaten, sex trafficked and given a steady dose of drugs. He was also made to feel isolated and guilty for the pain he inflicted on his family.
Time and time again, Jeffrey was sent to rehab, only to have his abusers return and throw him back into his old life. Mc-Cormick said she saw the signs too late, but she now uses her own experiences to shield others from a similar fate.
"I tell you my story because I don't want another person to go through this," she said. "I don't want another family to ever have to go through what our family went through."