Posted on
Wrestlers battle in St. Croix Falls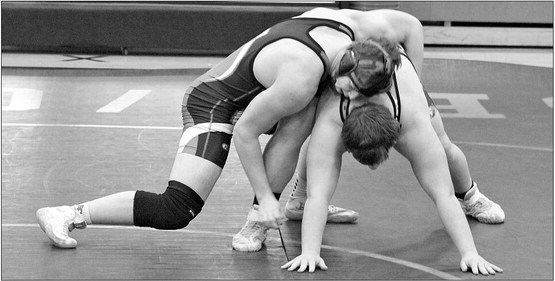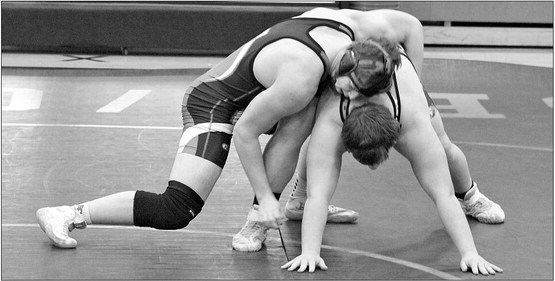 It's only late January, but already the Abbotsford/Colby wrestling co-op is gearing up for the post-season, fixing Feb. 8 dead in their sights - the date of the Cloverbelt Championships.
The co-op received some excellent experience in the run up to the Cloverbelt Championships, hosting Thorp on Thursday, and then travelling to St. Croix Falls on Saturday.
The Abbotsford/Colby wrestling co-op got an early taste of what the post-season may hold with a trip to St. Croix Falls over the weekend.
It was a completely different stage compared to most of their tournaments. State champions, state qualifiers and state ranked opponents were seemingly everywhere on Saturday as 22 teams converged in one place. The Abby/Colby co-op knew what an opportunity the tournament presented - not just more match experience, but a chance to scout their opposition for the impending regional and sectional meets next month.
The wrestlers did not disappoint, taking 11th place in arguably their most competitive wrestling tournament yet, finishing with 57 points.
Three wrestlers found a spot on the podium, with Carter Grewe, River Halopka and Brandon Vicente all finishing in the top ten in their respective weight classes.
Grewe turned in the best individual performance of any Abby/Colby wrestler on Saturday, improving to 16-3 on the year after taking second place in the 195 weight class.
Grewe received a bye coming into the tournament, and then proceeded to dispatch his first round opponent, pinning him in the third round. His next two opponents proved more difficult.
Grewe squared off with Blake Siebert of Cumberland, owner of an 18-3 match record and one of the top ranked wrestlers inthestateinD-3.GreweandSiebert went back and forth before Grewe was able to notch the pin in 5:36.
Grewe advanced to the championship match, taking on Kale Hopke of Amery, the state's seventh ranked wrestler in D-2. Grewe and Hopke battled hard for three rounds, but it was Hopke who prevailed by the skin of his teeth, picking up a 8-5 decision. For his efforts, Grewe earned the co-op 24 points.
Halopka was the only other wrestler to take top three in a weight class, finishing third in the 126 pound division. Halopka improved his season record to 23-3, and remains one of the top ranked wrestlers in D-2, currently sitting at sixth in the state.
Halopka proved why he's earned such a high ranking, flying through his first two matches. Halopka won via pinfall in the first round with a pin in 3:03.
He did even better in the quarterfinals, pinning his way to victory in 1:37 over Remington Ladd of Cameron, the 10th ranked wrestler in D-3. In the semis, Halopka faced Evan Wolfe of Bangor/ West Salem. Wolfe came into the tournament with a 26-6 record - and a state ranking of 10 in D-2.
Halopka and Wolfe went at it over three grueling rounds before Wolfe pulled out a 12-6 decision over Halopka. Halopka rebounded in the third place match with another decisive victory over a top ten opponent. This time Halopka's victim was Taedon Nichols of Luck/Frederic/ Grantsburg/Siren.
Nichols, the seventh ranked wrestler in D-2 in the 120 weight class, was no match for Halopka, who pinned Nichols in under two minutes. It was just the third loss of the season for Nichols, and Halopka earned 19 points for the co-op.
Brandon Vicente was the final wrestler to crack the top ten, taking sixth in the 170 weight class. Vicente won his first match with a pinfall in 1:43, but lost his quarterfinal match, only to bounce back with two more victories by pins, one in less than 20 seconds, and the other in 4:26.
Vicente would lose his fifth place match with a pin in the second period, but took 13 points for Abby/Colby.
Talon Severson was the only other wrestler to score for Abby/Colby, notching one point in the 145 weight class. Severson lost his first match with a 7-0 decision, took his second match with a 9-5 decision, but then dropped a 9-1 major
WRESTLE