Posted on
Smazal Blood Drive moving to Colby H.S. gym on Feb. 8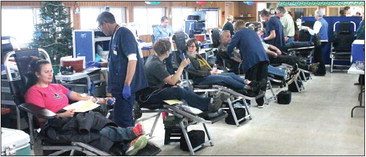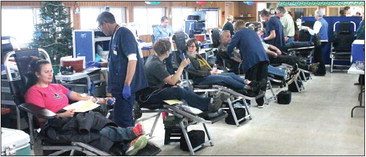 Since it first got started in 2017, the Grant Smazal Memorial Blood Drive has seen a significant increase in the number of donors who show up and the amount of blood they provide.
Last year, in 2019, the drive set a new record of 122 potential donors and 127 units of blood collected — a 38 percent increase in life-saving blood products from the year before, when 101 potential donors gave 92 units.
This year, the annual drive will be moving from the Colby Lions Shelter to the gymnasium at Colby High School, 705 N. Second St.. It will take place on Saturday, Feb. 8, from 7:30 a.m. to 12:30 p.m.
"Moving the location to the Colby High School gym has been in the back of our minds for quite awhile and with last year being as successful as it was, we knew we had to explore that option," said organizer Melissa Smazal. "However, we are forever grateful to the Colby Lions for the use of their wonderful shelter in the past years."
Melissa and her husband, Robbie, started the blood drive in honor of their unborn son, Grant, who was tragically killed as a result of a car accident in 2014. Melissa required 50 pints worth of blood transfusions just to survive herself.
A playground at the Colby School District was also installed in Grant's honor in 2015.
The couple, who have three other children, have relied on family members and friends volunteering to help run the annual drive in conjunction with the Blood Center of Wisconsin.
Potential donors have a chance to win several prizes, including a $100 gift card from Kwik Trip in Abbotsford and a gift basket donated by Marathon Cheese.
Organizers will also draw names for a male donor basket and a female donor basket full of goodies they put together.
In addition to the available prizes, each potential donor is welcome to take a personalized "I Gave for Grant" pen, along with a Grant sticker.
A complimentary meal, prepared by the Smazals and their friends and family, is also provided for all as a token of the couple's gratitude for coming to donate.
The Coffee Coop in Colby is also donating coffee for the blood drive.
Walk-ins will be accepted, but appointments are encouraged. To make an appointment, call 877-232-4376 or go to versiti.org/WI