Posted on
NEW PLACES TO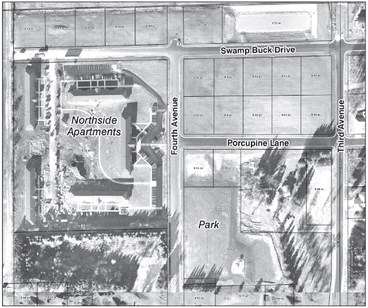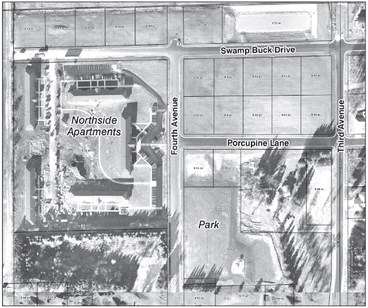 As soon as winter releases its icy grip on Central Wisconsin this spring — and the ground begins to thaw out — city offi cials in Abbotsford are hoping to see signs of construction on its north side.
The city-owned Schilling Meadows subdivision north of Pine Street currently has 19 lots available for anyone looking to build a new home in Abbotsford.
As an incentive to build, the city is willing to sell each lot for a below-market price of $5,000 as long as the buyer constructs a 1,500-square foot house within a year's time. The lots range in size from 16,469 to 23,255 square feet, but most are in the range of 17,000 to 18,000 feet.
The subdivision is already home to five new apartment buildings, built by the owner of Abbyland Foods to provide housing for workers at his ever-expanding company.
City administrator Dan Grady said the city will be using multiple methods to market lots in the subdivision, and also to promote development in a new industrial park west of STH 13. That includes a dedicated website that will be a little "flashier" than the city's homepage, signs near the lots and billboards on cityowned property north of the interstate.
Grady said the city may also work with local real estate agents to sell the lots, but that hasn't been decided yet. He said the goal is to get a developer in as soon as possible.
"You need to get that first one," he said. "You get that one, then all the rest follow.' Even though the city has established several covenants for those who want to build on the lots, Grady said the city council is willing to negotiate with any potential builder who has different ideas.
"The idea is to give the buyer as much flexibility as possible," he said.
Schilling Meadows is the first major residential subdivision to be established in the Colby-Abbotsford area for more than a decade, but smaller housing developments have also been popping up to meet demand.
In the fall of 2017, CAP Services finished construction of Colby Cottages, a 28-unit housing development off of Community Drive on the city's east side. That includes 20 apartments for seniors and another eight for families, all of whom must meet income requirements.
Colby Cottages continues a trend of commercial and residential development on Colby's northeast side, which started after the Highway 29 bypass was finished in 2000. In 2010, CAP Services built the Colby-Abbotsford Senior Village at the northeast corner of Dehne and Community Drive in Colby, with 24 apartments in three separate buildings.
A LOCAL HOUSING SHORTAGE
Housing continues to be in high demand in the Abbotsford-Colby area, especially as companies like Abbyland Foods continue to expand.
Kelly Kleist has been in the real estate business for 22 years, selling homes in the Medford and Abbotsford areas as a member CENTURY 21 Dairyland Realty. She said the main factor affecting the local real estate market is the lack of available homes relative to the number of new employees coming to the area.
"We have more jobs than we have people, so we're moving people in, but there's not enough housing," she said.
Kleist said people who accept a job here often can't find a place to live right away.
"You wouldn't believe the number of calls we field in a day looking for temporary housing," she said during an interview last July.
People are often reluctant to uproot themselves and find a new home, even when jobs leave the immediate area.
Colby may have anticipated an significant exodus of people from the city when PCA announced that it was moving its operations to Marshfield, but Kleist said that didn't happen.
Fortunately, the 2008 housing market crash did not decimate the local housing market as much as it did in other parts of the country, she said.
"Residential, for the most part, has not been affected locally as it is on the coasts," she said. "When you saw big booms or small busts, they happened at a minor level here."
As a general rule, local homeowners might not see great leaps in appreciation values, but they are also less likely to end up "underwater" on their mortgages when home values plummet, she said.
Nevertheless, the impact of the housing crash more than a decade ago can still be felt locally, Kleist said.
"Since 2008, we're still not seeing people make the effort to build, so we don't have new homes going up," she said. "That's where we're getting our inventory shortage."
Kleist said those looking for a place to live are often more likely to move into an older house than to even think about building new, especially with the cost of construction going up.
"The Midwest is conservative in nature, so if we're even remotely concerned about the stability of income, we're not going to spend more," she said. "If I'm comfortable, there's no reason to buy up."
Because home values in this area stay relatively flat compared to other parts of the country, Kleist said it's more difficult for people to buy a house, sell it three to five years later, and make a significant profit on their investment.
Kleist said 100 percent financing options have truly changed things over the past 20 years, meaning there are a lot of people living in homes they don't have any equity in.
"If there is a life-changing circumstance, their ability to sell, move on and do something else is limited by the fact that they don't have enough equity in the home they currently live it," she said.
Interest rates have been at near-historic lows for years now, but that could always change as the national economy continues to boom.
Kleist said she has seen interest rates as high as 9 percent or more for those with questionable credit histories, but the rate has also gone as low as 3 percent. For the most, though, she said interest rates have hovered around 6 percent for most of her time in real estate.
"I'm grateful that I missed the early '80s when it was 17 percent interest on real estate," she said.
In recent times, the supply of homes
is not keeping up with demand, she said.
"For the last two years, we've had incredibly tight inventory," she said. "That's throughout the entire Midwest, not just here."
Locally, there aren't a lot of "cookiecutter homes," she said, so it can be difficult for homeowners to find their dream home if it isn't immediately available.
Kleist said her agency is selling fewer houses in recent years, but that's only because they're not available to purchase.
"You can see that by the rate of increase in price point and by the shortened number of days on the market," she said.
In 2015, Dairyland Realty sold 42 residential properties in the Abby-Colby area, at an average sales price of $92,465. The average number of days a home stayed on the market was 219. The highest- priced home was sold for $204,800.
Three years later, in 2018, the agency sold 38 houses at an average price of $119,228, a 29 percent jump. The average number of days on the market fell by
about 100, to 118. The highest price home jumped to $375,000.
"When I look at the difference, you're talking about a lack of inventory," she said.
Kleist said these numbers are somewhat skewed, because when you have a lack of inventory, more people feel like they can sell their homes without the help of an agent. She said this actually works against the seller.
"Statistically speaking, according to the National Association of Realtors, a home for sale-by-owner will actually end up selling for 8 to 10 percent less than a represented seller would," she said.
Looking ahead, Kleist believes the local market will continue to lag slightly behind other parts of the country.
"We typically will always follow or drag behind the coasts," she said. "If you really want to know what the real estate market will do in the next couple of years, keep an eye on what's going on out there. We're usually 18 to 24 months behind them."