Posted on
INTERIOR CLEANING S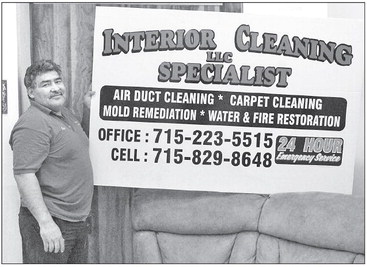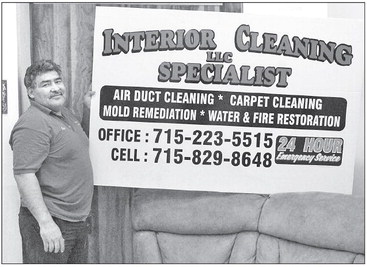 There's no denying that downtown Abbotsford looks vastly different from years past, with several long-time businesses now gone. But where there's a vacancy, there's an opportunity, and Pepe Aguilera is one of several Hispanic business owners who has found a home, and profession, in Central Wisconsin.
Aguilera came to Abbotsford in December of 1989, and up until seven years ago, he was making sausage and meat products for Pinter's Packing in Dorchester.
He never thought he'd go into business for himself, but he had a dream that changed the course of his life.
"One day I was dreaming I was cleaning carpets in a house, and I thought it was kind of silly." Aguilera said.
That dream would prove prophetic. After spending the last 10 years hauling and buying scrap cars, it occurred to him that some of the cars were still in good condition, and with a bit of cleaning, could be sold at for a profit rather than scrapping them.
"We said, 'Why don't we clean the cars and see if we can get a couple hundred bucks?'" he recalls.
From there, Aguilera discovered Kerry Langiewic in Stanley who was selling a cleaning business. Aguilera originally just wanted one or two items, but he was convinced to buy the whole business.
"At first I said I don't know if I should do that, so I went and talked to my wife, and she started laughing at me, and she said 'Who's going to give you the money?' So I went and talked to the bank."
The bank approved a loan for Aguilera, and the next day he spoke with his wife, Sandy, and told her he got the business. There was just one problem — Aguilera didn't know anything about the carpet cleaning business.
Now, a "silly dream" has turned into Interior Cleaning Specialist, a business that has grown to handle water damage and fire restoration, carpet cleaning, air duct cleaning and mold remediation.
Aguilera employs five full-time staff, as well as several part-time workers to help with bigger projects. It's been more than six years, and he's quietly grown his business, but it was one that had definite hurdles to clear.
"My biggest challenge was I didn't know anything about the industry. So the first thing I did is I went out to Minnesota, to a place called Barker Hammer, and they posted some classes on carpet cleaning," he said. "I took my certification and learned a lot from them. Then I took my certification for water damages and I also did fire and smoke and mold remediation." Aguilera's education is always ongoing, as he continues to take one to two classes a year to keep up with the latest techniques and gadgets required to get the cleaning job done.
"It was just me and Kerry, and we did a few jobs," he said. "It was challenging because I was still doing Pinter's and cleaning and a father and a husband and following my kids for sports. So it wasn't easy."
Aguilera persevered, and after the first six months, he decided to do the cleaning gig full-time in 2013. It was a leap of faith on Aguilera's part, but he realized he needed to focus on one task and grow the business.
"You either focus on what you're doing, or forget about cleaning," he said. "If I don't invest the time, there's no point to keep doing it. So I took the classes and learned to do more trades, and when I saw the potential was there, I started investing more into the business."
The business gradually grew, and during the slow times of the year, Aguilera was able to split time between Pinter's and his cleaning jobs.
Soon enough, Aguilera was doing cleaning jobs full time. In October of 2018, he acquired the old Hutman Heating building in Abbotsford and made several renovations, opening two overhead doors to drive vehicles into the building and purchasing new equipment.
Aguilera is proud to be a successful business owner, but more than anything he's proud of a job well done.
"When I go to a job I like being a solution to a problem," he said. "I like to do a good job — my goal is to always have a happy customer."