Posted on
Highground to open 'Vietnam Experience' Saturday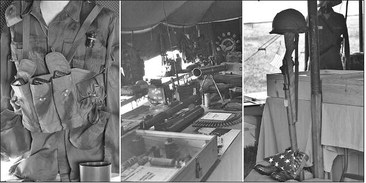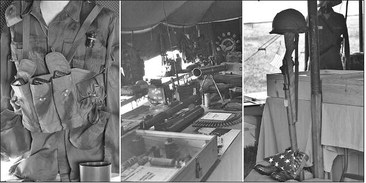 The public is invited to attend the grand opening of the "Vietnam Experience" exhibit, at The Highground Veterans Memorial Park Museum outside of Neillsville on Saturday, Feb. 1 at 1 p.m.
The exhibit—consisting of a large number of artifacts, uniforms, memorabilia and information from and about the Vietnam War—is funded by donations to The Highground, and on loan from Carl Bogar, Jr. and Historic Military Impressions. The public will also be able to view selections from The Highground's traveling Vietnam War exhibit, "My War."
Families are invited to attend, as both the exhibit and the grand opening are appropriate for all ages. The Highground also encourage schools to book tours of the exhibit for their students.
The "Vietnam Experience" exhibit will be at the Highground from Feb. 1–April 29.
Carl Bogar, Jr. began collecting military artifacts in 1975, when his grandfather, a World War Two Army veteran, gave him a German helmet. Today the collection that he uses to do military exhibits like this one has grown to almost 40,000 items.
In 1988, Bogar entered military service in the United States Marine as a machinegunner. In 1994, with just over six years of active service, he left the Marine Corps due to military cutbacks. Later that year, after seeing the recurring poster reading "Sometimes Marines make betters soldiers," he joined the U.S. Army Reserves as a military instructor.
In 1997, Bogar was selected to go to West Point as an institution of map reading, trooping leading and basic tactics.
In 2000, after 13 years of service, Bogar's military service ended as an officer candidate due to service-connected injuries.
Bogar holds college degrees in criminal justice and history, and a masters of arts in military history from Norwich University.
In 2009, Bogar was named the Veterans Business of the Year in Wisconsin by the U.S. Small Business Assocation. In 2013, he was named the home-based business of the year for Wisconsin and then U.S., S.B.A region 5.
Bogar was recognized as a Veterans Employment Representative of the Year while he worked for Wisconsin Department of Workforce Development in 2007, and a patriotic employer by the Office of the Secretary of Defense, employer support of the guard and reserve in 2015.
Bogar has been a member of Speaker of the House Paul Ryan's Veterans Advisory Board and Small Business Advisory Board since 2007. In 2009, he received a certificate of congressional recognition from the speaker's office for his service when Congressman Bryan Steil took offi ce. Bogar was asked to remain on both boards.
Today, Bogar uses his degrees and love of military history to run Historic Military Impressions, providing short-term military exhibits to add value to public events and other history-related classes and programs all over the United States.
For more information about The Highground exhibits, contact Theresa Hebert at 715-743-4224 or send an email to [email protected] thehighground.us