Posted on
COMPUTER TR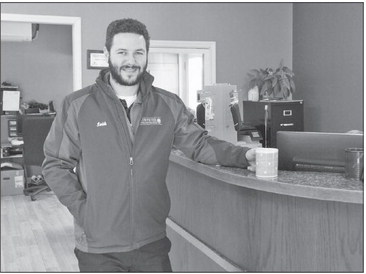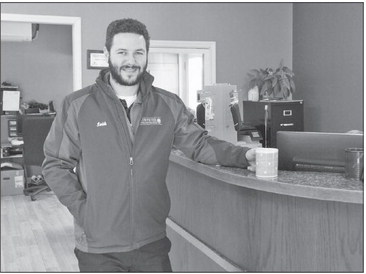 Providing modern solutions for today's technical problems
Over the last 15 years, the world has seen a proliferation of new businesses and industries related to the field of technology. No longer are computers located in just Silicon Valley — they're everywhere, from the smallest unincorporated townships to the biggest cities.
Technology solves a host of problems, but when the technology goes wrong, you need someone who can fix a laptop, set up a network and provide help to function in a fast paced, modern society.
Seth Pinter, a native of Dorchester and graduate of Colby High School, can relate to all these problems. Even better, he has solutions.
Pinter opened Computer TR in Abbotsford in 2014, but he was involved with computers long before then, having started his career in IT as a childhood hobby.
"At the age of around 12 I took an interest in computers and basically started taking them apart and playing with them and figuring them out," Pinter said.
Pinter cut his teeth on Windows 95/98, but he has since seen his repertoire expand far beyond those first simple repair jobs.
"I just kinda started evolving I guess as more and more people had computers," he said. "I started helping people fix them, and people always go to the person in the area that knows the most about them to help them with their problems."
Pinter's knowledge expanded, and so did his business, growing in a very grassroots style. Those first jobs involved helping friends and family, and accepting soda as payment.
By 19, Pinter had bought a house, and moved his work there, while spending a year working with Clint Carbaugh at Weathershield in Medford. By the time he was 20, Pinter had earned a two year degree from Northcentral Technical College in IT and networking, becoming a network specialist.
Pinter has come a long way from charging people a 12-pack of Mountain Dew for his services, and has since turned his hobby into a successful local business, with a newly renovated storefront and office located at 311 S. 4th St. (STH 13).
The office features a large reception area, sales floor, a custom designed board room and IT work stations along with a selection of merchandise.
"We try to do as many IT related things for one business so we can be a one-stop shop, and we keep everything local," Pinter says. "I don't see myself ever living in the cities. I want to stay in this area."
Staying local has been good to Pinter, who now employs over a half a dozen people, a mixture of full time and part time, to handle all the day-to-day tasks and details that local businesses need in order to compete with big corporations. No matter if it's installing servers, work stations, networks or security cameras, Pinter and his employees are always up to the task.
As his business expands, Pinter foresees hiring more employees — but he's intent on doing it slowly and with great care.
"I just want to make sure that I don't jump over my head and get too big too fast," Pinter says. "We're at a steady growth already, and I just want to be able to maintain that."
For now, Pinter is focused on keeping customers happy and growing slowly and successfully. He's seen a great deal of changes in the computer industry since he was 12, but he also sees great opportunities on the horizon.
"I never really had any doubts because I started out small and slow and progressed and the clients came in and the phone calls in," Pinter says.
"It was never nothing one day and then a million dollar business. It was always small steps that led to there . . . but it's been good, and looking back it's amazing how fast ten years went by."