Posted on
Colby's second half surge can't top Dons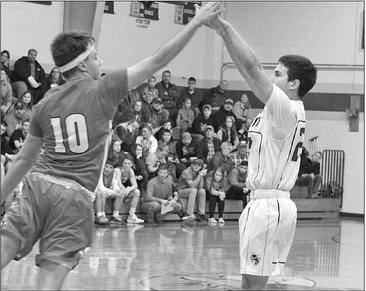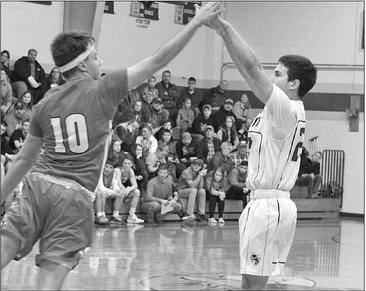 The Colby Hornets (5-7; 4-5 ECC) boys basketball team has come tantalizingly close to playing a perfect game.
On Friday Colby delivered one excellent half, but unfortunately, they would need two in order to stop Columbus Catholic. Colby fell behind early in the first half, and could never recover in time to jeopardize the Dons' lead, falling 73-69.
In their first meeting the Dons (6-7; 5-4 ECC) rode the hot hand of senior guard Tommy Nystrom, who broke a decades long school record by draining nine treys in one game to lead Columbus Catholic to a 61-52 victory over the Hornets on Dec. 3.
The 3-ball continued to fall the Dons' way in the rematch as Columbus raced out to a double digit lead in the first half off the back of lights out shooting from beyond the arc.
The Dons saw five different players drop a combined ten triples on Colby in the first half. Meanwhile, the Hornets struggled to get their offense going.
Colby made just two of 15 three point attempts, and while the Hornets converted 15 of 26 free throws, on a night where every point mattered, each missed shot and missed free throw was like a hammer blow raining down on Colby's coffin.
Brent Jeske led the Hornets' offense, scoring nine first half points. Roman Schmitt and Harley Schmelzer each scored five points. Mason Schmutzler and Isaac Karl added two points.
The Hornets did not allow Nystrom to equal his record setting feat, but he did lead Columbus with three triples in the first frame, while four members of the Dons added multiple buckets to put Columbus Catholic ahead 43-29 at the break. That lead would swell to as much as 20 in the second half, but Colby made quick adjustments on defense, tacking away the perimeter from the Dons and forcing Columbus Catholic to beat them inside.
Colby's offense, quiet in that first half, found a spark and then caught fire as eight different Hornets got on board. Big brother Connor Jeske picked up where little brother Brent left off, scoring nine of his ten points in the second stanza.
Bit by bit, the Hornets began to chip away at the lead. Baskets from Gavino Lopez, Richard Streveler and Schmitt brought Colby to within 53-67 with four minutes to play.
The Dons began to stall, taking the air out of the ball, and forcing Colby to foul as the Hornet's defense swarmed all over Columbus Catholic, limiting their conference rivals to just three triples in the final half, with just two coming from the hands of Nystrom, who was held to 15.
The Dons turned to Jadon Nienast and Wyatt Drexler to came up with the goods, keeping the Dons ahead, scoring 16 and 13 points.
But Colby continued their slow comeback. A quick basket by Schmelzer was immediaely followed by a Streveler steal and lay-in that cut it down to 69-61.
Once again the Dons took time off the clock, forcing Colby to foul. Columbus converted seven of 12 free throw attempts in the second half, and continued to drain the clock until time expired.
The resulting loss drops Colby to 6-7 on the season, and below .500 in conference action, with the Dons leapfrogging Colby for fifth place in the Eastern Cloverbelt.
What gets lost in the shuffle is the team play of Colby, with nine different players contributing on offense, including three Hornets in double figures and three more scoring six or more points.
Brent Jeske led Colby with 14, followed by Schmelzer with 11 and Connor Jeske with 10. Lopez and Schmitt each scored nine points and Noah Robida added six.
Rounding things out for the Hornets was Schmutzler and Streveler with four points apiece, and Karl with two points.
The Hornets will have nearly a week to learn and get over their loss before travelling to Owen-Withee on Thursday for their second meeting with the Blackhawks.
Colby won that Dec. 5 meeting at home 57-49. A second victory would sweep the series, and push Colby back to .500 in conference play.
Tip-off for the Hornets' meeting with the 'Hawks will be 7:15 p.m.