Posted on
Colby's Cloverbelt hopes take big hit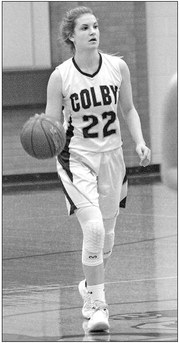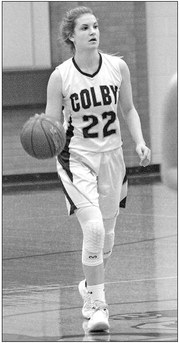 The Colby Hornets' title hopes took a big hit on Tuesday when Colby dropped a Eastern Cloverbelt clash with the Gilman Pirates at home, just days after collecting a victory over Owen-Withee on Thursday, Jan. 23.
73-55
It had been nearly a week since the Hornets had last played a game, and in the Cloverbelt Conference, road games are always tricky things as teams must navigate their opponents, and the din of a roaring crowd.
A Colby team that was challenged by the Owen-Withee Blackhawks (4-8; 3-6 ECC) on its own turf in early December showed just how far they've come, and these days the only thing green about Colby is their uniforms, as the Hornets have grown by leaps and bounds.
That growth was readily apparent on Thursday as the Hornets saw eight different players light up the scoreboard as Colby swept the season series with Owen- Withee in a game in which the Hornets led by as many as 20 points.
It was in marked contrast to their first meeting when Colby found itself trailing by double digits on Dec. 5. In that game the Hornets eventually righted the ship to pull out a 73-63 victory. A month and a half later and Colby administered a clinic of high-low basketball.
Hailey Voelker and Emma Peavey were the one-two combo that landed heavy hits to the Blackhawks' defense, scoring inside and outside as Peavey canned a career high five triples, three in the first half, to score a team high 26 points.
Peavey notched 19 of those points in the first half, and was joined by another stellar outing from Voelker, who added eight points. Lexi Krebsbach added three and Olivia Vollrath scored four.
Owen-Withee's Brianna Simington almost single-handedly kept the Blackhawks within reach of the Hornets, scoring 29 points, 18 alone in the first half.
While Colby had struggles containing the second leading scorer in the Eastern Cloverbelt, the Hornets had no such problems with the rest of Owen-Withee, limiting Simington's teammates to nine combined points as Colby took a 38-27 lead into the locker room.
The Hornets continued to apply the pressure in the second half, and remained the more aggressive team as Colby made a living from the charity stripe, getting to the line 37 times, and converting 26 free throws.
Peavey made nine of 12 free throws, Voelker seven of 11 and Vollrath, Lexi Underwood, Trista Meyer and Kersten Wiese were all perfect from the line.
After Peavey's first half out-pouring, it was Voelker's turn to fill up the hoop, leading Colby with 15 second half points to close out her night with 23.
Krebsbach splashed a three and added a pair of buckets, for another double digit game, finishing with 10 points. The Hornets would go on to sting and outscore their hosts 35-28 in the final frame, picking up a fifth straight victory.
Voelker also pulled down 11 boards and dished out a team high five assists. Peavey swiped a team high six steals.
Vollrath had another solid game, scoring six points and recording a team high three blocks to go with her two steals and four boards. Trista Meyer added two points, five boards and one block. Kya Viegut, Underwood and Wiese all scored two points apiece.
Gilman, 69-62
The Hornets were hoping to stay neck and neck with Neillsville and Loyal in their quest for a third straight Eastern Cloverbelt title, but Gilman had other ideas on their mind.
Colby dropped Gilman in their first meeting with threes for a 53-50 road win back in December. Once again it was that singular shot that kept Colby in the game for long stretches, with the Hornets converting 10 of 19 three point attempts.
But the Hornets had no answers to Gilman's size underneath, struggling to stop the Pirates offensive rebounding. Gilman either earned a second chance bucket, or got to the line, going 17 for 23 on free throws, and Colby had just 20 rebounds.
Colby was cold from the floor, hitting just 13 of 38 two point field goals, and with Lexi Underwood out with injury, the Hornets were missing an enforcer on the glass, and a scoring threat in the post.
Just four Hornets scored, with Emma Peavey recording a game high 26 points. Hailey Voelker added 18, but struggled all night long, hitting just nine of 21 shots.
Lexi Krebsbach added 14, and Trista Meyer was the only other player to add points, tallying four.