Posted on
56 care package boxes sent to troops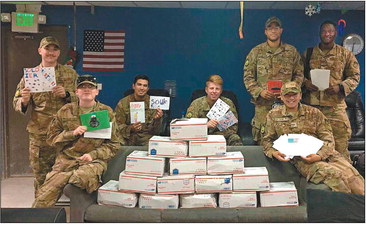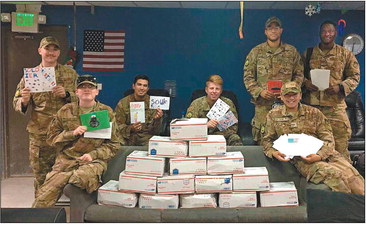 Back in November through early December, the family of Air Force staff Sgt. Kathryn Tesch decided to collect snacks, games, hygiene products and other items for those serving alongside Kathryn at a forward operating base in Qatar.
Men and women in the Air Force, Navy, Marines, Army and more come to this base before being moved to their permanent stations in the Middle East. The base has a significant shortage of personal hygiene products for the large amount of people who come through.
Over a three-week period, the family collected 56 boxes of supplies to be shipped overseas for the troops and $550 in cash used for postage. All of the donated items were sent to Kathryn, who gave them out to people on base.
Items were collected at The Coffee Coop in Colby, AgCountry Farm Credit Services in Medford and Sam Scott Rural Insurance in Medford.
Any home-baked goodies were frozen and shipped right away. After the three weeks, a packing party was held with members of Nicolet Bank and the Colby FFA Alumni. They helped wrap, package and label every box.
Along with the many items collected, the Colby Elementary/Middle School students, Colby FFA students, Colby FFA Alumni members and the Maplewood Badgers 4-H made and wrote homemade Christmas cards.
"The men and women loved these the most," Kathryn said. "It made them feel like they were home again."
The Tesch family is happy to report that Kathryn has been shipped home and is safely back in the USA.
"Many men and women are still there serving our great country and you all have made them a little happier knowing that the folks back home care enough to send thoughts, prayers and supplies," said Helen Tesch, Kathryn's mother.