Posted on
Kulas Body Shop named 2019 Business of the Year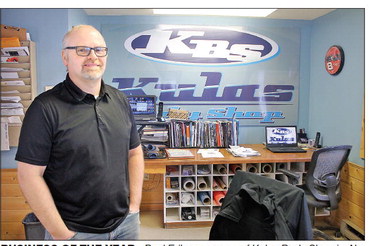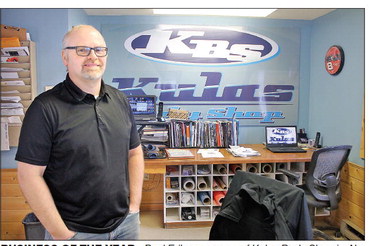 When Paul Erikson bought Kulas Body Shop in 2002 — taking over for the namesake founder of the business — he said there was a lot to learn when making the leap from worker to owner.
"It was eye-opening; it's not what you anticipate," he said, describing the experience of moving from a technician "in the back" to the guy "up front" running the business.
Since that time, Kulas Body Shop has diversified the services it offers, branching out into industrial media blasting and painting with the help of another Abbotsford business.
Kulas Body Shop has been named Business of the Year by the Abby-Colby Crossings Chamber of Commerce and will be honored at the annual banquet this Saturday, Jan. 25, starting at 6 p.m. at Abbotsford City Hall.
Though it maintains the "body shop" title and continues to do auto repairs, the business on Linden Street has expanded in recent years to serve a wider variety of customers.
"When the economy was struggling, we made the decision to get into a few other things," Erikson said.
The expanded business opportunities started with a chance meeting between Erikson's wife and Dave Williamson, the owner of A-Team Machine in Abbotsford's industrial park.
Williamson, whose business does custom machining work for industrial customers, was looking for someone who could paint parts.
At first, Erikson said the original body shop was able to handle some of the simpler projects for A-Team, but eventually, the company had to add on to accommodate its new customer base.
"It's gotten so big, that's where the growth has come from, in the industrial stuff," he said. "Now, we're working for several different manufacturing facilities. We've gotten into media blasting, working with stainless steel."
KBS added a new building to the south end of its lot in 2013, and finished the most recent expansion in 2015 — providing a separate facility for the industrial work to be done. Erikson said the extra space was needed to do the messy industrial work away from the auto repairs, which are still done in the original two buildings on the property.
In addition to Erikson, KBS currently has four full-time employees — Kyle Kollmansberger, Chris Schorer, Shawn Radue and Mitch Telford — and two parttimers, Dustin Treffert and Brandon Orth.
Erikson said the auto body part of the business remains steady, a testament to the reputation for quality work the Kulas family had established since the business first opened in June of 1986.
"They had built up the collision part of it, and that's a lot of the reason why the name never changed," he said.
The auto body shop can finish most repair jobs within four days time, he said.
The two parts of the business, auto and industrial, complement each other well, Erikson said, with his crew being able to switch their focus if one end is slower at different times of the year.
KBS has also done some vehicle restorations over the years, and their finished products have caught the attention of additional customers. "People have reached out to us," he said. "I think we have three of them (restoration projects) going on right now."
Those types of projects may only make up a small part of what KBS does, but Erikson said they appeal to his original passion for auto body work.
"I always liked old cars, so that's where my interest into this field came from," he said.
A graduate of Colby High School, Erikson first got a job with Kulas Body Shop in 1992 after earning his degree at Wyo-Tech in Laramie, Wyo., in 1990 and getting some experience at a couple other body shops.
He purchased it from Galen and Rose Ann Kulas in January of 2002, and Galen continued to work there for more than decade before retiring in 2014.
"If they hadn't approached me about buying the business, as far as I know, I'd still be working for them," Erikson said. "I enjoyed working for them."
Galen Kulas said he was pleased to hear about the award going to the business he founded.
"We started a business built on doing on quality work" he said. "We're glad to see Paul is continuing that."
A mix of new and longtime customers has kept KBS in business for 34 years, through ups and downs in the local economy and changing demands.
"I think our attention to detail and customer service is what keeps people coming up back," Erikson said.
Kris O'Leary, who nominated KBS for the Business of the Year award, pointed out that Erikson has given back to the community by donating labor to local projects, such as painting playground equipment and floats for the Christmas parade. His family also helps out on the night of the parade, she added.
"Paul has run a successful business and is willing to help out where he can, giving back to the communities," she wrote in her nomination.
Erikson said he appreciates the recognition from the local business community.
"It was definitely a surprise, being a relatively smaller business in town," he said. "It makes you feel good that you're recognized. People see what's going on here and what we've done with the changes over the years."