Posted on
Falcons mid-season slump continues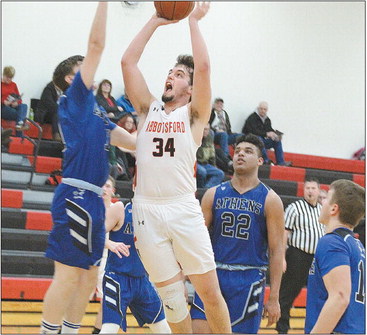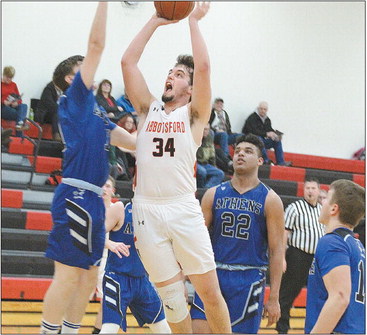 It's midway through the 2019-20 season and the schedule continues to be unkind to the Abbotsford Falcons, with the boys basketball team dropping their third straight game, and fourth out of five, last week Friday.
The Falcons fell for the second time this year to the Athens Bluejays (7-4; 5-4 MNC), this time at home, on a snowy, blizzard filled night.
Perhaps it was the weather, or perhaps it was the Bluejays speed and size underneath, but the Falcons' offense came out cold and sluggish, and routine shots that typically fell did anything but, rimming in and out as Abby dropped to 3-11 on the year and 1-8 in the Marawood North after a 62-33 loss to the 'Jays.
The Falcons hung tough with the 'Jays through the first ten minutes of the first half, with Athens holding a slim 17-10 lead with 8:30 to play, but the 'Jays Cooper Diedrich and Cameron Ford worked the interior, using speed and strength to pound the ball inside.
Diedrich led all players with 20 points, while Ford was a force underneath, scoring 17 points and cleaning the glass for 16 rebounds, several of which were offensive rebounds that led to Abby fouls and Athens' free throws.
More than anything, it was that ability to control the boards that played the role in the Falcons' loss as Abby finished with just 24 rebounds to Athens' 45.
And as the first half progressed, the 'Jays slowly began to inch ahead of the Falcons, until by halftime, Abbotsford was down 29-14.
Things didn't get much better in the second half as Abbotsford continued to struggle to get stops and find baskets.
It didn't help that even with a Falcon hand in the face, or a Falcon double-team, the 'Jays converted 24 of 48 field goals.
Seven Falcons scored on the night, but only one, junior guard Cade Faber, scored in double figures. Faber had another double-double, which at this point has become routine for the agile and athletic baller, who finished with a team high 16 points and 10 rebounds.
Senior guard Blake Draper was the only player to offer more than five points, tallying six points and five rebounds. Hunter Soyk added four points and Mason Carpenter, Reiley Schreiber and Adam Diedrich all scored two points. Brandon Diedrich collected one point.
As the game continued, the 'Jays continued to wear Abby down, out-scoring Abbotsford 33-19 in the second half.
It was a better result from the first meeting, when Abby gave up nearly 80 points, and if the offense can match the defense, the wins will surely follow.
Time is still on Abby's side, with eight games left in the regular season. The Falcons will take the next few days off, and be back in action at home, when they host the Edgar Wildcats on Friday, Jan. 24. Tip-off will be at 7:15 p.m.