Posted on
Colby snaps slump, routs Bulldogs 90-33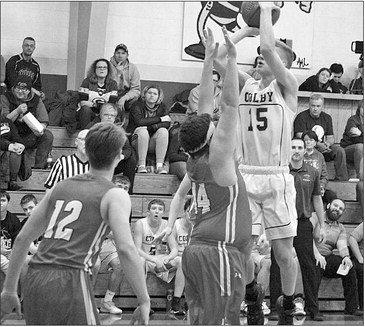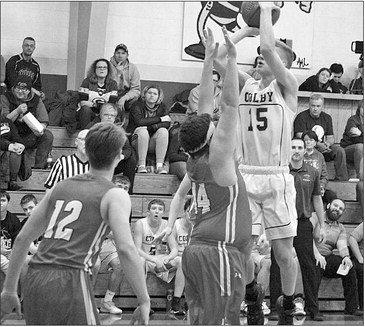 The Colby boys basketball team dropped a third straight game with a loss to Spencer on Thursday, but got back to winning ways with a victory over the Granton Bulldogs that improves Colby to 5-6 on the year, and 4-4 in league play.
59-52
Sports is just as much about execution as it is talent, and for long stretches, the Colby boys basketball team executed their game plan against the Spencer Rockets, (8-2; 7-1 ECC) at a high level.
The Rockets came into the game having dropped a conference clash with Neillsville. Colby almost made it back to back losses for Spencer for the first time this season, using a staunch defense that shut down the Rockets high-powered offense for much of the night.
"I thought we did a very good job defensively, but we gave up way too many offensive rebounds," Colby head coach Jimmy Flink said.
The Hornets slowed down Austin Bacon, holding the Rockets' second leading scorer to just eight points on the night, well shy of his 17.3 average.
But where one player faltered, another stepped up, and in the first half it was Eric Ehlert who provided Spencer's firepower, dropping 12 of his 15 points in the first frame.
"Ehlert, he's just one of their role players, not one of their main guys. So they had some kids that stepped up."
Even so, it was Colby who was doing the damage in the first half, with four different Hornets each scoring multiple baskets. Harley Schmelzer was deadly inside and out, leading Colby with 11 points in the opening half.
Noah Robida added seven and Gavino Lopez and Connor Jeske each scored four to give Colby an early 31-27 advantage heading into the break.
The Rockets came out firing in the second half, snapping off a 13-7 run in the first eight minutes that was keyed by three triples from Brett Kasch.
Kasch continued to crank out the points, scoring 15 of his game 23 in the last stanza and giving Spencer a slim 4038 lead with 11:30 left in regulation.
From there, the Hornets defense clamped down, holding the Rockets scoreless through the next four minutes. However, the Rockets returned the favor, and neither could get the best of the other.
It was fitting that it was Schmelzer who broke the drought. A pair of baskets from the athletic senior gave Colby its first lead since early in the second half, and a beauty of a jumper from Roman Schmitt gave Colby a 46-42 lead with five minutes to play.
It would not last. Colby's old enemies, turnovers and fouls, returned, and a pair of critical turnovers gave Spencer a chance to pick up points and tie things up at 46-46 with 3:30 remaining.
And as the Rockets rediscovered their offense, Colby lost its offense, and Spencer pulled away late in the game off a 10-0 run that gave them a 54-46 lead with ninety seconds to play.
Schmelzer, Robida and Schmitt got back on board, and Lopez sunk a pair of free throws, but with the clock winding down, the Rockets drew fouls and finished at the line, escaping from Colby with a 59-52 victory.
Schmelzer led Colby with 23 points and Robida added nine. Schmitt and Lopez tallied six apiece, followed by five from Richard Streveler and four from Connor Jeske. Brent Jeske had a quiet night, and added just one point.
90-33
The Granton Bulldogs (0-12; 0-8 ECC) had no answers to Colby's offense on Tuesday night as the Hornets trounced their conference rivals at home to the tune of a new season high.
Seniors Harley Schmelzer, Connor Jeske and Gavino Lopez formed a formidable trio that combined for 26 points in the first half, and guided Colby to a 52-23 lead at the break.
Head coach Jimmy Flink used his entire roster on the game, and every varsity player scored. In the second half the Hornets continued to do work, out-scoring the 'Dogs 38-10.
Schmelzer led Colby with 15 points, followed by Lopez with 13 and Jeske with 12. Isaac Karl added eight points, followed by Jack Krause and Richard Streveler with seven apiece.
Brent Jeske, Roman Schmitt and Noah Robida all had six points, Mason Schmutzler added five, Jaden Underwood had four and Brandon Voelker rounded things out with one point.