Posted on
Colby defeats Dons, win streak now four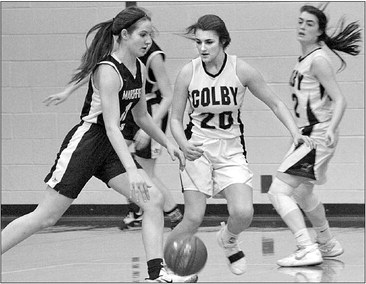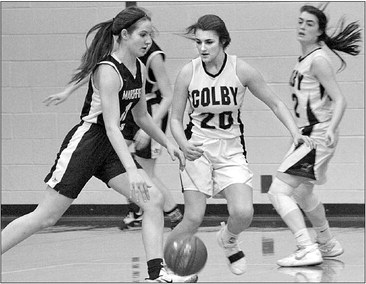 Colby served notice to the Cloverbelt with a 52-47 come-from-behind victory over the Columbus Catholic Dons on Friday night that should have Neillsville and Loyal looking over their shoulders.
The Warriors and Greyhounds have been the only two conference rivals to escape with a victory over Colby. The Dons nearly added their name to that short list after jumping out to an 11-2 lead through the first eight minutes of the game.
But Colby has come a long way this year, and a team that struggled midway through the season has come out stronger on the other side.
"We got some work to do, but we've talked about this second stretch of basketball, and where things stand for us, and about taking care of business," head coach Randy Rau said. "If we do things the way we know how to do, we'll meet our expectations and goals."
It's a young team this season, with just three seniors, but what this Hornets' squad lacks in experience, they make up for in grit, and Colby showed their determination with a 6-0 run that made it a single possession game at 11-8 with 8:30 to play in the first half.
From there, the Hornets began to put the screws to the Dons, as Emma Peavey and Hailey Voelker led the Colby charge. An Olivia Vollrath jumper with 20 seconds left in the first half closed out a 2310 burst in the final ten minutes that gave Colby a 25-21 lead heading into the locker room.
The Hornets carried that momentum into the second half, building a 44-36 lead with 5:46 to play as Lexi Krebsbach got involved for 10 points, all in the final frame.
Lexi Underwood and Voelker hit crucial baskets, but with the finish line in sight, the Hornets stumbled, turning the ball over and ceding momentum back to Columbus Catholic, who rattled off an 8-0 run to tie things up 44-44 with 3:30 to play.
With the game seemingly slipping away, Emma Peavey came up with the two biggest shots of the night. Peavey corralled a loose ball and went coast to coast and ended with a beautiful reverse lay-up that gave Colby a 46-44 lead.
"[My defender] stepped back on me, she had a lot of fouls, so I just went to the hoop because I knew if she fouled me, she'd [foul] out," Peavey said.
But it was the second shot that was the dagger, with Peavey drilling a corner three off a pass from Krebsbach that gave Colby a five point lead with 1:37 to play.
"This summer I saw a lot of that stuff out of Emma, and I was hoping as the season came along that we would see that out of her," Rau said of his latest budding super star. "We've seen flashes of that . . . but she's played great this year."
It wasn't just one player, Rau was quick to point out - every player on the court on Friday made contributions, be it on offense or defense.
"The girls did a nice job of stepping up - everyone had an important role or important basket towards the end of this game."
COLBY GB The Hornets salted the game away with free throws, and extended their win streak to four as they swept the series against the Dons. The victory moves Colby into second place with a 7-2 conference record, and 9-4 overall record.
Peavey led all players with 19 points, followed by Voelker with 13 and Kresbach's ten. Krebsbach had a game high four assists, followed by three from Voelker. Peavey and Krebsbach each had a team high eight rebounds.
Vollrath enjoyed a solid night, scoring four points, and adding two assists. Trista Meyer continues to find her range, finishing with one triple for three points. Underwood also had three points to go with her two assists.
With less than ten regular season games remaining, each conference match-up is crucial, and each game a challenge, but Rau is confident his team has turned the page, and is excited for the final regular season games - and rematches with Neillsville and Loyal.
"We've fought through a lot of adversity all year," Rau said. "We don't have a great amount of experience on the court, so we're still going to make mistakes. But this team is learning how to play through the mistakes, and tonight was a good chance for the girls to grow and learn."
Colby will have a chance to learn and grow even more this Thursday, when they take on Owen-Withee at 7:15 p.m.