Posted on
A/C wrestlers win dual meets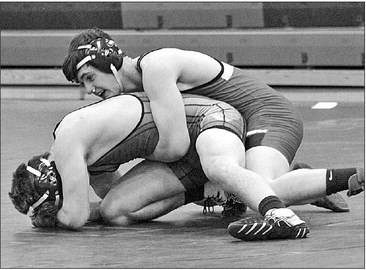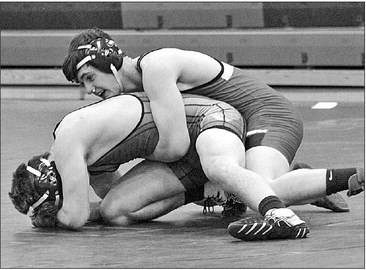 The Abbotsford/Colby wrestling coop won a pair of important conference dual meets with a road victory over Spencer/Columbus on Thursday, and a 37-36 home dual meet victory over the Regis/Altoona co-op to move to 2-1 in conference dual meets.
48-33
The Abbotsford/Colby wrestling co-op couldn't defeat Mother Nature last week, with winter weather forcing the co-op to pull out of Saturday's Ladysmith Invite.
While Mother Nature was too tricky an opponent, the co-op successfully picked up their first conference dual win two days prior, stopping the Spencer/Columbus Catholic co-op 48-33 for an important road win.
The co-op kickstarted the meet on a high note, with Andrew Jeske earning six points with a pin of Connor Luedtke in 1:36 in the 195 pound weight class.
Sophomore Carter Grewe kept the good times going for Abby/Colby, turning in another dominating performance for the co-op as he got the fall over Sawyer Kilty in 1:37 in the 220 pound division.
Spencer/Columbus finally got on board in the third match of the night when Devin Thums lost to Spencer/Columbus' Austin Grubofski in the heavyweight division. Thums was pinned 2:37 into the match, making it 12-6.
Spencer/Columbus tied things up in the next match as Abby/Colby's Grady Steinman was pinned in the first round in the 106 weight class.
Spencer/Columbus took its first lead of the night when state qualifier Ashton Ackman made quick work of Lucas Bauman in the 113 weight class, pinning Bauman in the first round to give S/C an 18-12 advantage.
A forfeit by Abby/Colby gave the home team another six points, making it 24-12 in favor of Spencer/Columbus, and this was followed up by a contentious and hard fought battle between a pair of state contenders in the 126 weight class.
River Halopka, a fourth place finisher at the WIAA D-2 state meet in Madison in the 106 weight class, has since moved up several weight classes, competing in the 126 pound division.
The move has done nothing to diminish his skills, and Halopka went toe-totoe with sophomore Treyton Ackman, a state qualifier in the 106 weight class last season.
The match went back and forth, with both sides probing the other's defenders. Halopka put Ackman in the cradle, but a displaced mouth guard from Ackman gave the sophomore some breathing room, and he evaded defeat, handing Halopka a loss by way of a 9-8 decision.
Abby/Colby closed the gap with Spencer/ Columbus in the very next match as Jose Rodriguez secured victory over Leo Rodriguez by way of pinfall in 1:58.
Ashton Curtin picked up more points for the home team via forfeit in the 138 weight class, but Talon Severson continues his excellent 2019-20 season, defeating Carson Kilty in the 145 weight class via pinfall in 3:21.
From there, the Abby/Colby co-op racked up points over their hosts, as Spencer/Columbus was forced to forfeit matches in the 152, 160, 170 and 182 weight classes.
37-36
Not even a pair of forfeits could derail the Abbotsford/Colby wrestling co-op from picking up a second straight Clover-
WRESTLE belt Conference dual meet victory.
The co-op spotted the Regis/Altoona co-op 12 points with forfeits in the 138 and 152 weight class, but rode five pins and a pair of decisions to record a narrow one point 37-36 victory at home Tuesday night.
The co-op opened up with a pair of losses, with Grady Steinman and Lucas Bauman both suffering a pair of pins in the 106 and 113 weight class.
A double forfeit in the 120 weight class followed, and then River Halopka put the co-op on the board with a pinfall in less than one minute in the 126 weight class. Jose Rodriguez gutted out another pinfall victory in the 132 weight class to make it a 12-12 match.
A forfeit by Abby/Colby gave the visitors a 18-12 lead, but Talon Severson snuffed that out - along with his opponent - with a pin in the 145 weight class that made it 18-18. Another forfeit gave Regis/Altoona a 24-18 lead, but senior Xavier Digman gave the co-op some momentum with a 9-1 decision in the 160 pound division to pull the co-op to 22-24.
Brandon Vicente earned a victory via pinfall in the 170 weight class in 1:36, followed by Angel Diaz's loss via pinfall in the 182 weight class. Andrew Jeske gave Abby/Colby a 34-30 lead when he pinned Xai Her in 37 seconds in the 195 weight class.
It was a battle of behemoths in the 220 pound match as Carter Grewe squared off with Garrett Steffen. Steffen held an early advantage, but Grewe recovered for a 7-3 decision that gave the co-op an insurmountable 37-30 victory.
The meet ended with Devin Thums falling to Riley Bauer in the heavyweight class. The co-op will now prep for their home dual meet against Thorp on Thursday. Matches will begin at 6 p.m.