Posted on
Falcons fall to Tigers, Redmen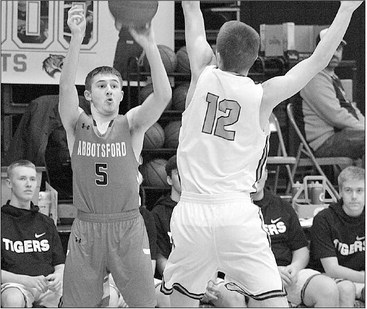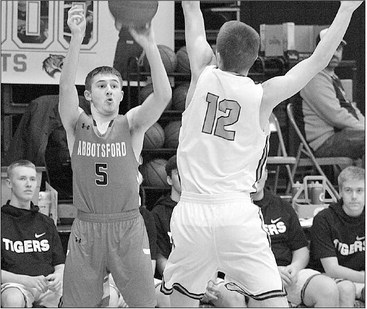 The Abbotsford Falcons faced the unenviable task of playing against a pair of conference contenders in their last two games, squaring off with the top teams in both the Marawood North and Marawood South conferences.
The Falcons put up a good fight against the second ranked Stratford Tigers, but could not overpower the Tigers muscle and height down low, falling 83-45.
The Falcons were back at home on Tuesday night, hosting the Rib Lake Redmen, who stand alone at the top of the Marawood North conference. Abby held their own with the Redmen, but could not overcome turnovers, and fell 48-32.
83-45
There has been no shortage of hardfought games this year for the Abbotsford Falcons boys basketball team, but on Friday they faced their hardest test of all - a road game against the second ranked team in Division 4.
The Tigers have yet to lose a game, and bring back a team that went 24-0 before falling 70-64 to Wisconsin Dells in the sectional semi-final last year, just two games shy of punching a ticket to the state tournament in Madison. With a slew of seniors back, and playing better than even last year's successful season, the Falcons knew they would have their backs against the wall.
"We knew coming in it was going to be a real challenge for us, but we were looking forward to the challenge," Falcons head coach Dean Bellanti said.
That it would be difficult to pull off an upset was no surprise to anyone, what was a surprise was that for one half of basketball, the Falcons hung tough with a team laden with talent that will be playing some sport or another at the next level.
The Falcons knew the type of athletes Stratford would field, with Vaughn Breit, a 6'7" forward, and Ben Barten, a 6'6" post player, doing most of the heavy lifting in the first half.
Abby came in with a clear plan on defense, and it was simple - keep Stratford out of the paint and off the glass.
"I think we wanted to play aggressively, especially on the defensive end of the floor," Bellanti said. "We wanted to see if we could take them away from the basket as much as possible."
That would prove easier said than done, with Stratford enjoying the services of one of the best big man in the state, six feet, six inch Ben Barten. Barten, a NCAA D-1 commit to the Wisconsin Badgers football team, played every bit like a Division One athlete, bullying inside for multiple baskets in the post and off the block, using his size, height and athleticism to lead all players with a game high 32 points.
Abby responded with some flashy plays of their own in the first ten minutes, snapping the net with several triples, and even held a 7-6 lead at the 15:18 mark.
It would be Abby's only lead of the game as the Tigers began to heat up from outside and inside, and the crowd soon got involved thanks to a pair of slam dunks from Stratford's Vaughn Breit and Teddy Redman.
The Tigers steadily built up their lead, but could not shake the Falcons so easily, with Hunter Soyk, Cade Faber and Blake Draper all connecting from Down Town.
The Falcons shot-making kept them in the hunt, and even with Stratford's size and speed, Abby was only down single digits through the first ten minutes of the first half.
But from there the Tigers began to slowly pull away as turnovers and misfi res from the floor allowed the Tigers to get out and run and earn some fast break buckets to pull ahead for a 35-21 lead with five minutes to play in the first half.
"I would say, there was a lot of positive things, especially offensively," Bellanti said, when breaking down the first half. "I thought we moved well, thought we got the shots that we wanted. Not all of them went in, but we got good shots. But I also felt like they got good shots - and too good
FALCONS BB of shots."
The Tigers continued to work the ball inside, using Barten and Breit to great effect, while Redman and guard Chandler Schmidt sunk shots outside to give Stratford a 49-24 advantage at the break.
From there, it was all Stratford in the second half as the Tigers began to impose their will on Abbotsford.
Bellanti chalked the second half struggles on a combination of lack of communication and becoming discouraged too easily when shots failed to fall, but also gave credit to the Tigers.
"They do a great job with what they have, and they understand their role and they play it well," Bellanti said.
The Tigers would go on to outscore the Falcons 34-21 in the last stanza, but Abby succeeded in seeing five players' names in the scorer's column.
Junior Cade Faber delivered another head-turning performance, dropping 21 points on the Tigers to lead the Falcons.
Soyk added nine points on three of seven shooting from three. Senior Blake Draper added seven points, including a pair of threes.
Dalton Feddick also connected from Down Town twice to finish with six points and Reiley Schreiber tallied two points.
The Falcons may have lost by a large margin, but there were plenty of positives to take away. Abby gave up just nine personal fouls, and made 50 percent of their threes, finishing nine of 18 from three.
"It wasn't entirely a negative night. I know you look at the score and it's a big loss, but there were a lot of things we did well," Bellanti said afterwards.
"I think if we can get five players communicating what we are in and secondly helping each other . . . if we can get that, I think we have a team that can play with any team on our schedule."
The Falcons turned in an excellent night on defense, but could not overcome a cold offense on Tuesday night, dropping a home conference game to Rib Lake.
Abby's defense kept them in the game, holding an explosive Redman offense in check for much of the first half as neither side established a rhythm on the scoring side of things.
"We were just trying to keep our defense up and obviously our offense wasn't the greatest, but the defense played really well," Schreiber said. "The ball just wasn't falling for us tonight."
Only three players from Rib Lake to scored in the first half, and even with the Redman's Steven Petkau rallying his team with a slam dunk, Rib Lake scored just 20 points in the first frame.
Not that the Falcons did much better. Four players added points on the board, but only Blake Draper and Mason Carpenter scored more than once, and the Falcons went into the break down 20-16.
Abby nearly tied things up in the first minutes of the second half, pulling to within one at 20-19 with 15:07 to play.
From there, Rib Lake began to pull away thanks to the deep ball. Logan Blomberg hit two triples, followed by a threes from Petkau and Devyn Vlach.
Abby responded with drives inside from Draper and Faber to keep it close, but couldn't erase the deficit with the Falcons missing lay-ups underneath.
"If we make all our easy shots that would go on, any other time we'd probably win by at least ten," Schreiber said, lamenting the missed shots.
Even with a cold offense, it was only a 28-20 game halfway through the second half, and Abby employed some high-low action, and got open looks, and their offense ran plays that confused the league leading Redmen.
"I think in general the offense has improved because we know how to run it more efficiently," Scrheiber said. "The shots weren't falling tonight, but eventually they will."
As Abby's shot-making stayed cold, Rib Lake's began to heat up, and soon the Redmen began to slowly pull away.
With just under ten minutes to play, Rib Lake held a 34-22 advantage, and the Falcons simply could not find pay-dirt from the floor.
The Falcons held the Redmen to a season low, but Rib Lake's Levi Ewan, Nick Gerstberger and Petkau scored 13, 12 and 10 and did just enough to earn their seventh win in the Marawood and stay atop the Marawood - North rankings.
Draper led Abby in scoring with nine points, followed by Faber, who had a quiet night with eight points but pulled down a team high 12 rebounds.
Carpenter had one of his best games, scoring seven points and cleaning the glass for seven rebounds. Hunter Soyk added six points and Schreiber added two points.
"This game we learned a lot about ourselves and how to play good defense. Our offense didn't do as well again, but our defense I thought we did well and played better as a team," Schreiber said, reflecting on the game and the lessons learned.
The Falcons will have the chance to implement what they've learned on Friday, when they host the Athens Bluejays for another home conference tilt. Tip off is at 7:15 p.m.