Posted on
Colby outlasts Rockets' comeback bid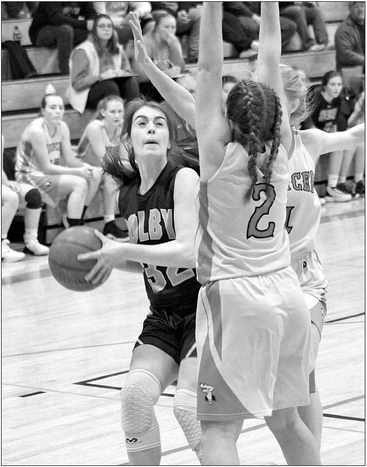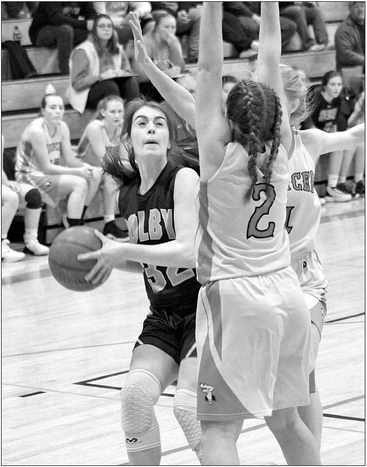 The Colby Hornets are currently sitting third in the Eastern Cloverbelt, but stated their case as the best team in the conference with a pair of victories over rivals Spencer and Granton to improve to 8-4 on the year, and 6-2 in league play.
64-51
If there was ever a word to describe the 2019-20 Colby Hornets girls basketball team, it would be 'mercurial.' The Hornets continue to be a hot and cold team at the start of 2020, and in their first game after scoring a season high 84 against Athens, Colby very nearly lost an eight point lead to the Rockets in Spencer on Thursday.
Not that anything ever comes easy in the Cloverbelt Conference, and just as the Hornets are a different team from last year, so too are the Rockets.
Spencer (4-7; 2-6 ECC) has just one senior on the team, and are led by a cadre of sophomores, who already have more wins than last year's 3-18 squad. It was the sophomores who did the heavy lifting for Spencer, erasing an eight point lead late in the second half to pull within one.
But timely steals from Trista Meyer and Emma Peavey down the stretch gave the Hornets another conference victory to maintain sole possession of third place, and remain in the hunt for the Eastern Cloverbelt title.
It was a back and forth game in the first half, with Colby's Hailey Voelker providing the early spark, as she scored 17 of her game high 23 points in the first frame.
Lexi Krebsbach added a trio of buckets, but no other Hornet scored more than two points in the first half as Colby took a slim 27-20 lead into the locker room.
The Hornets were methodical in the second half, and after seeing just two players score more than two points, Colby's offense found a groove as Emma Peavey and Krebsbach each splashed a triple and found pay-dirt underneath in the paint. Peavey scored 14 of her 16 points in the last stanza, and Kresbach added 11 for 17 points.
The Hornets built up a 43-35 lead with 8:00 to play, but the Rockets came storming back off a strong second half from Heavyn Kind, who was on fire in the second half, scoring 14 of her 18 points in the latter half.
The Rockets' comeback was aided by Aryiah Schuh and Madison Knecht, who added 11 points apiece, and Colby found itself in a dog-fight late in the game. Spencer made it 44-40, but the Hornets continued to make play after play to stay ahead of their hosts.
Peavey found Voelker on a backdoor cut that made it 46-40, and a Voelker layup made it 50-44 with 6:10 to play. But a Kind three, followed by a free throw, made it 50-49 with five minutes remaining in regulation.
Once again, Colby came up with the goods, snapping off an 11-1 run in the final four minutes that was keyed by several defensive plays.
Peavey read a pass, intercepted it, and put it up for two. Peavey continued to pull the Hornets to victory, weaving through traffic and scored on a finger-roll that gave Colby a 56-55 lead at 2:09.
Trista Meyer read another Rockets' pass, deflected the ball, and raced down the court for another basket that all but put the game away. Spencer was forced to foul, and Colby padded its lead with free throws to prevail 64-51.
Voelker added high nine rebounds and two blocks to go with her 23 points. Krebsbach had a team high five steals and Peavey added three assists and one block. Olivia Vollrath had five points, and Meyer chipped in with her three points and two steals.
60-21
Colby ran its latest win streak up to three after dispatching the Granton Bulldogs on the road with a convincing victory over their conference rivals on Tuesday night.
The Hornets quickly took the early lead over their belegaured opponents, dispatching any hope for an upset with an inside-outside game that left the 'Dogs reeling in the first half.
By halftime the Hornets held an insurmountable 41-12 lead as seven different players scored, with Lexi Underwood and Hailey Voelker rattling off 13 and 11 points in the first stanza.
Holding a sizable lead, Hornets head coach Randy Rau subbed in his JV players in the second half, and they continued to score at a high clip.
Voelker had 15 points, Underwood scored 13 and Kya Viegut and Emma Peavey added seven apiece to lead Colby.
The Hornets will be back in Colby this Friday, where they will take on the Columbus Catholic Dons. The Dons are currently second in the conference - their only loss coming at the hands of Colby. The Dons will surely be looking for revenge, with tip-off set for 7:15 p.m.