Posted on
Colby-Abby K-9 deployments resulted in 53 arrests in 2019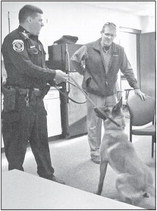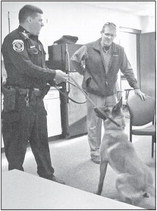 Colby-Abbotsford's drug-sniffing dog was deployed 87 times during local traffic stops last year, resulting in 53 arrests in 2019, according to a report shared with the joint police commission Monday.
Lt. Alex Bowman, filling in for chief Jason Bauer, said 40 percent of those arrests were for marijuana possession and the other 60 percent were for harder drugs such as cocaine and heroin.
The number of K-9-related arrests increased by eight from 2018, which had a total of 45.
Commissioner Dennis Kramer asked Bowman a series of questions about the K-9 unit and how the department enforces drug laws.
Bowman said the K-9 handler, offi cer Jim Wagner, has the dog in his squad vehicle at all times, but he still needs to have a reasonable suspicion of drug activity before he can bring the K-9 out.
"He can't just run his dog around every car he pulls over," he said.
A reasonable suspicion can be established by the smell of drugs, the behavior of the driver or passengers, or other factors, Bowman said.
Wagner is also available to respond to traffic stops done by other officers if drug activity is suspected, he said. If Wagner is not on duty at the time, Bowman said local officers can call in K-9 units from surrounding sheriff's departments.
Likewise, Wagner will sometimes be called out of the Colby-Abby area to assist another law enforcement agency with a drug search. The number of times the K-9 was deployed outside the area in 2019 was not available at the meeting.
Bowman said police can legally hold someone up to 40 minutes after being pulled over to allow time for a K-9 unit to arrive.
Kramer also asked Bowman how seriously the department focuses on marijuana offenses, given that many states and big-city departments are either legalizing or decriminalizing the drug.
Bowman said the district attorneys in both Clark and Marathon counties are still "on board" with enforcing marijuana laws. Simple pot possession charges — without intent to distribute — are relatively minor offenses, but Bowman said those who smoke marijuana are often likely to use harder drugs like meth and heroin.
The smell of burnt pot is often used to establish reasonable suspicion in order to search vehicles, Bowman said.
"We use the marijuana as an entry point into the car," he said.
In a related matter, Bowman said the department has recently made some significant drug-related arrests at the Northside Apartments.
"I think we did some damage up there and got some bad dudes off the street," he said.
Bowman said the tenants in those apartments rarely call the police to report drug activity, so it's up to officers to initiate investigations while on patrol.
On the positive side, he said there haven't been any fights or other violent disturbances at the apartments in awhile.
Other business
_ The commission made a motion to correct its Dec. 9 minutes regarding the pay raise approved for Lt. Bowman. The commission approved a 75-cent hourly raise, which put his wage at $26.09, not $26.15 as stated in the minutes.
Commission president Todd Schmidt also clarified that Bowman will receive an additional 9-cent raise mid-way through 2020, on the anniversary of his hiring date. This will be for "longevity pay," a yearly boost that is already provided to other officers covered by their union contract.
_ The commission approved $42,040 in monthly expenditures. During a review of the department's funds, it was noted that just under $87,000 was left in the fund balance at the end of 2019.
Schmidt said the department is going to continue spending down that amount this year, so the total will be even lower at the end of 2020.
"After this year, we'll have some tough decisions to make because we won't have that fund balance to apply," he said.
_ The commission approved a total of $43,000 in amendments to the 2019 budget, balancing line items that were either over or under their original amount.