Posted on
Accused daycare providers appear in court, post bonds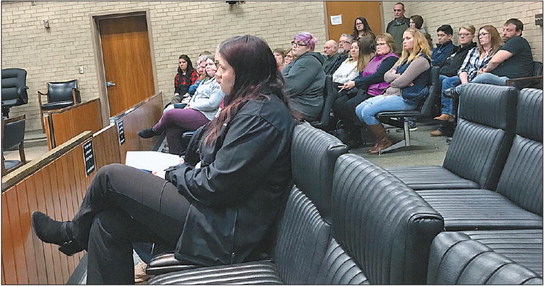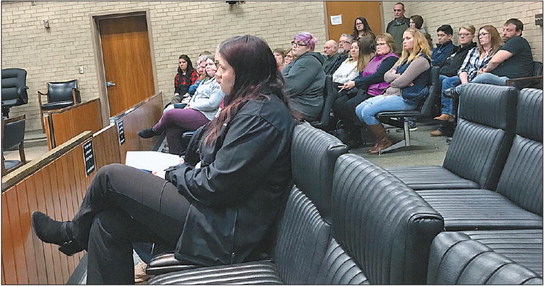 The owners of an Abbotsford daycare accused of abusing and neglecting several young children appeared in Clark County Court for the first time last Friday, flanked by a room full of parents whose kids were the alleged victims.
Naomi Konieczny, 55, of Abbotsford was the first to appear before Judge Lyndsey Brunette, who set a cash bond of $1,000 for both Naomi and her daughter, Rachel Konieczny, 33, who each face multiple felony charges stemming from an April 3 inspection of their homebased daycare at 205 West Elm St.
Gary Konieczny, the 53-year-old husband of Naomi and father of Rachel, also appeared before the judge, who set a $500 bond for his release. He faces one felony count of recklessly endangering safety as a party to a crime.
All three of the defendants posted bond last Friday, and were released on the condition that none of them serve as a caretaker for any children under 18. Rachel was given an exception for her own child. They were also ordered not to leave the state of Wisconsin without permission from the court.
Judge Brunette also warned each of the defendants to avoid contact with any of the victims' family members, though that was not set as a condition of their bonds.
Assistant district attorney Holly Wood Webster said she may ask the court to impose that condition if she hears about any inappropriate contact between the defendants and the families.
None of the three defendants had officially obtained legal counsel before last Friday's hearing, so an adjourned initial appearance was scheduled for Feb. 12 to give them time to retain attorneys.
Naomi petitioned the judge for a court-appointed attorney, claiming that she was unable to afford one, but Judge Brunette denied her request after reviewing her household income and expenses. When asked, Naomi said she had not yet started looking for an attorney.
Rachel, who recently moved to Wausau, said she has hired attorney Matthew Prior, but the court has not received a notice of retainer from him. Judge Brunette said until that notice is submitted, the court will continue communicating only with Rachel as the defendant.
Naomi claimed that she did not receive a copy of the complaint, but Wood Webster said she was surprised to hear that because Naomi had already come on in to be fingerprinted and photographed before Friday's hearing.
When Judge Brunette asked Naomi how she knew to be in court that day if she did not receive a summons and complaint, Naomi said "Facebook."
Judge Brunette took time to list each count in the complaint and explain the maximum penalty for each charge.
"I want to make sure you have an idea of what you're facing," she told Naomi.
The most serious charge, causing mental harm to a child, carries a maximum prison sentence of 12 years and six months and $25,000 in fines. Both Rachel and Naomi have been charged with this offense.
Naomi faces a total of 25 charges, including 13 counts of felony child neglect, seven counts of recklessly endangering safety, two counts of causing mental harm to a child and one count of child abuse, recklessly causing harm as party to a crime. She also faces one misdemeanor count of neglecting a child and a misdemeanor charge of operating a daycare without a license.
Rachel faces 20 felony charges, including 16 counts of neglecting a child, two counts of causing mental harm to a child, one count of recklessly endangering safety and one count of child abuse, recklessly causing harm as party to a crime.
Wood Webster asked for a cash bond of $5,000, but the judge set it at $1,000. In regards to Naomi being a flight risk, the ADA mentioned a cruise the defendant had planned for March, but Naomi said that trip has been cancelled.
Naomi said she has lived at the same house in Abbotsford for more than 20 years, and both she and her husband work in the city. Given these circumstances, the judge said the $1,000 should be sufficient to ensure her return to court for future hearings.
In witness impact statements submitted to the court at the end of December, five different parents described the lasting emotional impacts on their kids from the alleged abuse and neglect.
A couple of the parents said their children are afraid of being left alone and suffer from separation anxiety as a result of the treatment they received at the daycare.
"This will be part of my daughter's childhood memories forever," one parent wrote.
The criminal complaint filed in December said several children were found in two back bedrooms, confined to high chairs, car seats and playpens. One child was found inside a playpen with a plank of wood over the top, with nails sticking out.
According to police interviews with parents, their kids would often show
Witness impact statements
signs of extreme thirst and hunger after coming home from the daycare, as well as exhibiting symptoms of emotional trauma. Accusations of physical, verbal and emotional abuse were also made after the daycare was shut down in April.
Because members of the Konieczny family were not arrested after the daycare was shut down, the parents of the alleged victims said they were worried about encountering them in public.
"I am fearful of going places, because I don't want to run into them," one parent wrote. "We did two weeks after the incident, and I don't want my daughter to have to ever see them again.
Parents also described feelings of guilt and shame because they did not recognize the signs of abuse earlier.
"I feel like I have failed as a parent, and continue to have many sleepless nights," one parent wrote "The unknown of what my daughter has all encountered while in their care continues to haunt me."
All of the parents who submitted statements urged the court to consider imprisonment for the defendants' alleged crimes, including several who advocated for the maximum sentence.
"Our son was basically kept in a cage. We would like the same for them — jail/ prison," the parent wrote. "We would also like to be reimbursed for money paid for care, as he did not receive it."