Posted on
Abby's offense struggles against Tigers, Loggers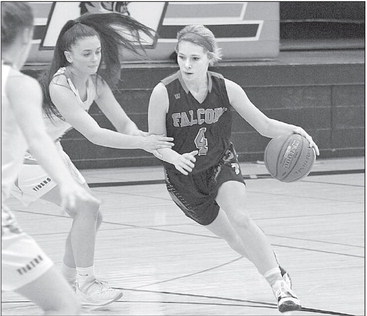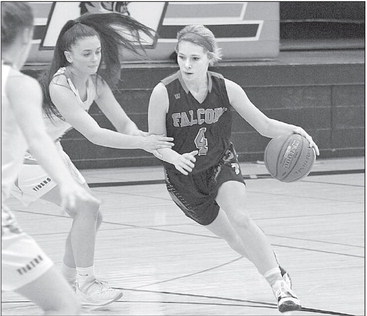 The Abbotsford girls basketball team continues to earn an education on the court, taking part in a pair of road games. Unfortunately, the Falcons struggled to put points on the board, and suffered a pair of losses to Stratford and Phillips that drops their season record to 1-10.
Stratford, 58-12
There's an old adage in sports that says "You can't teach height."
The Falcons found that out for themselves on Friday when they travelled to Stratford to take on the Tigers of the Marawood South Conference.
The Tigers boast several players who stand near or just over six feet tall, and that height gave Stratford a serious advantage over the Falcons.
Time and time again Stratford crashed the glass, hauling in offensive rebounds for second or even third chance points to take an early lead. With their towering presence in the paint, the Tigers limited Abby's ability to drive the ball, forcing the Falcons to attempt low percentage shots, as Abby was forced to settle for deep threes and twos.
After one half, Abby was down 24-6, and things did not improve in the second, as the Tigers opened things up with a 26-3 run in the first 10 minutes of the final stanza.
The Falcons' offensive woes continued into the second half, with no player scoring more than five points.
Mya Ruesch, Catie Clement and Marisol Garcia all splashed one triple for three points apiece. Jayden Falteisek added two points and Alea Graff chipped in with one point.
58-35
The Falcons found themselves travelling to Phillips to take on the Loggers in a conference meeting between the first and last placed teams in the Marawood - North on Monday night.
The Falcons turned in a much better performance on both sides of the ball, but could not notch the upset.
"We ran a 1-3-1 full court press most of the game," Falcons head coach Ally Meserole said. "We forced a lot of turnovers, but outside shots weren't falling."
Abby's game was flowing much better than their previous outing against Stratford, with six different players contributing on offense. The Falcons also did a better job of getting to the charity stripe, and made nearly 50 percent of their free throws sinking five of 11 attempts.
Maggie Seefluth, after being held scoreless against the Tigers, finished in double digits with 10 points to lead the Falcons. Mya Ruesch turned in another solid game, scoring seven points and Catie Clement added five points.
Marisol Garcia continues to develop her game, and she scored four points against the Loggers. Alea Graff added four points as well and Jayden Falteisek rounded out Abby's offense with two points.
The Falcons will be back in action later this week when they finally return home for a conference match-up with the Athens Bluejays on Thursday. Tip-off will be at 7:15 p.m.