Posted on
Falcons finding form in back half of season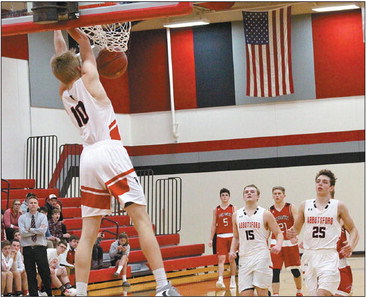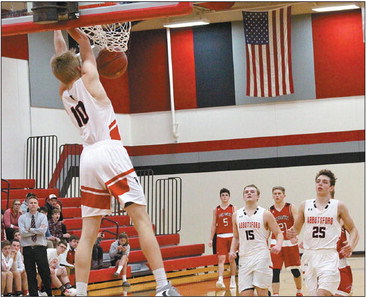 If the last four games are any indication, the Abbotsford Falcons are on an upward trajectory, having won two of their last three games, with a four point loss to Phillips sandwiched between wins over Owen-Withee and Greenwood on Monday, Jan. 6, as Abby improves to 3-8 on the year.
56-52
Victory was oh so close, but oh so far away for the Falcons on Friday, as Abby travelled to Phillips to take on the Loggers in a Marawood - North tussle that saw Abby fall just shy of the upset.
Abby was hoping to start 2020 with consecutive wins for the first time this season, after having dispatched Owen-Withee 67-48 the week before on Saturday, Dec. 28.
The Loggers on the other hand, had suffered a pair of defeats to Rib Lake and Auburndale after beginning the 201920 season with a 4-0 record, but are still ranked second in the Marawood - North behind Rib Lake.
The Loggers pushed that conference record to 4-2 with a 56-52 victory over the Falcons, on a night when Abby played a clean game, but converted just five of 23 three point attempts, and only attempted seven free throws.
Blake Draper and Cade Faber each finished with eye-popping stat lines. Draper scored 21 points, pulling down seven rebounds and dishing out team highs in assists (five) and steals (four). Faber brought his heady play from 2019 into the new year, kicking off 2020 with a team high 22 points and 10 rebounds.
The Falcons committed just seven turnovers and 12 personal fouls, but Phillips took a 28-23 lead at halftime. That lead was in jeopardy for the entire second half as the Falcons continued to pound the ball inside.
But outside of Draper and Faber, no other Falcon added more than five points, and despite Abby out-pacing the Loggers 29-28 in the second half, Phillips had just enough fuel in the tank to cross the finish line ahead of the Falcons.
Mason Carpenter finished with four points and four rebounds, followed by Dalton Feddick, who splashed a trey for three points to go with his three assists.
Reiley Schreiber had two points, but pulled down five rebounds, had two assists and one block. Hunter Soyk was scoreless, but had three rebounds and one steal.
Greenwood, 55-42
The Falcons put their tough loss to Phillips behind them, but used the pain of that game as motivation for a perfect response against the Greenwood Indians in a non-conference home game on Monday night.
"Phillips was definitely a motivator. We thought we definitely should have won that game," senior guard Blake Draper said. "It hurt us a lot that we didn't because we're coming into the back half of the season, and we want to be playing some really good basketball."
There's good basketball, and then there's excellent basketball, and Draper and his teammates were excellent for long stretches against the Indians.
The start certainly could have been better, with Abby falling behind 14-11 halfway through the first half, but the ending is all that matters, and Abby ended the first half with some big time buckets from the three point line.
Hunter Soyk and Blake Draper both buried a pair of triples that swished through the net to the delight of the home crowd, and Abby took a 21-18 lead with 5:25 remaining in the first half.
Timely shots in crunch time moments proved to be a theme for the Falcons, with Abby stemming Greenwood's momentum time and time again when the Indians made scoring runs.
"I think we're playing better basketball and we've seen that over the last handful of games," Falcons head coach Dean Bellanti said. "Tonight was a situation where we made some shots and it helped in terms of getting us a little confidence."
By halftime the Falcons held a 31-18 advantage. Greenwood began to find some offense in the second half, using drives to score easy lay-ups, and with seven minutes left, it was a seven point game as Abby clung to a 39-32 lead.
Once again, the three-ball bailed Abby out as Victor Aguilera and Draper sank threes. Faber delivered another jawdropping jam for an 8-2 run that sucked the life out of Greenwood and halted the Indians comeback.
"They were huge - you could see our confidence was going away," Draper said. "Those shots really got us out of that jam."
Greenwood was forced to foul down the stretch, and Abby converted several free throws to earn their second win in three games. The ability to win close games has the Falcons feeling much better about the back half of the season.
"It's a process of learning how to win, you know?" Bellanti said. "We had some guys out there that are a little inexperienced, and that showed . . . but in the same respect, those are the kinds of things you live and you learn from."
Abby was once again led by Faber and Draper, who notched 19 and 15 points respectively. Hunter Soyk and Aguilera provided vital firepower, finishing with eight and six points. Mason Carpenter added four points and Dalton Feddick tallied three points.
The Falcons can sense they've turned a corner, but they will face their biggest test this Friday, when Abby travels to Stratford to take on the second ranked Tigers at 7:15 p.m.