Posted on
Colby inside game too much for Abby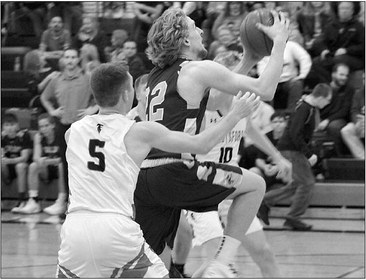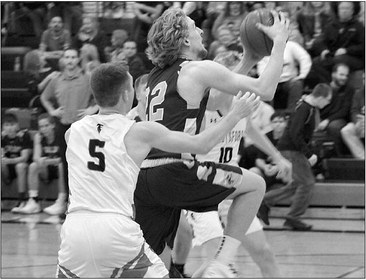 For the second time in 2019, Colby was playing against the Abbotsford Falcons in a non-conference cross-town meeting, only this time it was on Abby's home turf.
In their first meeting back on Feb. 26, the Hornets overcame a cold start to defeat Abby 62-22 in a WIAA D-4 regional quarterfinal game in Colby.
This second meeting was vastly different from the first, with each team bringing in a high energy, fast paced offense that featured some excellent shot-making - and one rim shattering dunk that got the home crowd off its feet on Friday.
Colby came into the game with a 3-3 record, and the Hornets have made great strides from last year's 8-16 team, with many of their losses coming by close margins.
The only thing that has eluded Colby has been a consistent offensive attack. But with a month of practice under their belts, the Hornets appear to have finally cracked the code, and after spending the early part of the 2019-20 season chucking up threes, Colby has switched things up, using a post game and drives to the basket to put points on the scoreboard.
"I think the kids have done a very good job coming in and instead of jacking up threes they're going under the hoop and getting to the free throw line, shooting them and making them. You can really tell that the last two games," Colby head coach Jimmy Flink said.
That's not to say that Colby can't splash a few threes from outside, with the Hornets drilling four against Abby, but on Friday, the Hornets attempted less than a dozen triples.
"We're not a very strong three point shooting team, and that's OK because we got guys that can drive," Flink said. "I told the kids, pretty much our offensive identity as a team is looking inside and driving and attacking."
That attacking mentality gave the Hornets an early 12-10 advantage with 11:23 to play. But the Falcons proved to be persistent, and incredibly athletic, a fact highlighted by a Cade Faber slam dunk off a steal that made it 12-12 - and gave Abby a momentum boost.
"It gets the home crowd fired up and it makes us play harder and really helps get the momentum swinging more towards us," Faber said about his dunk.
Abby was more than just flash, and came in with a three pronged attack led
COLBY BB by Faber, Blake Draper and Hunter Soyk, who all scored 16 points apiece.
Faber's hops also proved problematic for the Hornets with the junior showing off some impressive bounce as he pulled in a game high 16 rebounds.
Reiley Schreiber and Draper added nine and six boards as the Falcons outrebounded the Hornets 39-27.
Those rebounds came at a price though, with Abby picking up multiple fouls. Colby's fouls were not as problematic, with Flink using a nine player rotation that provided the Hornets with fresh legs and multiple scoring options.
"I told the team 'We got nine guys that can play, not all nine are going to play perfect night in and night out' . . . but that's the advantage of having good depth - someone is usually going to have a good night," Flink said.
Colby went up 35-24 midway through the first half, only to see Abby answer with an 11-2 run to make it 37-35 at the break. That run carried into the second half, with both teams trading shots. With 10:45 remaining in regulation, the Falcons tied things up at 47-47.
But disaster struck the Falcons when Faber and Soyk picked up their fourth fouls, and were forced to ride the bench for several minutes.
Colby sensed its moment and struck, rattling off a 10-2 run to move ahead 57-49 before Faber returned. Colby continued to advance, out-scoring Abby 23-11 in the final ten minutes to prevail 70-58.
The victory also gives Colby a winning record for the first time this season.
"That was our goal coming into these last few games, to get above .500 and I think this week it's always challenging to for kids to get them into a basketball mind-set just because it's Christmas break," Flink said.
Schmelzer led Colby with a career high 26 points and 11 rebounds. Connor Jeske added 15 points, Richard Streveler finished with 11 points and Noah Robida had eight points, seven rebounds, four steals and three assists. Brent Jeske had six points and five steals. Schmutzler rounded things out with four points.
Colby enters 2020 with some wind in their sails - and a chance to add to the win column this Friday when they travel to Pittsville for a 7:15 p.m. non-conference meeting.